Coker receives Staff Achievement award
---
January 13, 2014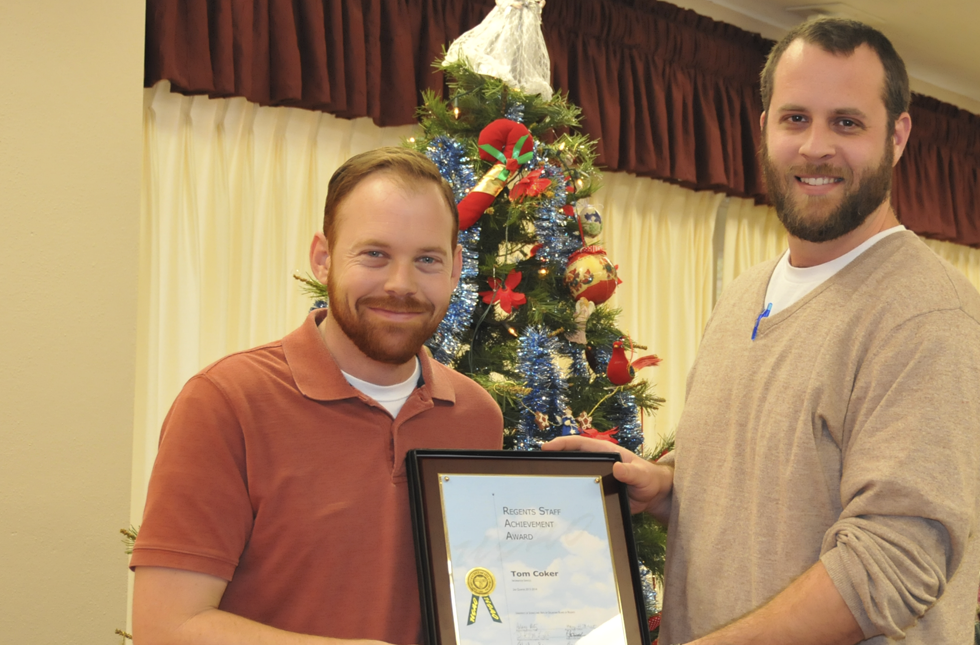 With a skill set that brings timely technical assistance to staff, faculty and student alike, Computer Technician Tom Coker was awarded the Regents Staff Achievement Award. Coker was named honoree for the second quarter of the 2013-14 year at the Staff Association holiday potluck lunch last month.
Coker has been a member of the university's Information Services and Technology department since 2005.
One colleague who nominated Coker for the award described him as a, "USAO guy through and through who loves the institution."
"Tom is a hard worker, always available to help in times of need – and always with a positive attitude."
Another nominator noted that, "Tom is one to never say no and regularly stays after hours to support and monitor different equipment needs at events."
Coker graduated from USAO with a Bachelor of Science degree in computer science in 2005.
Adam Heilman, USAO print shop manager and Employee of the Year for 2012-13, presented the award to Coker.
The Regents Staff Achievement Award is presented quarterly to one outstanding staff member. From these award winners, an Employee of the Year recipient is selected, who will be recognized at the USAO Board of Regents meeting next September.