USAO students prepare for final art exhibition before earning their bachelor's degree
---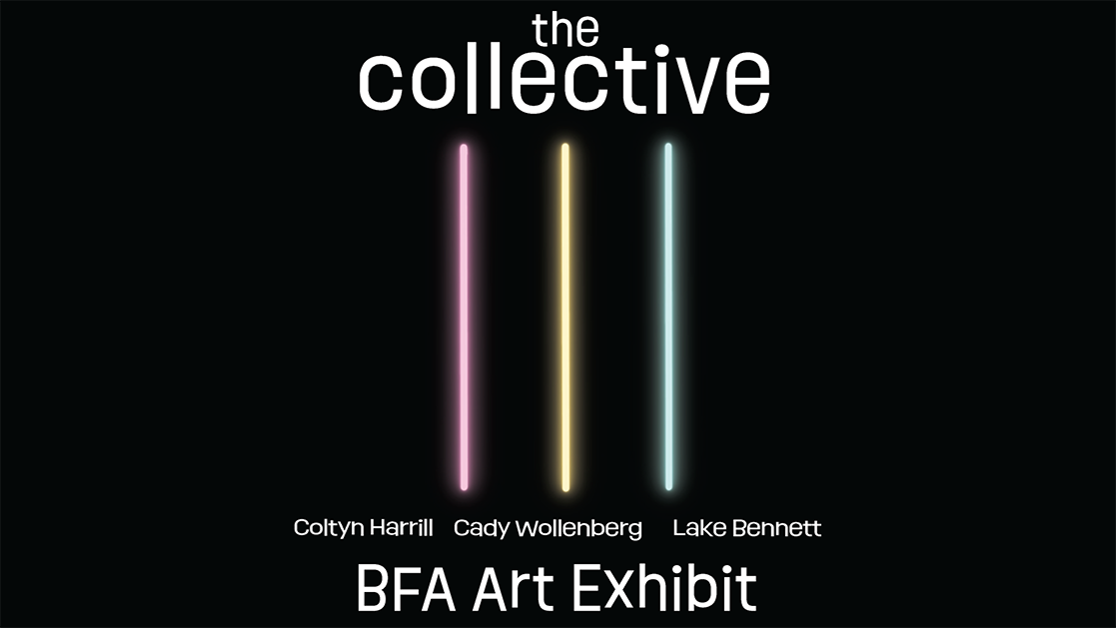 Three art students from the University of Science & Arts of Oklahoma are preparing for their final exhibition, "Collective," before graduation. An opening reception will be held in the university's Nesbitt Gallery in Davis Hall March 26 from 5–8 p.m. Regular gallery hours are Monday—Friday 9 a.m. to 4:30 p.m. and the exhibit will remain on display until April 22.
The spring 2022 candidates for a Bachelor of Fine Arts degree include Lake Bennett of Oklahoma City, Coltyn Harrill of Newkirk, and Cady Wollenberg of Purcell.
"Our BFA program is among the most rigorous programs at USAO," said Jacquelyn Knapp, professor of art and department coordinator. "The artists in 'Collective' have worked diligently, producing work of truly exceptional quality that serves as evidence of their individual creative abilities. Each has successfully investigated thought-provoking ideas through a diverse range of media. Seeing these soon-to-be graduates producing at such a high level makes the entire art department confident that each will see success as they enter the world of working artists."
Bennett was born in Oklahoma City and spent several years in Bridgeport, Texas, before moving back. Her degree emphasis is illustration and character design. She uses traditional charcoal, ebony, graphite and colored pencils to "create fantasy monsters and worlds." She started drawing as a coping mechanism for ADHD, but she found her love of character design "ignited by classic '90s video game culture and the early 2000s music scene.
A Newkirk native, Harrill earned an associate degree from Northern Oklahoma College before coming to USAO once she decided to pursue her lifelong passion of creating art. Beyond its academic excellence, the campus' small size and affordability also appealed to Harrill. She uses her art "to bring awareness to mental health and how ugly the experiences can be," and she hopes that her works will create a visual representation of certain emotions.
Using screen, block and digital prints as well as sculpture, Wollenberg's art shows how "love can be a prosthetic." The recipient of a USAO art talent scholarship, alongside several other scholarships through the foundation and alumni association, she uses bold color harmony and detailed illustrations to "encapsulate the feeling of extending oneself" in the exploration of this concept of prosthetics being more than just mechanical extensions of the human body.
USAO holds a BFA exhibition each semester as the capstone project for that degree. Students apply to the program during the second semester of their second year as an art major. Upon acceptance, they develop a single concentration after gaining a wide foundation in all forms of artistic media. For three semesters, students develop cohesive concepts through in-depth research while continuing to add to their technical expertise. The final exhibition formally presents the results of their intense study and research into their chosen form.