Science & Art's spring 2021 commencement ceremony honors 152 graduates
---
April 23, 2021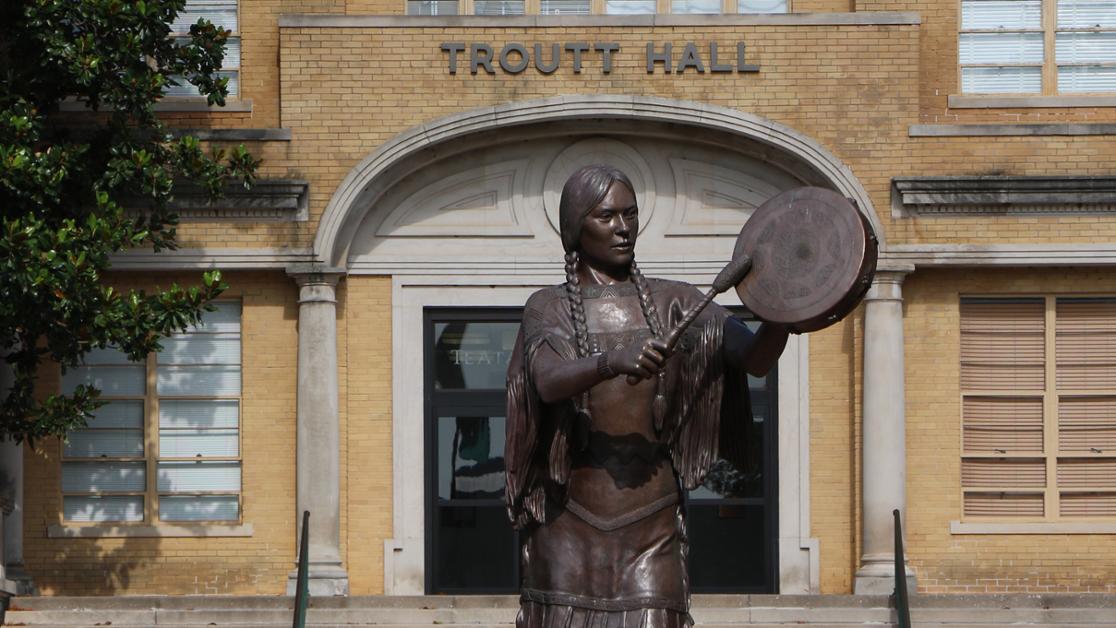 Although the COVID-19 pandemic has disrupted graduation festivities at the University of Science & Arts of Oklahoma for two semesters, the spring 2021 commencement ceremony marked a major return to normalcy for graduates during an in-person, outdoor event held April 24.
The ceremony honored graduates from fall 2020, spring 2021 and summer 2021. Students who graduated in spring 2020 were invited to participate in the 2021 ceremony.
"It makes me enormously happy to resume our commencement activities in-person this semester, and particularly to invite all of the students whose final term in college was so cruelly disrupted by the pandemic," said President John Feaver. "Every student who walks across that stage has worked so hard to get to where they are today, and being able to congratulate them as they receive their bachelor's degree has always been one of my greatest joys as the president of this institution."
For the 2020-21 academic year, USAO awarded 91 Bachelor of Science degrees, 42 Bachelor of Arts degrees and eight Bachelor of Fine Arts degrees during commencement, which includes 12 graduates from the spring 2020 term.
Nationally ranked for quality and value, for over a century USAO has remained committed to providing a broad and accessible undergraduate education as the state's only public liberal arts college.
Bachelor of Arts
Damian Shawn Armendariz
Zachary Allen Banker
Becky Marie Blanton
Matthew Todd Brooks Jr.
Lacee Dawn Broyles
Courtney Maya Burleigh
Keeunda Olivia Cole
Allison Lynn Crutchfield
Samantha Naomi Fraize
Jessica Stark Frizzell
Daniel Delano Gomez
Genevieve Rebecca Gordon
Meagan Anna Corrine Holland
Matthew Carl Lucas
Deanie Rosemaria Lucero
Shawn Rodney McDaniel
Victoria Marie Mickelson
Tucker Guy Mora
James William Mounger II
Logan Timothy Nitzel
Korbyn Josef Peebles
Blake Alexis Ramsey
Rachel Marie Redemer
Katarina Faith Shew
Savanah Paige Springfield
Kaitlyn Noel Verser
Christopher Lee Wilson
Bachelor of Science
Jessica Beth Akins
Unai Azurmendi
Rachel Anne Baker
Louis Baltazar
Karlie Dawn Bonds
McKenna Jordan Bradshaw
Kate-Linn Kelby Brayton
Brennan William Brister
Hannah Dawhn Cannon
Courtney Danielle Clark
Maddison Kay Cook
Kyler Ryan Crook
Edgar A Cuevas
Lindsay Michelle Daugherty
Hilary Jone DeVries
Corey Nathan Garza
Tristyn Brooke Genn
Scot Michael Godfrey
Georgia Kay Griffith
James Auverne Hampton III
Jerrod Rex Haskell
Skyy Anne Hilbun
Tiffani Brianne Hinkle
Wyatt Robert Lynn Hull
Ryder Martin Igo
Kade Baylen Johnson
James Cody Jones
Kaylee Madison Jones
Tanya Cheresse Lett
McKenna Faith Lindsay
Bayli Renee Lucas
Madison Lee Lybarger
Tarah Marie Madron
Haley Michaela Maib
Jake Austin Marion
Trevor Dwayne McAlister
Matthew Dale Merrill
Kindle Dawn Nelms
Jillian Marie Nicholas
Caleb Michael Nichols
Amber Louise Nickle
George Origi Oduor
Favour Ayomikun Oyebami
Karmyn Nicole Pearn
Galen D Phillips
Amber Joyce Pool
Makayan Cherlynn Pruitt
Andres Enrrique Romero
Jolie Daniele Hushi Napakali Romine
Sarah Paige Sipes
Nicholas Patrick Stachovic
Taylor Janay Stringfellow
Kellee Idena Stubbs
Harry Tamakloe
Grace Madelaine Touchstone
Casey Ryan Tripp
Martin Alejandro Velasco
Kaycee Layne Ward
Colton David Williams
Kori Nicole Williams
Ashlee Glenn Williamson
Christopher John Wise
Heather Renee York-Clune
William James Baird
Bachelor of Fine Arts
Hannah Elizabeth Bays
Kori Rene Caparelli
Casey Elizabeth Gilman
Coleen Marie Brondial Sovick
Zora Monroe Weyrick
Faculty-Mentored Research Program
The following students produced original research projects suitable for conference presentation and/or professional publication under the mentorship of USAO faculty:
William Baird
Matthew Brooks Jr.
Cora Clegg
Cody Corser
Genevieve Gordon
Skyy Hilbun
Allie Morris
Korbyn Peebles
Nicholas Stachovic
Martin Velasco
USAO Faculty Association's Outstanding Graduate Awards
Genevieve Gordon for the Division of Arts and Humanities
Genevieve Gordon, Allie Morris and Korbyn Peebles for the Division of Social Sciences and Business
Maddison Cook for the Division of Education and Speech Language Pathology
William Baird and Kaylee Jones for the Division of Science and Physical Education
USAO Alumni Association's Distinguished Graduate Award
Heidi Rice, president of the USAO Alumni Association, presented the Association's Distinguished Graduate Award to Genevieve Gordon, who graduated summa cum laude with a bachelor's degree in English and sociology.