Science & Arts' 2023 commencement ceremony honors graduates
---
May 01, 2023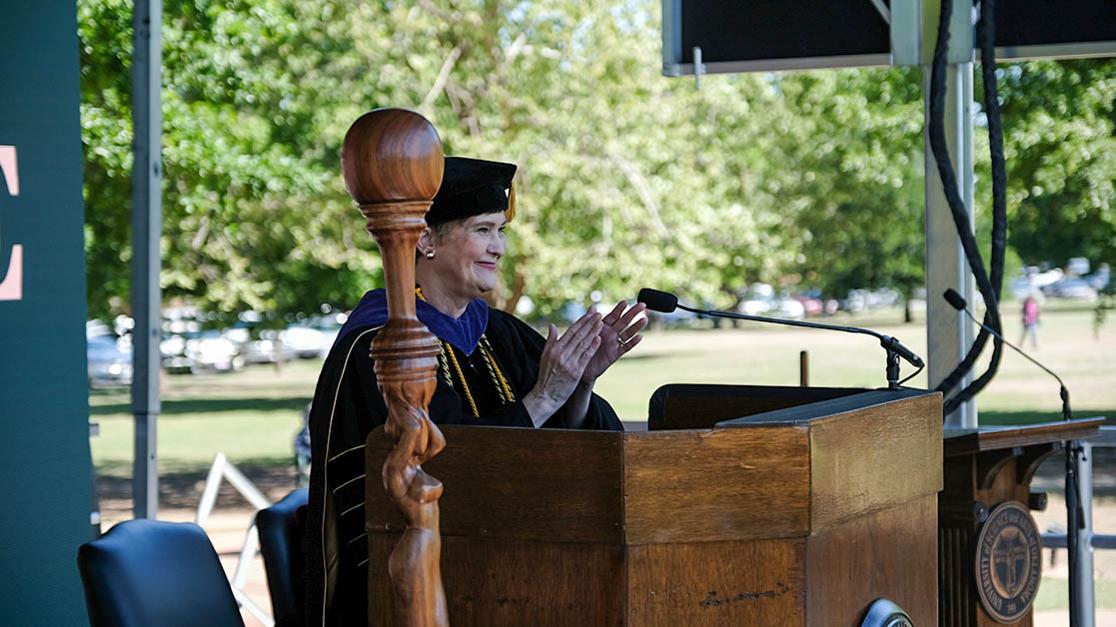 The University of Science & Arts of Oklahoma honored more than 165 graduates from the most recent fall, spring and summer terms during the 2023 commencement ceremony held April 29. The ceremony also marked the final event with President John Feaver officiating, as he is set to retire at the end of the calendar year.
"During my long tenure at this institution, our annual commencement ceremonies have always been a highlight of each year, because it is at this time that the mission of this college is truly fulfilled," said Feaver. "Every student who walks across that stage has already succeeded in so many ways, and the diploma they receive today will stand as a marker of their ability, their curiosity and their devotion to knowledge for the rest of their lives. As I think back to all the students whose hands I have shaken on this stage, I am extremely thankful to have played some small part in the growth of so many."
For the 2022-23 academic year, Science & Arts awarded 117 Bachelor of Science degrees, 45 Bachelor of Arts degrees and 11 Bachelor of Fine Arts degrees during commencement, including six students received both a Bachelor of Science and Bachelor of Arts degree.
Nationally ranked for quality and value, for over a century Science & Arts has remained committed to providing a broad and accessible undergraduate education as the state's only public liberal arts college.
Bachelor of Arts
Destinee Jean Asbill
Mickayla Louise Ball
Samantha Nicole Barker
Passionett T Breedlove
Daniel McKaskle Buster
Demarco L Calvin
Bethanee Elizabeth Cope
Rachel Elizabeth Dennis
Sydny Lee Tyler Dockery
Alicia Salina Fink
Kennedi Jade Ford
Clarisse Joni Fraley
Langston Malik Gaither
Leah Aleace Glass
Macy Mae Godwin
Bethany Jane Goulet
Ashlynn Taylor Lane Haley
Dan Colleen Harper
Keane Harrison
Keiarie Lynn Henry
Gabrielle Cana Jordan
Brantley Connor Karpe
Conner James King
Mykaela Ruth Leraas
Jensen Trauger Link
Caitlyn Elaine Mainord
Zena Ann Myers
Lauren Elisabeth Nava
Rory Leandro Kitwana Pantophlet
Cole Joseph Benjamin Placencia
Cambrie Lynn Price
Rhiannon Marie Quillin
Briana Nicole Quoetone
Maureen Katherine Runion
Cele Brian Samkelo
Robert-Paul Isaiah Spurlin
Chandler Paul Standridge
Cassidy Diane Sturgeon
Skyler Mica Sturgis-Garneau
Reggie Alexander Thompson
Caleb Josiah Ray Townley
Marland Lee Toyekoyah III
Racheal Whitney Webster
Isabellah June Willoughby
Joseph Jefferson Willoughby
Bachelor of Science
Lariah E Allen
Sydney Lyn Arneson
Madison Fay Austin
Ch'Mere-Renee Austin
Phoenyx Sequoyah Baker-Blount
Sydney Ann Bean
Kayla Sue Beil
William Paul Berumen
Amyah Benaye Black
Madelyn Annelysse Blair
Hannah Rayanne Blough
Gideon Bossman Quansah
Deangello Brandon Brown
Thomas Gage Burke
Jeffie Jean Buster
Arianna Nacole Camerlin
Carlos Carillo
Tahlia Sloan Casey
Devon Ronald Michael Charles
Darnell Simmons Antonio Charles
Tacara C Corley
Amanda Blake Craun
Briteanna Virnette Nicole Curry
Abigail Elizabeth Davis
Adam Reed Day
Andres Camilo Daza Gomez
Rachel Elizabeth Dennis
Kenneth Wayne Dohm III
Itzel Yanet Dominguez Violeta
Harry David Donaldson
Zaria Joan Dorsey
Avery Kay Eason
Aaron Trey Edwards
Mikki Jean Elam
Silas Conner Elliott
Emeka Eni
Antoinette Joanna Falkenstein
Jonathan Michael Fenhaus
Amos Ferka
Nathan Lawrence Fitch
MacKenzie Lynn Freeman
Kalep Charles Glandon
Julian Gomez Jr
Savanna Lee Grassmann
Nicholas Daniel Harwood
Christopher Isaac Hempfling
Ramon Hernandez
Aaron Dale Huebert
Timilie DeAnne Hughes
Wyatt Robert Lynn Hull
Aaron Dwayne Bitz
JayCee K. Faith Kievit
Marquis Madeline Marie King
Kamara Addisyn Lagaly
Maria Isabell Lara
Mikahla Lynn Lavey
Tyler Lee Lavey
Mykaela Ruth Leraas
Breena Rose Lijewski
Max Ryan Llwyd
Brett Ryan Lorah
Allyssia Mae Lynch
Gerard Reynaldo-Lamar Makuntae
Paige Farin Marshall
Sydney Faye Matheson
Erin Rileigh McCaslin
Alexandra Delaney Medcalf
Hunter Brice Mildren
Kaylin Hannah Morris
Grant King Murphey
Allison Brooke Murray
Lauren Elisabeth Nava
Brittany Nicole Olvera
Shema Kayla Ouamalich
Jessica Julisa Palmer
Jaycee Chris Khyle Paras
Allison Edith Patak
Priya Jagdish Patel
Chelsea Nicole Patterson
Jessica Lee Perry
Jessica Lee Perry
Cambrie Lynn Price
Madelyn Ashley Primeaux
Macoy Wade Ramsey
Emma Beth Rice
Courtney Rose Rich
Kelsey Elisabeth Ridder
Allison Sumner Riddle
Katelin Dawn Robbins
Cynthia Rodriguez
Aubrey Haidyn Ruttman
Cele Brian Samkelo
Elvis K Samoei
Rhaven Rene Sarille
Grace Marie Schmidt
James Drew Shaver
Kydie Jo Smith
Kathryn Michelle Smith
Kalique Johan Glen St. Jean
Greyden Lane Steinmetz
Brooke Makayla Stephens
Brooke Makayla Stephens
Parker Grace Stoddard
Jaryn Mackenzie Stringfellow
Pedro Pablo Taboada Torres
Amanda Diane Trevizo
Dawn Renee' Tsatoke
Luis Oscar Valdez-Rivera
Jennifer Lea Wall
Tayra Jessica Ward
Samiya Anteece West
Kemoy Nenoy Willis
Joseph Jefferson Willoughby
Jacob Eli Wilson
Chloe Renee Windham
Connor Jacob Wojahn
Sheila Michelle Woodell
Bachelor of Fine Arts
Casaundra Jenee Duncan
Lacey Lynne Dutton
Jose Diego Flores
Zachary Cole Frost
Savannah Love James
Erin Ruth Kelley
Emily Joy Maddox
Jillian Hope Scroggins
Dani N Stevens
Karen Beatriz Tezen
Alyssa Gail Unsell
Faculty-Mentored Research Program
The following students produced original research projects suitable for conference presentation and/or professional publication under the mentorship of Science & Arts faculty:
Ch'mere-Renne Austin
William Berumen
Rachel Dennis
Lacey Lynne Dutton
Antoinette Falkenstein
Nicholas Harwood
Tyler Lavey
Elis Lynch
Alexandra Delaney Medcalf
Rhiannon Quillin
Parker Stoddard
Science & Arts Faculty Association's Outstanding Graduate Awards
Lacey Lynne Dutton for the School of Visual & Performing Arts.
Robert Spurlin and Rachel Dennis for the School of Social Sciences & Business.
Macoy Ramsey for the School of Education & Speech-Language Pathology.
Alexandra Delaney Medcalf for the School of Science & Physical Education.
Robert Spurlin and Rhiannon Quillin for the School of Humanities & Interdisciplinary Studies.
Science & Arts Alumni Association's Distinguished Graduate Award
Heidi Rice, president of the Science & Arts Alumni Association, presented the Association's Distinguished Graduate Award to Lacey Lynne Dutton, who graduated Summa Cum Laude with a Bachelor of Fine Arts degree in art, and Alexandra Delaney Medcalf, who graduated Summa Cum Laude with a Bachelor of Science degree in biology.