Concert Choir Presents Festive Concert Nov. 13 at USAO
---
November 09, 2007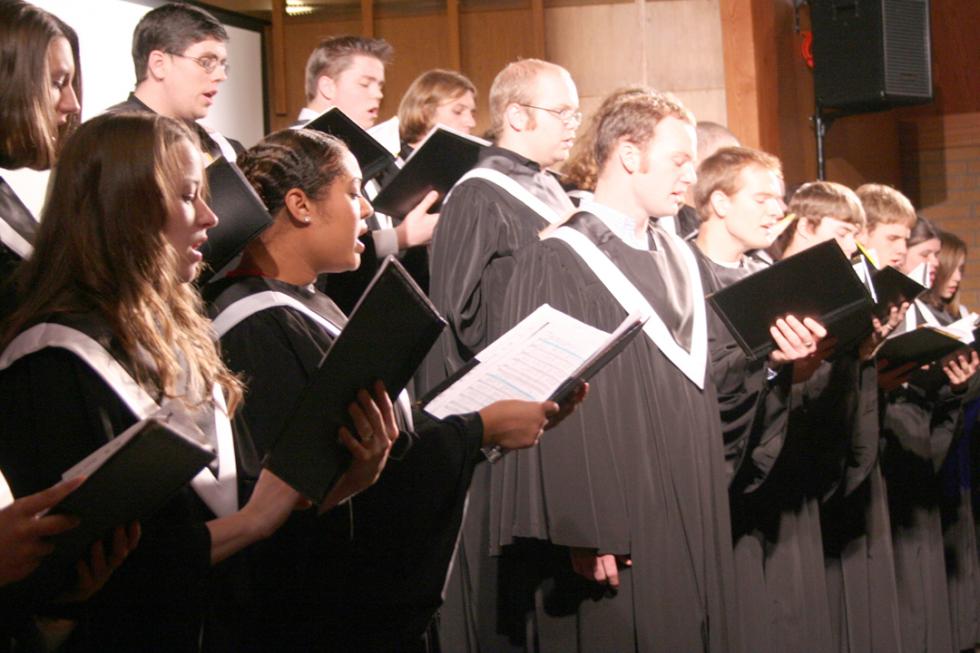 CHICKASHA – Why wait until December to celebrate Christmas? The USAO Concert Choir is getting a jump on the holiday season with a special performance Nov. 13 at the University of Science and Arts. The concert begins at 7:30 p.m. in the USAO Alumni Chapel.
The concert is free and open to the public.
Under the direction of Dr. Jan Hanson, professor of music, the choir is presenting a collection of traditional Latin songs in the form of Camille Saint-Saens' "Oratorio de Noel." Also known as the "Christmas Oratorio," the 10-song work is written for five-part chorus with piano accompaniment and features a variety of solos, duets, trios, quartets and quintets.
The Latin text is taken from Roman Catholic Christmas liturgy and is based on passages from the New Testament. The text details the traditional Nativity story, from Mary's joyful "My Soul Doth Magnify The Lord" to the angels' message to the shepherds in "I Bring Unto You Good Tidings of Great Joy."
A multimedia presentation revealing the English translation of the text will be displayed during the songs.
"The community is invited to come and enjoy this beautiful music of the season," Hanson said.
Student soloists for the evening include Ardmore communication sophomore Schuyler Austin, Hinton drama freshman Tana Ferguson, Rush Springs music freshman Audrey Hodges, Chickasha art freshman Kristin Killion, Chickasha music senior Danyele Oxford, Comanche music freshman Matthew Pitts, Comanche music sophomore Scott Pitts, Tulsa music junior Elizabeth Sellers, Blanchard music freshman Josh Smith, Chickasha political science sophomore Paul Spradlin, Healdton music freshman Mac Stephenson, Chickasha music senior Gina Beth Taylor, Chickasha English senior Jessica Townsend and Fletcher psychology freshman Chance Wilson.
Singing in other languages is not a new challenge to the Concert Choir, which is made up of more than two dozen student singers. In October, the choir performed two German chorales during the weeklong Bach Festival. The ensemble also performed in the University's first Pops Concert last month.
Piano accompaniment for the evening will be provided by Deborah Johnson.
A child keyboard prodigy, composer Saint-Saens attended the Paris Conservatory and gave his first recital at the age of ten. In 1852, when he was only 17, Saint-Saens was appointed to a chair at the Niedermayer School of Religious Music. His most prestigious position was at the Madeleine in metropolitan Paris, where he first performed the "Christmas Oratorio" in 1858. He is remembered primarily as a composer of sacred music. At his death in 1921, Saint-Saens was recognized as France's most significant composer.