Concert to Introduce New USAO Music Faculty
---
November 04, 2015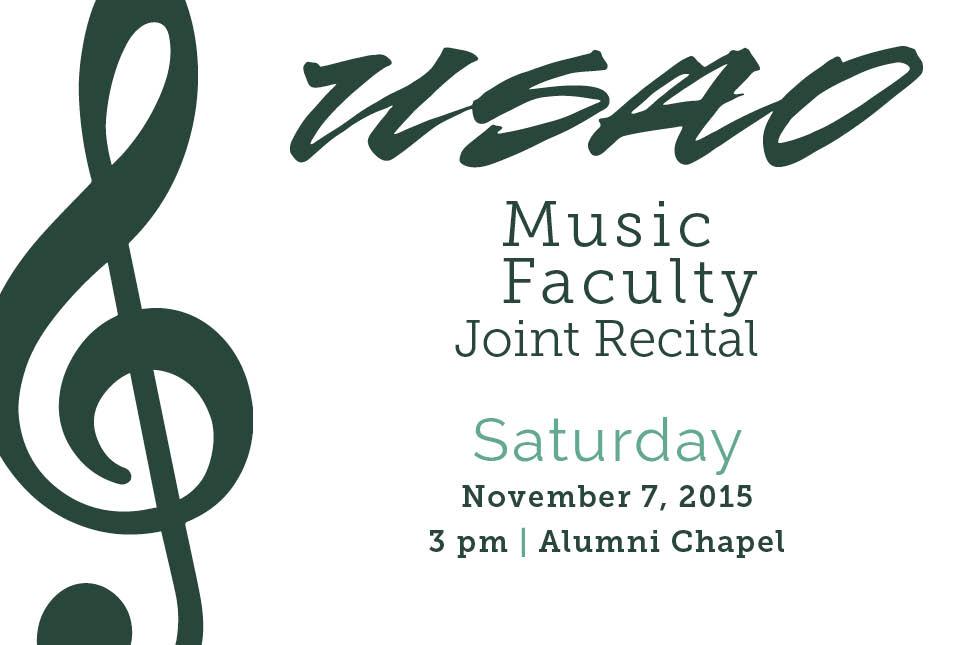 A recital featuring faculty from the University of Science and Arts of Oklahoma is scheduled for Saturday, Nov. 7 at 3 p.m. in the Alumni Chapel on campus. The concert will introduce the newest faculty members of USAO's music department Lindsey Jessick and Luis Francisco Venegas.
The event, which takes place during homecoming, is free and open to the public.
"We are excited to have Lindsey and Luis join USAO's music department," said Dr. Jan Hanson, professor of music and director of choral activities. "This concert allows students, faculty and the community to experience the amazing performing abilities of our talented faculty and staff."
Jessick, USAO's newly-appointed brass instructor, will perform "Concertino" by Ennio Porrinowith music instructor Rhenada Finch. Jessick is a third-year doctor of music arts candidate at the University of Oklahoma where she is a student of Dr. Karl Sievers. She completed double majors in music education and performance from Ithaca College and received her master's degree in trumpet performance from the University of Tennessee. She previously taught in the public schools in New York. Jessick maintains a private trumpet studio and performs with the Plains Brass Quintet, a Norman-based group, and as a freelance trumpeter. She has also performed with the Oklahoma City Philharmonic, the Norman Philharmonic and the Orchestra of the Southern Finger Lakes.
Venegas began pursuing his formal studies in guitar in 2005, and, in 2008, began his college career as a guitar performance major at the Pontificia Universidad Javeriana in Santa Fe de Bogotá. After, he began his graduate studies in guitar performance at Oklahoma City University. In 2014, Venegas was awarded first place in the National Guitar Ensemble Competition at the University of Texas, Brownsville. He was appointed a full-time instructor for El Sistema Oklahoma in Oklahoma City where he currently teaches more than 200 public school students.
Dr. Stephen Weber, professor of music, chair of USAO's Division of Arts and Humanities and Mary Jo Ragan Professor of Interdisciplinary Studies will perform several piano solos, two of which are his own compositions. Weber is a published composer and has recorded for the Opus One label. He has presented research at conferences, performed and had his works performed in various locales in the United States as well as Greece, Switzerland, Hungary, Poland and Italy. Weber has been honored with the USAO Board of Regents' Scholarly Activity Award on three occasions and was the recipient of the Superior Teaching Award. He was recognized by the Oklahoma Federation of Music Clubs as "Oklahoma Musician of the Year" in 2003.
Elizabeth York, oboist and electronic resources librarian at USAO, will be accompanied by Weber. York holds a master's in library and information science from the University of Illinois at Urbana-Champaign and a bachelor's in oboe performance from the University of Tulsa. While at TU, she was the principal oboist for the Symphony Orchestra and Wind Ensemble. During her tenure at the University of Illinois, York held oboe and English Horn positions in the Wind Symphony and Wind Orchestra. Since joining USAO in 2014, she has continued to perform as a double-reed specialist in several performances, including the world premiere of Weber's "Sonatine for Saxophone and Piano (II)."
In addition to playing the flute with Venegas in "Entr'acte pour Flûte et Guitare" by Jacques Ibert, Dr. Kate Sekula, assistant professor of music, will perform during the afternoon show. Sekula earned her Ph.D. in music theory and history at the University of Connecticut. She has bachelor's degrees in music education and flute performance from Lebanon Valley College and a master's in flute performance from George Mason University. Sekula has studied flute with Barbara Divine, formerly of the United States Coast Guard Band; Dr. Barbara Hopkins, Hartford Symphony Orchestra; Dr. Theresa Bowers, Gettysburg University; and the late Judith Lapple; formerly of the United States Army Band and Orchestra. Sekula teaches the music theory curriculum and conducts the concert band at USAO.
Dr. Kenneth Bohannon, professor of music, music department coordinator and director of the USAO Vocal Jazz Ensemble, will perform a selection of songs. Venegas will accompany him on the guitar for "Deh vieni alla finestra" by Wolfgang Amadeus Mozart, while Weber will accompany him on piano during "Quips, Quotes and Quibbles," a composition by Weber. Bohannon has performed as a soloist in musical theatre, oratorio and in more than 20 operatic roles. He has appeared in recital at numerous regional conferences including the College Music Society and Texoma National Association of Teachers of Singing. Previously, he served on the faculties of Lyon College and Harding University, both in Arkansas. His professional engagements include roles with the Cincinnati, Knoxville, Chattanooga and Tulsa opera companies.
Finch, instructor in music, is a 2006 USAO music graduate. Currently, she serves as staff accompanist and class piano instructor. She has performed as the keyboardist and director for numerous USAO and community musical theatre productions, including the world premier and 2012 production of Judy Lee Olivia's "Te Ata." Finch is the keyboardist for the Memory Makers Band, the house band for the Pauls Valley Opry. Finch will accompany for Jessick, and perform a duet with Dr. Jan Hanson.
Hanson, professor of music and director of Choral Ensembles, is beginning her 29th year of service at USAO. Prior to her appointment at USAO, Hanson taught at South Plains Junior College in Texas. She is in frequent demand as a guest conductor, clinician and adjudicator throughout the region. She is a faculty member at the Inspiration Point Fine Arts Academy in Arkansas where she conducts orchestral, choral and music theatre performances. Hanson teaches coursework in music history and literature, conducting, music methods and directs the USAO Concert Choir. She currently serves on the board of the Oklahoma Arts Institute and the Oklahoma Choral Directors Association.