Confederate generals Lee and Jackson to take center stage at symposium
---
June 14, 2013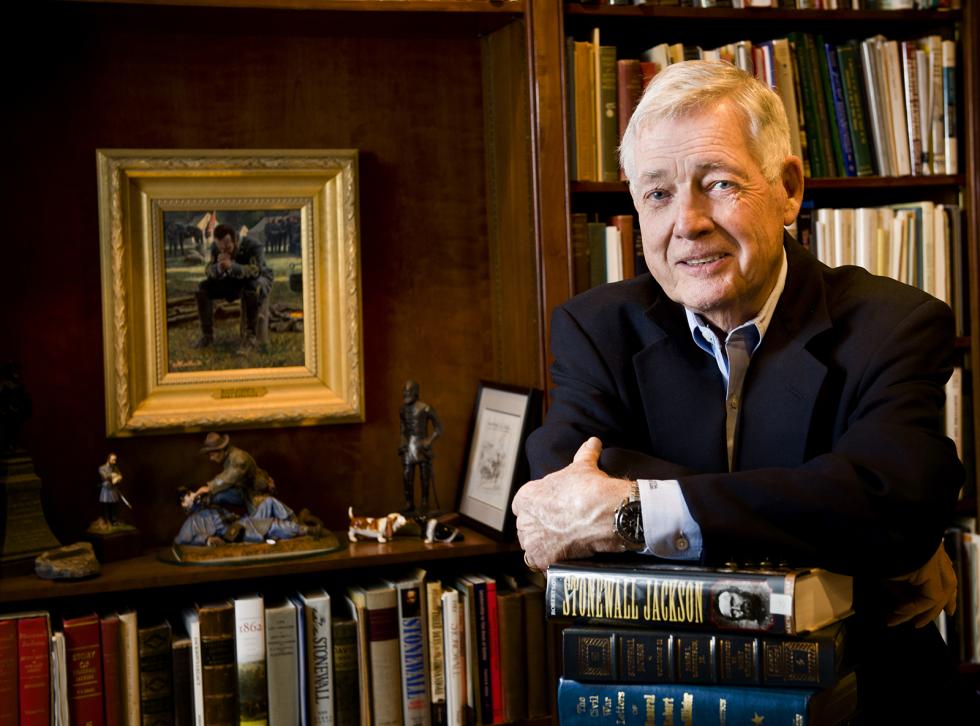 Dr. James "Bud" Robertson is scheduled to deliver the keynote address for the second Summer History Symposium beginning at 7:30 p.m. June 27 in Te Ata Memorial Auditorium at the University of Science and Arts.
Robertson's address will focus on Gens. Thomas "Stonewall" Jackson and Robert E. Lee, continuing the Summer History Symposium's four-year focus on the American Civil War.
The event is free and open to the public.
An author of 18 books and editor of more than a dozen others, Robertson is considered the preeminent scholar on Jackson. He also served as the chief historical consultant for the 2003 film, Gods and Generals, as well as collaborating and co-hosting Virginia in the Civil War: A Sesquicentennial Remembrance with 2012's Summer History Symposium keynote speaker, Professor William C. Davis.
Robertson is the founding executive director for the Virginia Center for Civil War Studies at Virginia Tech. He was appointed by Pres. John F. Kennedy to serve as the executive director of the U.S. Civil War Centennial Commission in 1961 and, more recently, as a charter member of the Civil War Sesquicentennial Commission.
After Kennedy's assassination, Robertson collaborated with the director of the Library of Congress to create a funeral service that mirrored that of Pres. Abraham Lincoln's in 1865.
Dr. James Finck, assistant professor of American history, is enthusiastic about the opportunity to introduce Oklahoma's students and educators to one of America's finest Civil War scholars.
"In my opinion, Dr. Robertson is the greatest living Civil War scholar," Finck said. "His scholarship proves his knowledge, but what makes him such an amazing historian is his ability to make his audience connect to the people he is talking about. I have seen him make an audience collapse with laughter and then bring a classroom of 250 students to tears. I am excited to have attendees really learn about the Civil War in the way only Dr. Robertson can deliver."
USAO's Summer History Symposium began in 2012 and has expanded to include a history camp component. As part of the camp, high school students will have VIP seats for Robertson's keynote address and the opportunity to have breakfast with him the next morning where they can ask questions in a more private setting.
The camp also is open to high school teachers and can be used for professional development hours. During the first day of camp there will be three history lectures given, including the keynote address by Dr. Robertson, and one more the next morning.
The Summer History Symposium is scheduled to continue with Civil War themed addresses through 2015.
The event is part of USAO's annual symposia series, which includes the Ray and Mary Giles Symposium on Citizenship and Public Service each fall and the Emerson-Wier Liberal Arts Symposium in the spring.
Chef and sustainable food advocate Dan Barber, named as one of TIME Magazine's "Top 100 Most Influential People" in 2009, is scheduled to deliver the keynote address for the upcoming Giles Symposium beginning at 7:30 p.m. on Sept. 30.
Nobel prize winner and neuropsychiatrist Dr. Erik Kandel is scheduled to deliver the keynote address for the Emerson-Wier Symposium at USAO on March 27, 2014.
Recent keynote speakers for the symposia include Guggenheim Fellow recipient James Fowler, non-violence advocate Arun Gandhi and religious scholar Elaine Pagels.
More information about the Summer History Symposium can be obtained by calling 574-1229.