USAO faculty and staff find ways to stay connected despite social distancing
---
April 14, 2020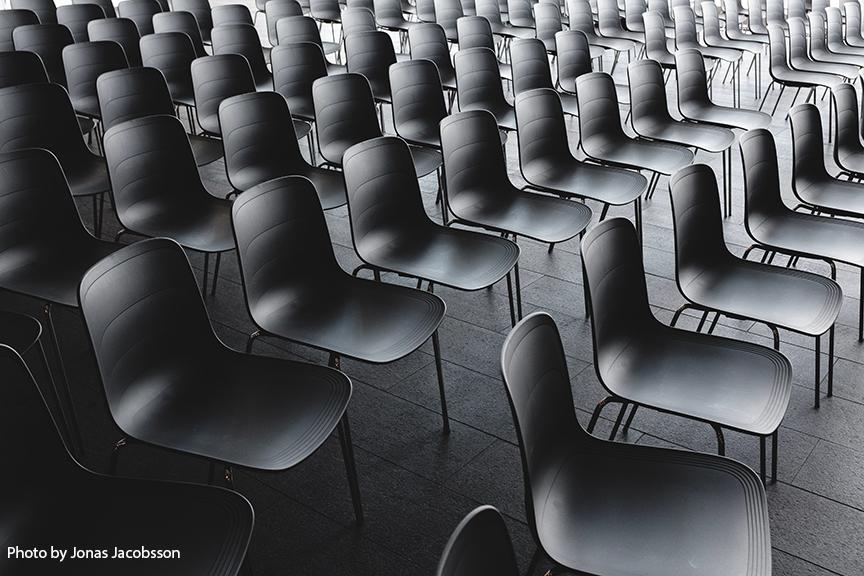 Just as everyone on the University of Science and Arts of Oklahoma campus should have been preparing to enjoy a little time off for Spring Break, the COVID-19 pandemic reached our state, and USAO's administration knew they had to react swiftly in order to protect the health and safety of the students. While it was not an easy decision given the school's close-knit nature, all classes were moved online and public events were cancelled before the week was out.
"It is our obligation to do all we can to limit the spread of the disease and protect the members of our extended community, particularly those who are most vulnerable," said President John Feaver.
Known for small classes and one-on-one interactions between students and faculty, the university has nonetheless navigated the sudden shift to distance learning with relative ease, even if everyone keenly misses the friendly atmosphere of campus and all of the activities that were planned this spring, like the Spring Triad, Emerson-Wier Symposium or Festival of One-Act Plays.
"One of the things that has remained important for me and the students in the Theatre Arts program is the ritual and ceremony that usually come with the end of the term. Just because we can't share space, doesn't mean we can't lift each other up," said Katie Davis, professor of theatre arts.
Since theatre requires a great deal of personal interaction and coaching and then assembles large groups of people to watch the performance, the new social distancing guidelines seem to hit it and other performing arts especially hard. Indeed, plays, concerts, and other public performances were among the first things to be cancelled across the nation as this new reality took hold. Still, USAO faculty are leveraging technology in every way possible to ensure their students still receive the "hands-on" instruction for which the university is renowned.
"I've been doing online advising and lots of phone calls with students during my extended office hours so that we have someone to talk with!" said Davis. "I'm also mentoring the officers of the Alpha Psi Omega Honor Society [for theatre students]. We've still met virtually and have started plans for a Zoom induction ceremony. Keeping some of the 'normal' activities of the end of term is an anchor point for us. Also, having something to look forward to is a nice thing!"
The majority of USAO staff have also shifted to working online, with each department quickly assessing their needs for a physical presence on campus and creating a schedule that limits contact in line with guidelines from national public health experts. While the Admissions Office thrives on personal interactions during recruiting events, the staff have been no less engaging when reaching out through the digital realm.
"Our Dean of Admissions Sheppard McConnell has been a great leader for the office. He saw this coming and got us all linked up and trained on Microsoft Teams so that we could meet remotely," said Barry Feuerborn, associate director of admissions recruitment. "He has us connecting every day to discuss how we are going to communicate effectively to prospective students given that we can't go to them and they can't come to us."
Given that USAO's beautiful historic campus is often a major selling point of the institution, the Admissions team has taken advantage of the "virtual tour" feature to still give prospective students a look at life as a Drover. They are also leveraging social media to speak to students directly.
"Annie Roberts [recruitment and admissions specialist] has been working like crazy to get us in a position to do live chats on Instagram," said Feuerborn. "Her social media game is phenomenal. We have improved so much in this area because of her creativity, love of USAO and desire to help prospective students."
Though the transition to telecommuting as gone smoothly in some respects, many tasks do still benefit from a physical presence, so navigating these hurdles has proved key in continuing to fulfill USAO's educational mission.
"We are still getting applications every day and we are still admitting students," said Feuerborn. "People don't realize how complicated the process is, the number of documents we need to acquire and the number of people that have to be involved in signing off on a decision. Without people present to pass files back and forth for review, you can imagine the challenge."
Thankfully, USAO is staffed with passionate people who are accustomed to adapting to fast-paced changes, probably none more so than Director of Network Services Adeel Siddiqui. A proud alumnus and a mainstay on campus, Siddiqui has worked for the university since graduating in 2003. His leadership in the IT department has ensured that the shift to both online learning and working has gone about as smoothly as possible.
"Adeel was working 70 hours a week before all this happened. He has remained responsive and reliable in helping us stay engaged and connected remotely. Without him, I can't imagine where we'd be," said Feuerborn.
While the speed of the coronavirus pandemic blindsided many people, the faculty and staff at USAO did not miss a beat in responding to this crisis in a way that not only protects the health and safety of all, but allows for the university's distinct mission as a public liberal arts university to continue unabated. Professors remain as available as ever, ready to provide personal guidance and spread a sense of connection at a time when many are struggling with isolation, and workers at every level are finding creative ways to make sure that USAO can provide the level of service it is known for regardless of the circumstances. As this crisis abates and life on campus starts to resume, everyone in the USAO family will be ready to come together again and celebrate the work we have all had to do to get through it.