Creative Oklahoma salutes USAO innovator
---
November 15, 2011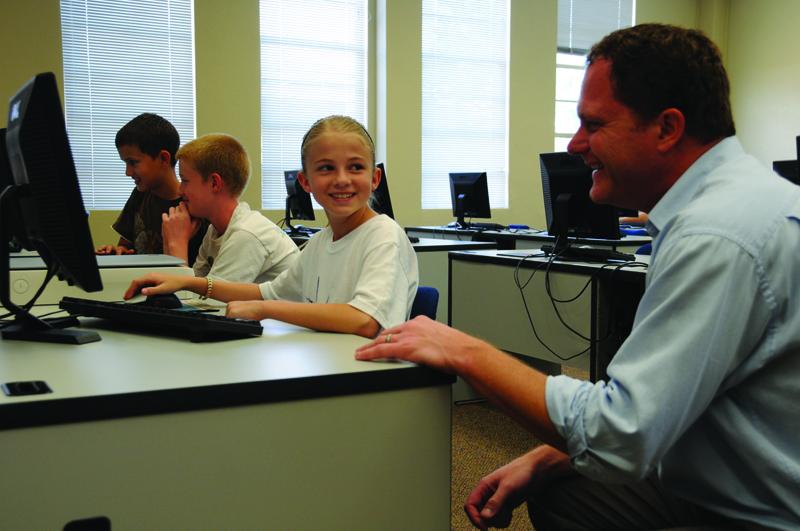 For his work in problem-solving software innovation, Dr. Erik Guzik earned the Great Inspirations Award at the Oklahoma Creativity Forum Nov. 1.
Guzik, an associate professor of economics at the University of Science and Arts, is the architect of an innovative program called Virtual Problem Solving (VPS) that seeks to foster creativity in the classroom. The award was given in acknowledgement of Guzik's role in bringing VPS to Oklahoma classrooms.
The Great Inspirations Award "recognizes and publicizes Oklahomans' creative endeavors, solutions or activities as both a stimulus and an example for other corporations, organizations, communities or educational institutions," says the Creative Oklahoma website.
VPS is a web-based technology that allows schools from all over the world to design problem-solving activities that address the specific educational needs of students of any age. It can be accessed by any classroom equipped with basic computer hardware and the capacity to connect to the Internet.
The program is used by 12 Oklahoma A+ teachers and more than 300 students to tackle such issues as global poverty, community development and new business ideas for local economics.
Guzik, who received his doctorate from the University of Massachusetts at Amherst, recently traveled to Carnegie Mellon University in Pittsburgh to deliver a presentation on VPS and the A+ School project.
"The work of our pilot A+ School teachers and students is now reaching an international audience, and we received a number of requests for collaboration with our A+ School partners," Guzik said.
"Through VPS, our project participants will soon have an opportunity to work with classrooms in South Africa, Russia and China on projects initiated and completed by students themselves. The support of the Kirkpatrick Foundation, Creative Oklahoma and the USAO Foundation has played a major role in securing these types of opportunities for Oklahoma students."
Guzik said that the program strengthens the ties between K-12 and higher education institutions, an essential key to creating a unified education experience for Oklahoma students.
The Oklahoma Creativity Forum was held on Nov. 1 in Norman. The forum brought attendees from a variety of institutions and business to brainstorm on creativity and learn from one another. USAO was one of the sponsors of the event to showcase the university's 50-year innovative interdisciplinary, liberal arts mission.
Dr. Dex Marble, vice president of academic affairs at USAO, participated in The Creative Campus, a panel at the forum that explored what Oklahoma's higher education institutions are doing to produce graduates who innovate in both culture and commerce.
The Oklahoma Creativity Forum is a yearly event hosted by Creative Oklahoma, a statewide non-profit organization dedicated to advancing Oklahoma's creative economy through creativity and innovation based initiatives in education, commerce and culture.
In 2010, Oklahoma City was the host for the Creativity World Forum that brought more than 2500 attendees from 38 states and 18 countries.