Guitarist Edgar Cruz to kick off USAO's digital Davis-Waldorf series
---
September 14, 2020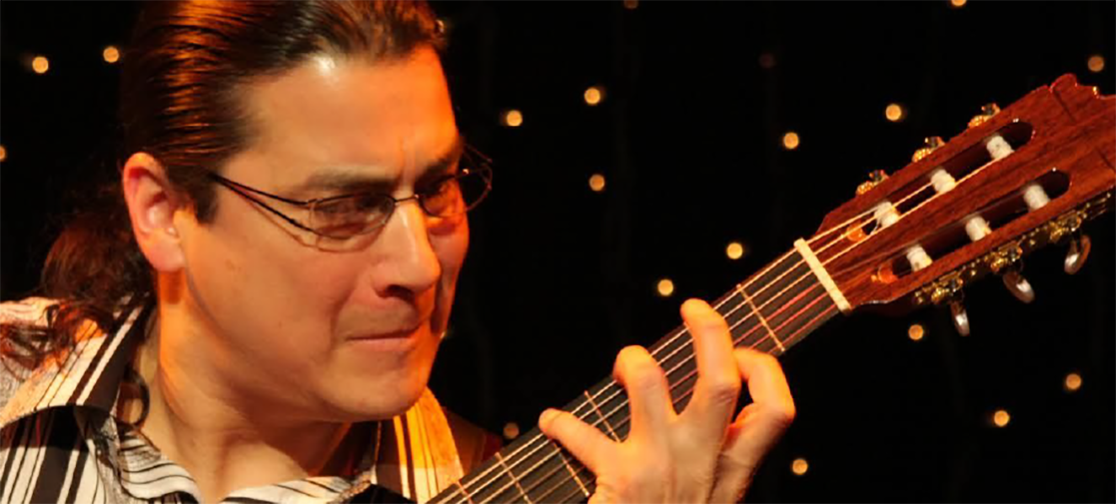 Oklahoma City's own guitar extraordinaire Edgar Cruz will kick off the University of Science and Arts of Oklahoma's innovative online season of the Davis-Waldorf Performing Arts Series Sept. 17 at 7 p.m.
This live online concert will feature pieces from Cruz's eclectic repertoire as well as audience requests. Throughout the evening, Cruz will lead a discussion of solo guitar performance and the rising prominence of fingerstyle guitar-playing in the United States. The event is free of charge, but attendees must subscribe to the DWPAS mailing list at usao.edu/dwpas to receive the access code.
"While our campus performing arts spaces remain closed to the public, we are dedicated to the mission of the series. Now more than ever, people are seeking personal, meaningful, live events that are safe and easy to attend," said Katie Davis, professor of theatre arts and DWPAS executive director. "This season, in its online platform, the DWPAS will reach new audiences. Never before have we been able to offer more equal access to the arts. People of all ages will have the chance to participate in real-time conversations with artists and experience the creative process."
An independent recording artist, Cruz has released 19 albums in styles ranging from classical and flamenco to pop and jazz. Using a combination of speed, precision and musical complexity, he creates a symphony of sound with just a single acoustic instrument. A headliner at the prestigious Chet Atkins Guitar Festival in Nashville every July since 1995, Cruz performs over 300 concerts a year and has toured throughout Europe and the Americas.
The USAO Foundation presents the DWPAS with additional support from the Oklahoma Arts Council, Chickasha Public School Foundation, Mid-America Arts Alliance and community and corporate partners. Its mission is to encourage attendance at high-quality performing arts events as an aspect of a liberal arts education for our students, to provide an affordable entertainment resource for our college family and our community, and to become a leader in local arts education by presenting relevant and culturally diverse programming that broadens the aesthetic of our audiences.
For more information or to subscribe, visit usao.edu/dwpas or call (405) 574-1213.