Dance company 'on tap' for holiday show
---
November 08, 2012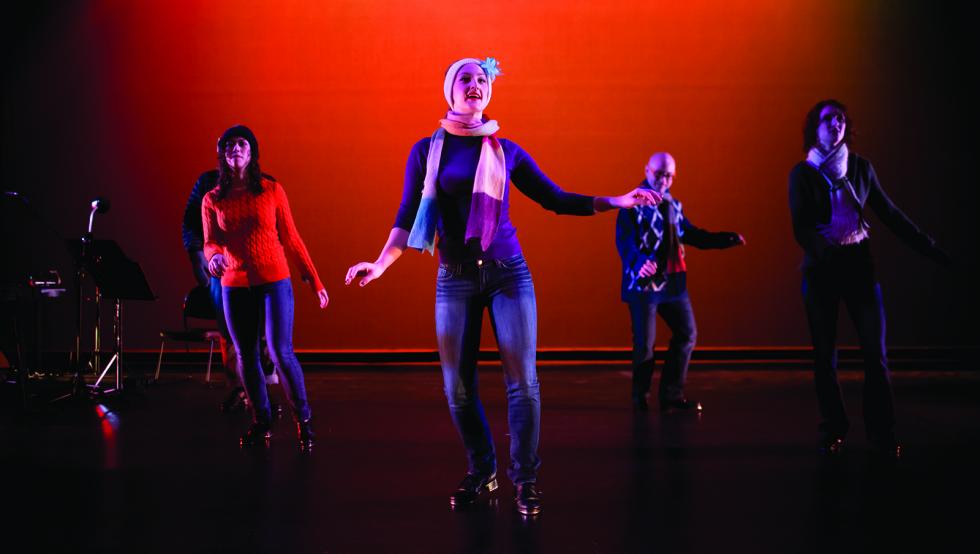 The Chicago Tap Theatre company is scheduled to present a holiday show beginning at 7:30 p.m. on Nov. 30 in Te Ata Memorial Auditorium at the University of Science and Arts.
The show, titled "Tidings of Tap!", is the second installment of the university's yearly Davis-Waldorf Performing Arts Series (DWPAS).
The Chicago Tap Theatre was founded in 2002. The company is known for bringing a story-oriented approach to tap that makes it more accessible to a modern audience.
The company first performed the "Tidings of Tap!" program in 2004 and it has become since a holiday staple for many Chicagoans.
Chicago Tap Theatre has also made a reputation for bridging many styles of music and dance together using tap as a foundation. As a result, the company has played venues as diverse as the Jazz Dance World Festival to Lollapalooza.
Dr. Ken Bohannon, associate professor of music and director of the DWPAS, is excited to share the Chicago Tap Theatre experience with an Oklahoma audience.
"This company puts on a show like nothing I've ever seen," Bohannon said. "I'd be crowing about the amazing educational opportunity for our students in seeing them perform if I wasn't so busy telling people how much fun this is going to be.
The truth is that it's both. Take your pick as to which one means the most to you but, by all means, don't miss the show."
As part of its visit to USAO, Chicago Tap Theatre is scheduled to present a tap workshop beginning at 2:30 p.m. on Nov. 29 in the Davis Hall Little Theater on USAO's campus.
That event is also free and open to the public. More information about the workshop can be obtained by calling 574-1293.
Tap dancing is a primarily American form of dancing with roots in the minstrel shows of the late 1800s.
Borrowing liberally from African-American, English and Irish dance traditions, tap dancing reached its mature form on vaudeville stages across the United States and Europe in the first half of the 20th century.
Dancers like Fred Astaire and Gene Kelly brought elements of ballroom and ballet to tap, making it acceptable to broader audiences during the 1930s and 40s.
Though tap's influence declined beginning in the 1950s, it still produced recognizable stars like Gregory Hines and Sammy Davis Jr.
DWPAS is produced by the USAO Foundation in conjunction with the Chickasha Public School Foundation and is supported in part by an award from the National Endowment for the Arts, the Oklahoma Arts Council, and foundations, corporations and individuals throughout Arkansas, Kansas, Missouri, Nebraska, Oklahoma, and Texas.
Local sponsors include KOOL 105.5 Radio, The First National Bank and Trust, Standley Systems, Arvest Bank, Mosley Agency, Eduardo's, MidFirst Bank, Crazy 8 Café, Dunn's Food Center, Mike Day Insurance and the Chickasha Bank and Trust Company.
General admission tickets for either show are $12 for the general public, $10 for seniors 60 and over, $4 for all students and kids under 18, $7 for USAO staff/faculty and $3 for USAO students. Tickets can be purchased in person at the USAO Business Office or by phone at 574-1213.