Dancers drum up American Indian culture April 5
---
March 26, 2014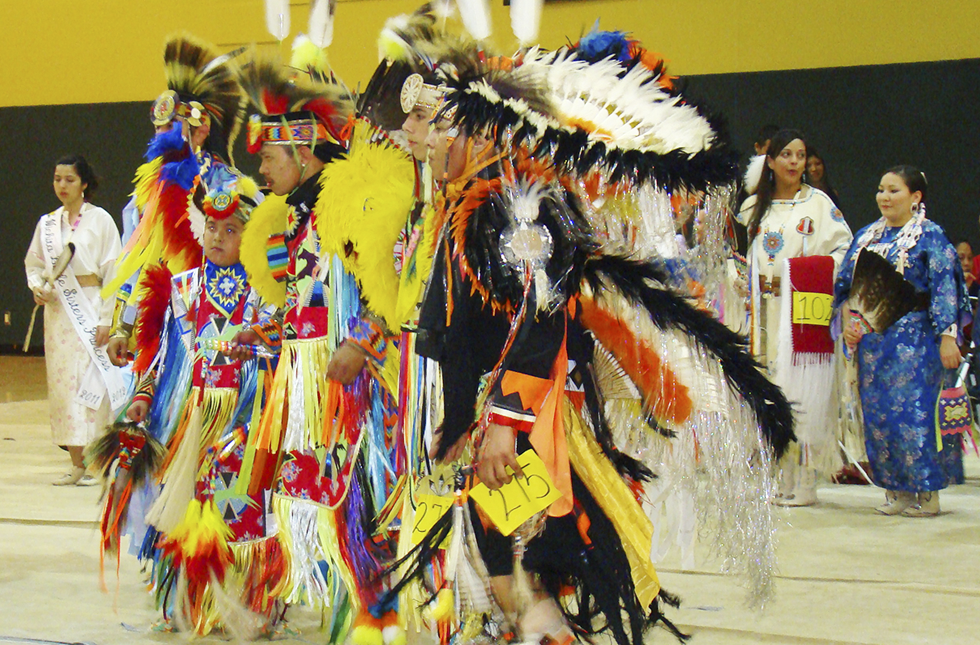 Campus and community members will have the opportunity to witness culture in action when the Inter-Tribal Heritage Club hosts its annual Spring Powwow beginning at 2 p.m. on April 5 in the USAO Fieldhouse.
The event is free and open to the public.
Registration and gourd dancing is scheduled to begin at 2 p.m. The grand entry adult contests are scheduled to begin at 6 p.m.
The powwow is traditionally a gathering of American Indian people from many nations coming together for fellowship, an exchange of culture and, perhaps most importantly, a great meal.
The ITHC gathering is a contest powwow, featuring a competition of dances that are historically important.

The competing categories include the Northern Traditional, Southern Straight, War, Grass Dance, Jingle and Fancy Shawl, among others.
The event is co-hosted by the Hasinai Society and USAO's Cultural and Recreation Fund, the Student Activities Board and the Inter-Tribal Heritage Club.
The host singer this year is Robert Hainta and MacArthur Silverhorn will serve as emcee. The head man dancer is Mark Bolin and the head lady dancer is Bambi Marie Allen.

The head little boy is Dusty LaFerr and the head little girl is Shayna Howery.
Dancing is a fundamental piece of American Indian culture, says Dr. Lee Hester, associate professor of American Indian studies at USAO.
"Dancing reaffirms our connection to each other, to the seasons, to the land and to the animals with whom we share the land," Hester said. "American Indian culture doesn't draw lines between humanity and the natural world and that is reflected in our dances."
The ITHC Powwow is one of the older powwows in Oklahoma though its exact origins remain murky. Hester recalls helping to co-organize the event in 1993 when he was an adjunct professor at Oklahoma City University.
It has been held every year since 1997 and now draws dancers from all over the country.
Hester said he believes that the powwow represents a great cultural opportunity for all Oklahomans.
"Understanding the interactions at a powwow can provide incredible insights into American Indian culture," Hester said. "Virtually every ceremony, every dance, every outfit is fundamental to American Indian religion and society. Visitors will find it difficult not to be wowed by the athleticism of the dance and the rich colors of the regalia."
More information about the ITHC powwow can be obtained by calling Hester at 574-1289.