Dark Storyteller Comes to Life in USAO's 'Pillowman'
---
November 15, 2006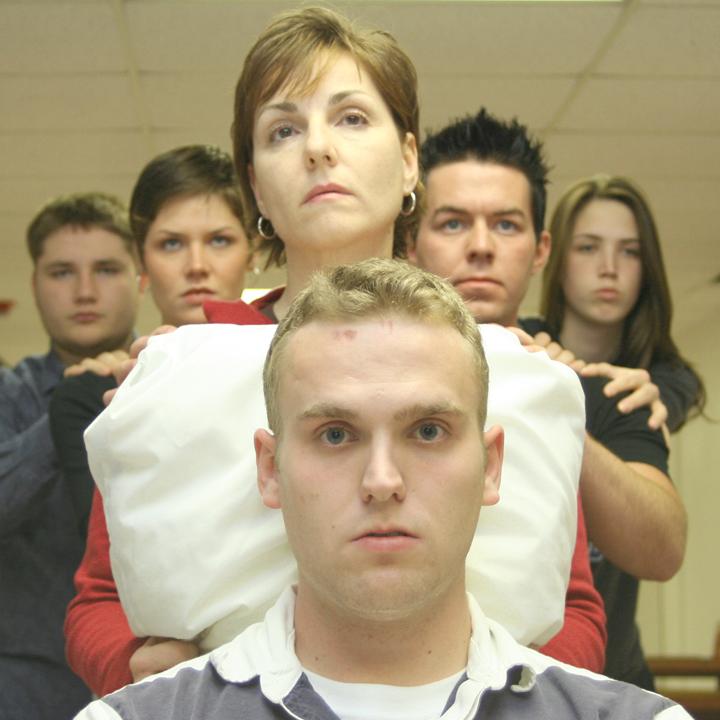 CHICKASHA – A sinister storyteller is coming to Chickasha. On Nov. 17, the University of Science and Arts will bring Martin McDonagh's "The Pillowman" to stage.
Presented as a readers theatre production, the 8 p.m. drama tells the story of a writer whose gruesome stories of murders begin resembling actual events. Admission is $2 for the Davis Hall Little Theatre production.
The play is student directed by Tulsa drama senior DeeDee Beard, who said she was attracted to the story of the storyteller.
"I was drawn to the character of Katurian because I was disturbed in the sense that he and I had something in common," Beard said. "We both write stories that are 'puzzles without a solution,' as Katurian explains in the play. The simplicity of Katurian's stories and their façade of innocence are frighteningly familiar to mine. One could begin to read them as if reading a nursery rhyme. And, like Katurian, I show these stories to no one. So naturally I wanted to explore this play and its depths."
Beard warns that "The Pillowman" is no bedtime story. Aimed at a mature audience, the play deals with child murder and adult themes. The dark story has been compared to the writings of Stoppard, Kafka and the Brothers Grimm.
The cast includes Lindsay psychology/business sophomore Nathan Richards, Noble psychology junior Jessica Anthony, Chickasha business/photography senior Kurt Jones and Marlow communication/drama sophomore C.W. Bardsher. Julie Bohannan, USAO's director of alumni development, also joins the cast of dynamic script readers.
Beard said that the duality of story and meaning promises to draw in the audience.
"One thing is being said on the surface, but the true meaning lies underneath," Beard said. "And once that meaning is surfaced, the audience will want to bury it again, because there is nothing worse then a puzzle without a solution."