Davis-Waldorf Opens Season with OKC Rondeau
---
September 09, 2015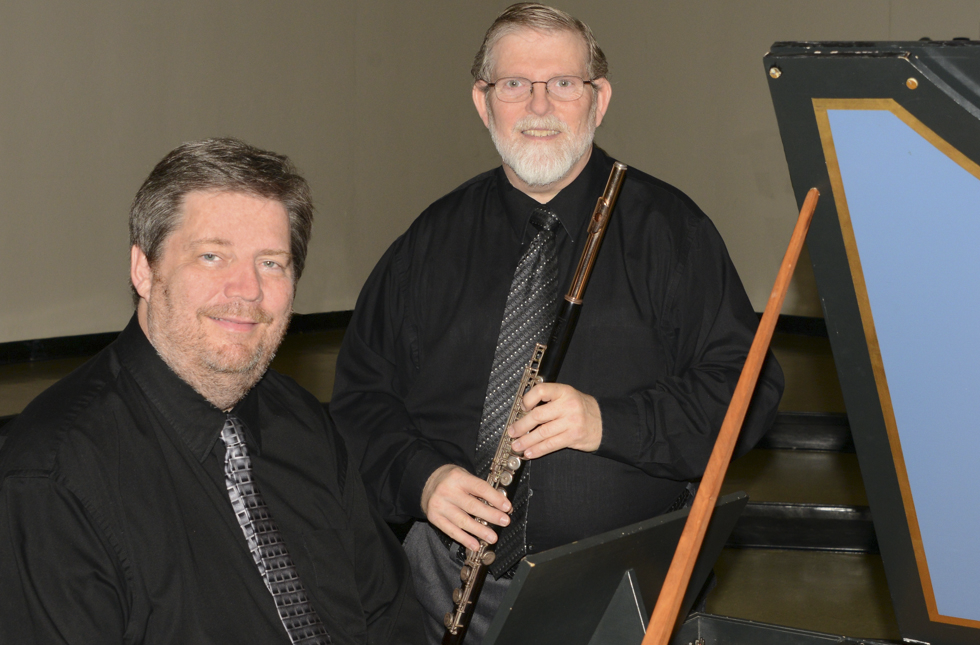 A concert featuring two distinguished performers associated with the Oklahoma City Philharmonic is scheduled to begin at 7:30 p.m. on Sept. 24 at the Alumni Chapel as the University of Science and Arts launches the 15th season of the Davis-Waldorf Performing Arts Series.
General admission tickets for the show are $12 for the general public, $10 for seniors 60 and over, $4 for all students and kids under 18, $7 for USAO staff/faculty and free for USAO students.
Tickets can be purchased at the USAO Business Office or online at usao.edu/dwpas.
Flautist John L. Edwards and pianist Rondal J. Wallace, performing as OKC Rondeau, promise to take the audience on a journey of timeless melodies played on flutes of old and new with Wallace accompanying on both harpsichord and piano.

This journey will be a musical tour featuring Edwards on different flutes from various countries and historical periods.
Performances include ancient and modern Celtic music played on traditional flutes and whistles; music of Mozart and Clementi played on flutes from the early 19th century; and Joaquin Rodrigo's beautiful "Fantasia para un gentilhombre" played on a modern flute.
Professor of Music and DWPAS Coordinator Dr. Ken Bohannon says the OKC Rondeau concert is going to be a great event for everyone.
"Although they do play Celtic music," Bohannon says, "because we have a group in the spring coming that plays Celtic and folk music, OKC Rondeau will be performing more classical music; music that may be from 400 BCE or the 17th century."
The talent that OKC Rondeau brings to the concert stage is demonstrated through the wide range of music genres that they are capable of playing.
Edwards has a long resume of serving the OKC community with his musical talents.

He has been the organist at the First Presbyterian Church of Oklahoma City since 1991. He accompanies Edmond Community Chorale, Canterbury Choral and several choirs at Oklahoma City University, where is serves as the university organist for the 2014-15 academic school year.

Edwards serves also as the assistant director of the Edmond Community Chorale and performs regularly and helps plan the Kemp Concert Series hosted by the First Presbyterian Church.
In addition to playing keyboards, he is a professional flautist and has played eight different instruments with the Oklahoma City Philharmonic.

Wallace is the artistic director and conductor of the Edmond Community Chorale -- a group in which he has been significantly involved with since 1991. He has taught music on the secondary and university levels and is the assistant vocal music director at Edmond North High School.
Wallace will be playing USAO's harpsichord which was recently rebuilt.

Bohannon says this performance will be the first time the instrument has been played in a concert since its reconstruction.
Season tickets are still available for $40 for the general public, $35 for seniors 60 and over, $35 for USAO Alumni Association members, $20 for USAO staff/faculty, $12 for all students and children under 18 and $8 for USAO students.
Future shows include the high-energized Rhythmic Circus Band on Nov. 19, the musical duo Four Shillings Short is scheduled Feb. 4 and The Cleverlys have their comedic/musical performance scheduled March 3.
The Davis-Waldorf Performing Arts Series is sponsored by USAO with major funding support from the Oklahoma Arts Council, the National Endowment for the Arts and the Chickasha Public School Foundation.
Local businesses interested in sponsoring the series are invited to call 405-574-1349 for more information.