Day of volunteerism set for March 6
---
February 27, 2015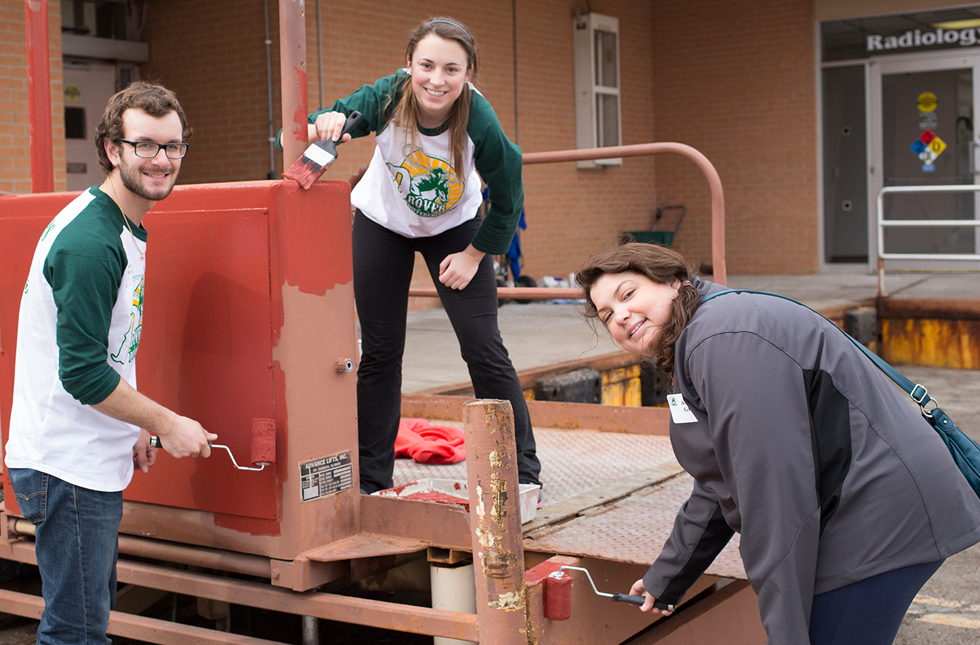 Students, staff and faculty at the University of Science and Arts of Oklahoma will fan out across Chickasha on March 6 for a day of volunteerism as Drover Difference Day celebrates its fifth anniversary.
More than 175 students are signed up to participate in the annual day of service, working in conjunction with more than 15 Chickasha organizations.
The volunteers will work with local organizations including: the Chickasha Animal Shelter; the Grady County Historical Society; the Chickasha Area Arts Council; Ross Health Care; the Salvation Army; the Women's Service and Family Resource Center; Lincoln Elementary; the YMCA; and Grady Memorial Hospital among others.
In total, more than 250 students, staff and faculty are expected to participate.
Catelyn Perry, director of counseling, disability and career services, is coordinating this year's event, in conjunction with Rachel Sharpe, resident life and hall director for the Sparks Hall dormitory.
Perry is grateful for the opportunity to give back to the community.
"This is my third year to participate in Drover Difference Day and it is something I look forward to all year," she said. "It is such a great event, and it is a wonderful opportunity for our USAO family to come together and serve the community. No matter what project you are doing that day, you really feel like you have made a difference."
To celebrate the fifth anniversary, the event will kick off with a breakfast with comments offered from Chickasha Mayor Hank Ross, USAO President John Feaver and Sara Gibbs, a biology senior from Claremore.
Ross is expected to declare March 6 as Drover Difference Day at a meeting of the Chickasha City Council earlier in the week.
Several service projects are scheduled also to take place the week prior and following the special day of service.
More than 50 USAO staff, students and faculty will go to elementary schools around Chickasha and read to students as part of the national Read Across America initiative.
Members of the women's basketball team will participate in Colonial Day at Lincoln Elementary on March 13.
A table will be setup in the USAO cafeteria from March 2-6 for students to sign Christmas cards for military veterans for the Art of Encouragement, which was founded by alumna Ashley Hyde Fuhr, of Oklahoma City, who graduated in 2009 with a bachelor of science degree in psychology and a minor in art.
Students will return to campus for lunch provided by local businesses. Local sponsors for the Drover Difference Day lunch include: Interurban of Chickasha; Temazcal Mexican Restaurant; Chicken Express; Mazzios; A&E Grill; and Paradise Donuts. First National Bank and Trust Co. is donating cases of water that will be in use all day.
Supplies for various projects will be provided by Tractor Supply Co., Chickasha Lumber Company and Brandt's Ace Hardware.
More information about Drover Difference Day can be obtained by calling 574-1326.