Death of a Salesman' Comes to Life Oct. 12-14 at USAO
---
October 05, 2007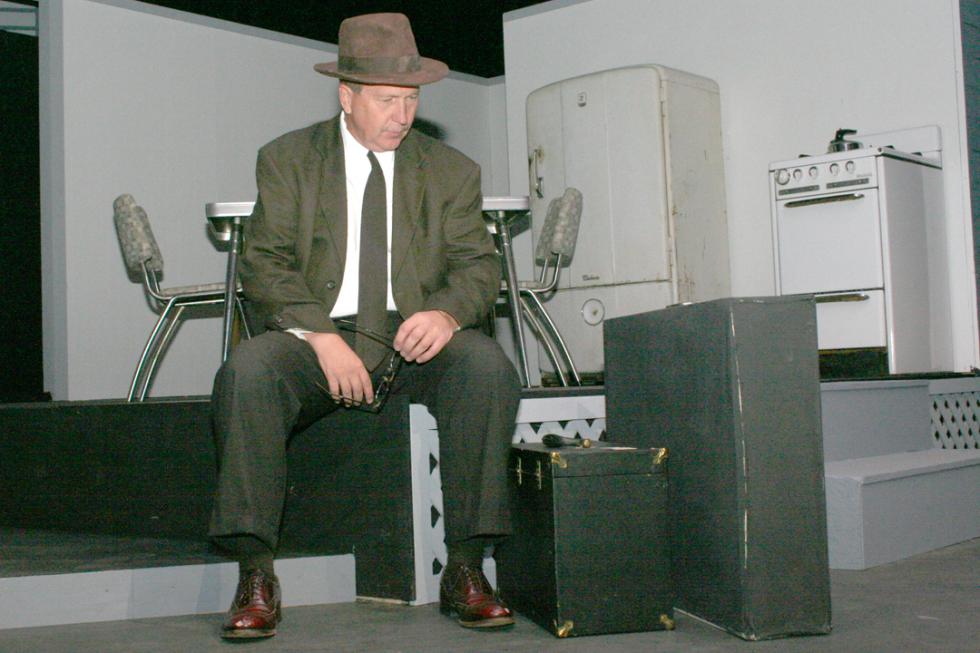 CHICKASHA – Suicide, self-reflection and sales commissions combine when "Death of a Salesman" takes the stage at the University of Science and Arts. It's all part of USAO's annual fall drama production Oct. 12-14.
Arthur Miller's classic tale of introspection premiers Oct. 12-13 at 8 p.m. in the Davis Hall Theatre with a 2 p.m. matinee performance Oct. 14. Tickets are now on sale in the USAO Business Office or through Katie Davis, assistant professor of drama, at (405) 574-1310. Tickets are free for USAO students; adults are $5 and all other students are $2. Tickets also will be sold at the door.
All performances are open to the public.
Davis, who serves as director for the production, said her cast and crew are ready to tackle the timeless drama.
"We have a great team of students, faculty and staff who are breathing new life into this classic work," she said. "This intriguing story is worthy of telling to the USAO and Chickasha community, and we hope many will come experience the thought-provoking story that has made 'Death of a Salesman' a standard production in theatres across the world for so many years."
The story centers around Willy Loman, a traveling salesman for the past 34 years. When a fellow salesman dies, Willy begins a journey of self-examination that leads to a reunion with his sons, Biff and Happy. As the play unfolds, the audience is exposed to both the family's dysfunctional past and Willy's hopes for his sons' futures. The play ends with Willy's inevitable funeral and an unspoken question: can a simple traveling salesman's death make a lasting impact on the ones he loved most?
USAO's production is packed with a large cast and crew primarily composed of students with two roles played by USAO staff and faculty members.
Dr. Craig Elder, assistant professor of management, plays the lead role of Willy Loman. Ardmore communication sophomore Skye Austin plays Linda, Willy's wife. Biff and Happy are played by Oklahoma City music senior Mickey DeFord and Adeel Siddiqui, network support specialist, respectively.
Amber chemistry freshman Robert Story stars as Charley, Oklahoma City biology freshman Seth Turnage plays Bernard, Duncan communication junior C.W. Bardsher stars as Ben and Chickasha communication junior Matt Lane stars as Howard.
Stanley is played by Oklahoma City art freshman Clay Allen Strader with the Second Waiter performed by Blackwell drama junior Chris Stanford and The Woman played by Okay music freshman Brittany Mealer.
Yukon undeclared freshman Rachel Crail plays Miss Forsythe, Oklahoma City communication freshman Brittany Gotcher plays Letta and Jenny is played by Oklahoma City communication sophomore Melissa Losada.
Understudies for the production are Comanche psychology freshman Jefferson Gray as Willy, Stanford as Biff, Losada as Linda and Mustang drama sophomore Tegan Switzer as The Woman.
Stage manager for the production is Edmond drama sophomore Michelle Bivins. Wetumka English sophomore Kasey Sams and Newalla history sophomore Carlena Murray serve as assistants to the director.
Harrah deaf education freshman Nikki Garland, Rush Springs music freshman Audrey Hodges, Elgin music freshman Megan Solomon and Rush Springs natural science senior Ashley Davis comprise the costume crew.
Publicity and marketing for the production are handled by Bristow communication freshman Ashlee Johnson, who also serves as house manager, and El Reno history sophomore Joseph Shelton.
Oilton art senior Tonya Dymond, Chickasha art freshman Brandon Rich and Chickasha deaf education freshman Dorlisa Brown are properties managers.
Sound is by Lindsay psychology freshman Daniel Pool with lighting by Oklahoma City drama sophomore Jared Williams and Oologah drama junior Casey Wright.