USAO presents 2022 Distinguished Graduate Award
---
May 02, 2022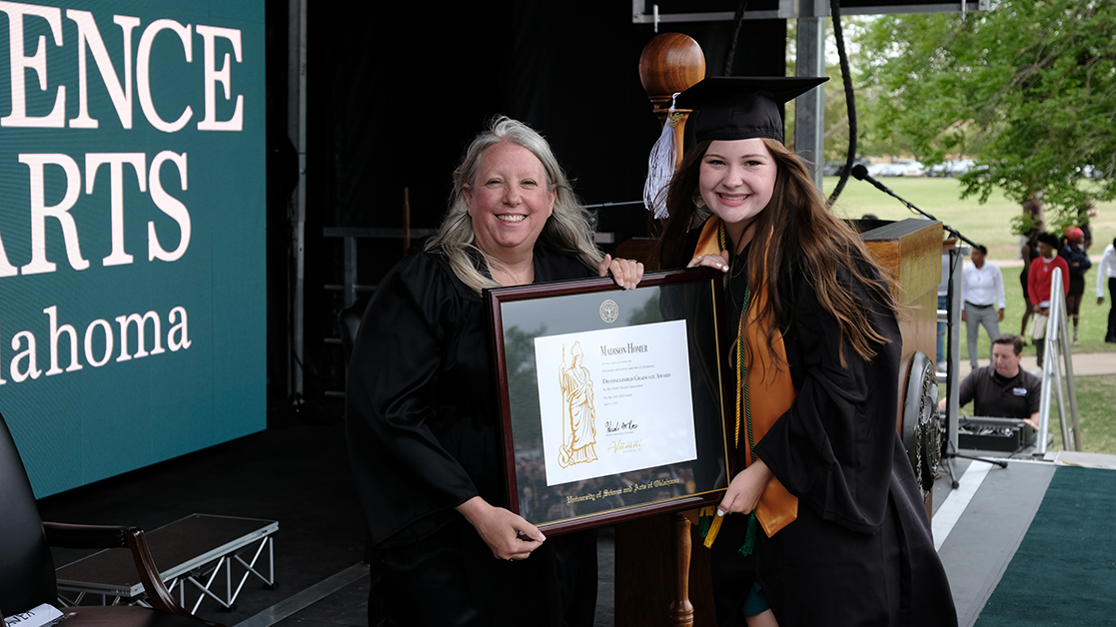 During the University of Science & Arts of Oklahoma's recent commencement ceremony, Heidi Rice, president of the Alumni Association, presented Madison Homer with the organization's Distinguished Graduate Award.
A double major in economics and sociology from Blanchard, Homer exemplifies the model liberal arts student, having distinguished herself in academics, leadership and community service. She graduated summa cum laude in both majors, served on the President's Leadership Council—USAO' most prestigious internal scholarships—and frequently gave back to the community by volunteering with the Chickasha Festival of Lights, the Oklahoma Regional Food Bank and on-campus opportunities. She will be attending the University of Oklahoma College of Law in the fall.
"Madison is one of those rare students who consistently takes her work to the next level," said Dr. Christopher Garneau, associate professor of sociology. "In a school of bright students, she finds a way to really shine. Her work ethic and commitment to her studies has certainly set her apart as a student. USAO will miss the talents she brings to the classroom."
In the fall, Homer will begin her studies at the University of Oklahoma College of Law, and she plans to be an advocate for marginalized groups and work towards equal representation under the law for all people.
Since 1981, the USAO' Alumni Association has honored a very select group of graduates with the prestigious Distinguished Graduate Award. A committee of alumni and faculty determine the award recipients at the end of each fall and spring semester.