Veronica Bryant receives Distinguished Graduate Award for fall 2019
---
December 10, 2019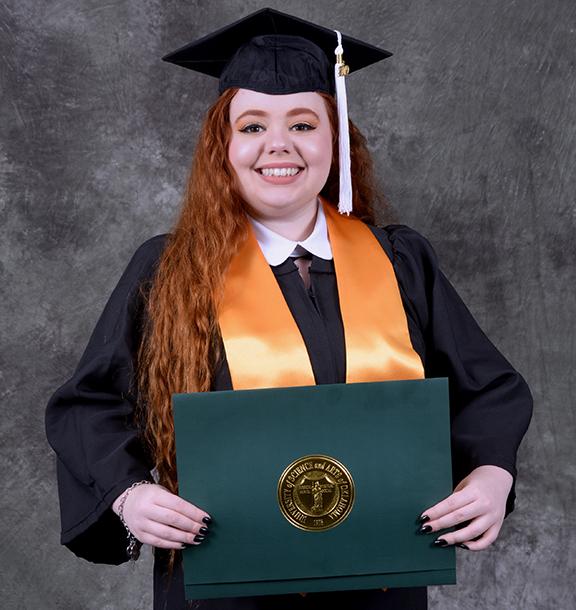 The University of Science and Arts of Oklahoma presented Veronica Bryant the USAO Alumni Association's Distinguished Graduate Award during their recent fall 2019 commencement ceremony.
Originally from Oklahoma City, Bryant graduated with cum laude with a double major in art—illustration emphasis and theatre art—design emphasis. Starting her freshman year, she worked as a production designer in the theatre department, including costume designer for the USAO and City of Chickasha's collaborative production of "Taming of the Shrew," the city's first Shakespeare in the Park event.
Bryant also participated in many student organizations, including drama club, PRISM and the President's Leadership Council, a prestigious scholarship requiring extensive extra-curriculars.
Katie Davis, professor of theatre arts, described Bryant as "easily in the top five percent of all students I've ever taught. She's the kind of student we serve best: truly interested in everything, curious, open to new ideas and willing to take charge of her own learning experiences."
Bryant received a Drover Award, which honors seniors who demonstrate a strong commitment to USAO's mission and dedication to fostering an inclusive campus environment, as well as the State Superintendent's Award for Art Excellence for her work in theatre. She has also established a successful online business taking commissions for design projects. Her college career proves how USAO's distinct, interdisciplinary curriculum enriches its students' lives far beyond the usual college experience.
"Veronica clearly embodies the virtues of a liberal arts scholar and a distinguished graduate," said Chris Collins, president of the USAO Alumni Association. "In addition to excelling as a student navigating the workload of two diverse and rigorous majors, she supported recruitment events and has given meaningful time acting as an ambassador for USAO. She has even written a graphic novel for children! It is my distinct pleasure to present her with the fall 2019 Distinguished Graduate Award."
Since 1981, the USAO Alumni Association has honored a very select group of graduates with the prestigious Distinguished Graduate Award. A committee of alumni and faculty determine the award recipients at the end of each fall and spring semester.