USAO receives $50,000 for digital media technology and video production
---
March 20, 2023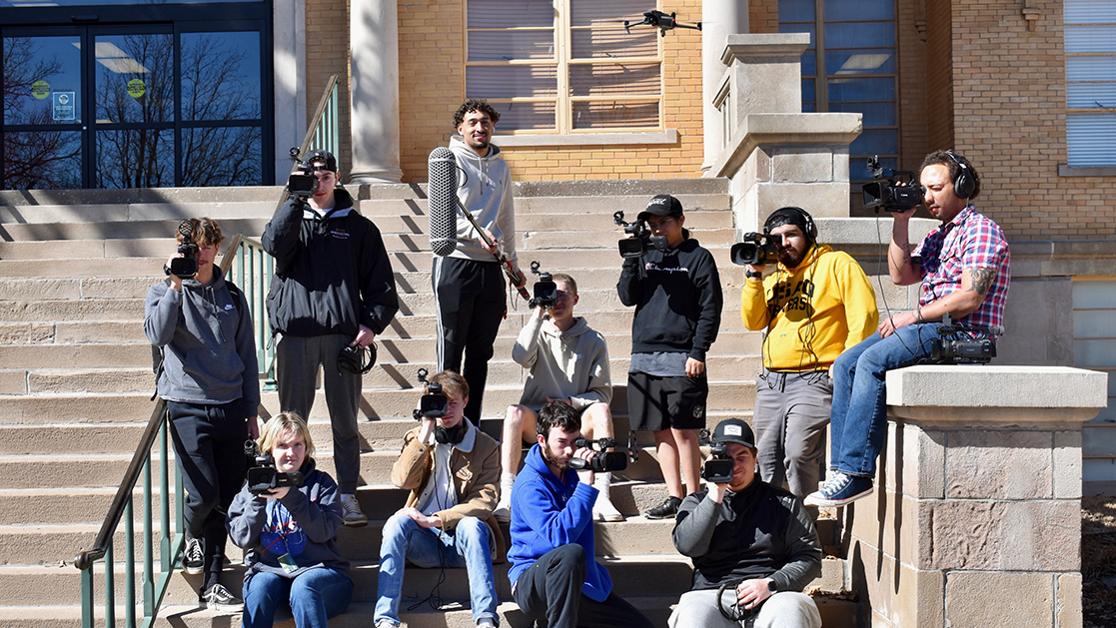 The University of Science & Arts of Oklahoma's communication program recently received a $50,000 grant from the Oklahoma State Regents for Higher Education for the program's new emphasis in video production.
Through the grant, the department has purchased everything from new cameras to microphones to drones, and students are already being trained on the new equipment.
"At USAO, everyone has a camera to learn on and the tools to edit the video they have shot," said David Duncan, instructor in digital media technology . "This grant has greatly expanded what students are able to accomplish in video production courses."
Two courses in video production were taught last fall, with enrollment in them almost doubling for the spring. A third course on podcasting is currently being modeled, with plans for an original student-produced podcast to tentatively begin after Spring Break. In addition, a course in drones and aerial photography is on the course schedule for next fall.
The new courses will teach students how to design and implement video projects from podcasts to movies, as well as train them in using music, photography and special effects in their projects. Firmly based in the university's interdisciplinary mission, the video production emphasis will allow students to explore their creativity using contemporary digital media technology, avenues to present that work to the public, and a solid understanding of how to use these skills in the modern workplace.
"The goal is to create both a 14-hour emphasis and an 18-hour minor in video production that will be open to students from any major. An emphasis in sports journalism is also being planned," said Dr. J.C. Casey, professor of communications and department coordinator.
One of the most exciting prospects for the program is Duncan's original movie, "Forgotten Child," that will be shot during the five-week Independent Study session that begins May 1. While Duncan will direct and serve as coproducer with Casey, students will serve in almost all acting and production roles. A post-production course is set for the 10-week summer session.
"The movie is a murder mystery/ghost story. This spring, students enrolled in 'Movie Pre-Production,' are overseeing the first steps. We've started planning our interior and exterior shots and are about to start collecting props, set pieces and other necessities so we will be ready to shoot in May. We are having so much fun over here, I can't wait to dive into this production," said Duncan. "Through our new video production courses, our purpose is to give students hands-on experience in everything from making image spots, to news and sports interviews, to podcasting, to shooting with drones to making a movie. We want them to do it all."