Distinguished alumni recognized in 2018 Hall of Fame and Young Alumni Award ceremony
---
November 07, 2018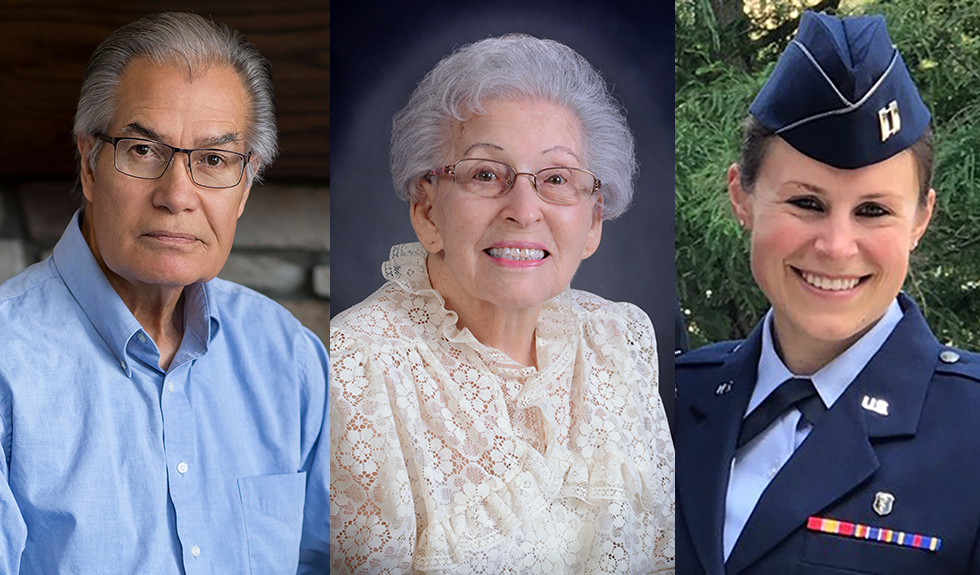 Celebrating the University of Science and Arts of Oklahoma's distinctive history, three alumni were recognized for their outstanding achievements and inspiring public service during the annual homecoming festivities.
Pauline Spangler and M. Franklin Keel were this year's inductees into the Hall of Fame. Dr. Jacqueline Evans, an emergency physician and captain in the United States Air Force Medical Corps, received the Young Alumni Award.
"This awards ceremony is always one of the highlights of our homecoming festivities," said Misti McClellan, director of alumni relations. "So many of our alumni have gone on to have remarkable careers, it's important that we celebrate their successes. This year's honorees have all done great things in very different fields and that is a wonderful illustration of USAO's distinct mission."
Alumni Hall of Fame
Born in humble circumstances in Lawton in 1946, Keel has distinguished himself with a lifetime of service to his country and the Chickasaw Nation. After graduating from the Oklahoma College of Liberal Arts in 1968, he entered the United States Air Force. Appointed as the very first U.S. Foreign Service Officer of Native American descent in 1971, Keel represented tribal interests before political and business leaders around the world. He has since mentored young Native Americans interested in pursuing a career in foreign affairs or elsewhere in the civil service.
After graduating from the Oklahoma City University School of Law, Keel began to assist Native Americans through his work with legal aid in his hometown of Lawton. Rising to represent Native Americans at the highest levels of government as well as in the cultural and educational arenas, he was appointed the Eastern Regional Director for the Bureau of Indian Affairs in 1997.
Until his retirement in 2014, Keel served the 28 tribes of the largest and most diverse region in the United States, consistently leading them through challenging circumstances. He also acted as the sole U.S. representative at international meetings concerning indigenous peoples in Russia, Turkey, Canada and Mexico. Building on his background and expertise, Keel is often sought out to advise and encourage Native American students at universities and law schools across the country.
Spangler never sought public acclaim in her contributions to her community. She quickly gained awareness of the intersection between public, private and professional life early, working for the Chickasha Chamber of Commerce while still in high school.
While still an undergraduate at the Oklahoma College for Women, she married Gordon Spangler at the Minco Methodist Church and later took a position in the records department at Grady County Hospital. In 1959, Spangler became the administrator of the records department and aided in the complex transition to a new hospital facility in Chickasha. Her work was so successful that she served as a consultant to area hospitals on professional standards in medical records.
During her many years at Grady County Memorial, Spangler served as secretary to the hospital's board of directors and was also a long-time board member of the Oklahoma Medical Records Association, including a term as president. She brought that leadership experience back to Chickasha, helping to develop the local chapter of the Business and Professional Women's Association. She retired in 1983.
Outside of the hospital, the Spanglers have been members of Epworth United Methodist Church since shortly after their marriage. One of the most endearing achievements in their exemplary lives is their commitment to each other—an astonishing 75 years.
Induction into the USAO Alumni Association Hall of Fame is awarded in recognition of professional achievement, service to society, and honor and distinction brought to the university. It is the highest honor the organization can bestow upon graduates, faculty, administrators and staff of the Oklahoma College for Women, Oklahoma College of Liberal Arts and University of Science and Arts of Oklahoma.
The Hall of Fame was founded in 1972 with the induction of Te Ata Fisher, a member of the Chickasaw Nation, famed Native American storyteller and OCW alumna.
Young Alumni Award
Dr. Jacqueline Evans first came to USAO for a recruiting function, but she was on the wrong college campus in the wrong town! A conversation with a faculty member helped her decide that USAO was the university for her and Evans proved to be the ideal type of student that our interdisciplinary curriculum was designed to accommodate.
After completing her doctorate, she was admitted to the Emergency Medicine Residency program at Brooke Army Medical Center in San Antonio. She graduated from her post-doctoral training program in October 2017, and now serves as a staff emergency medicine physician at the Malcolm Grow Medical Clinics and Surgical Center's Emergent Care Center.
Located on Joint Base Andrews, "America's Airfield" and home of Air Force One, Evans provides expert emergency medical care to service members, retirees and their family members across the National Capitol Region. Evans is a member in good-standing of the American Medical Association, the Emergency Medicine Residents' Association, and the American College of Emergency Physicians.
The USAO Young Alumni Award is presented to alumni and former students who have attended USAO within the past 15 years. The award is given in recognition of professional achievement, service to society, and bringing honor and distinction to the university.