Science & Arts presents Distinguished Graduate Award for spring 2021
---
May 11, 2021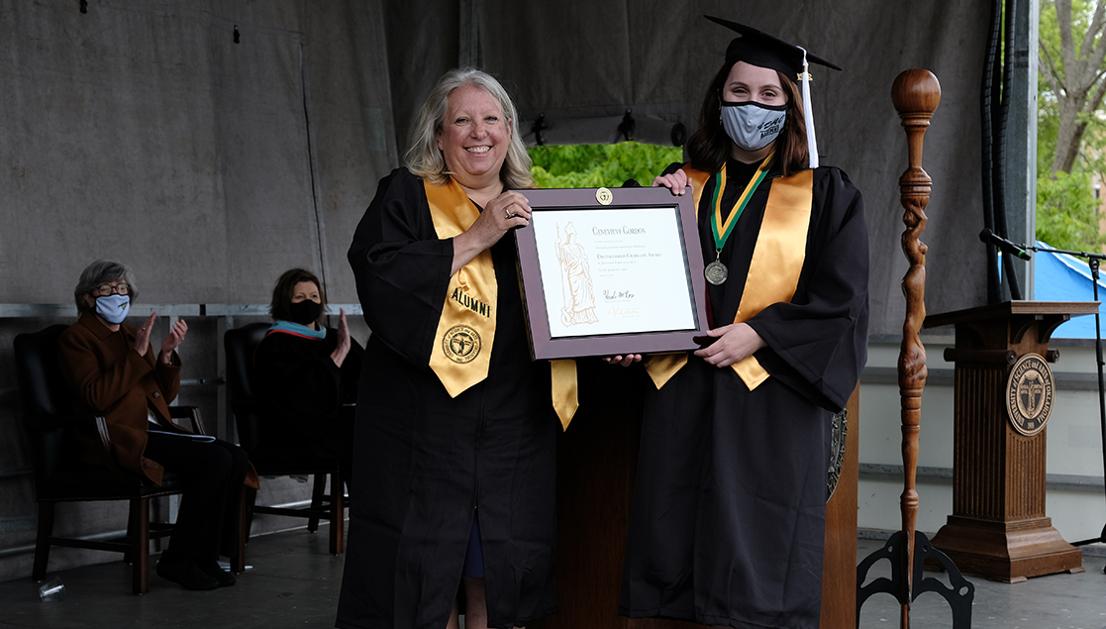 During the University of Science & Arts of Oklahoma's recent commencement ceremony, Heidi Rice, president of the Alumni Association, presented Genevieve Gordon with the organization's Distinguished Graduate Award.
"From every person we have talked to, Genevieve has been more than a student on the Science & Arts campus, she has been a formative presence across the university and the school is better for her having studied here," said Rice.
Originally from Oklahoma City, Gordon graduated summa cum laude with a Bachelor of Arts in English and sociology. In the fall, she will travel to Pennsylvania State University as a fully-funded teaching assistant in their master's program in rhetoric and composition, which is widely considered to be the most prestigious such program in the nation. Due to COVID-19 restrictions, Gordon was actually the only student admitted to the program this year.
"Genevieve is, without exaggeration, the best undergraduate writer and researcher I have worked with at any institution," said Dr. Ben Wetherbee, assistant professor of interdisciplinary studies and English. "She is also one of the most wise, generous and accomplished campus citizens I have encountered amongst Science & Arts' vibrant student community. She catalyzes class with her deep insight, conviction, enthusiasm and kindness. When grading, I save her work for last—as a reward."
Gordon achieved a 3.99 GPA during her time at Science & Arts. She has presented original rhetorical, literary and sociological research at seven different academic conferences, and her scholarship appeared in print in Science & Arts' Drover Review and the Council of Public Liberal Arts Colleges' prestigious "Metamorphosis" undergraduate research journal.
A part of Science & Arts' Mentored Research Program, Gordon produced the thesis, "Masked Meanings: Uncovering the Rhetorical and Symbolic Roles of the Face Covering in Anti-Mask Discourse," which offered a wide-ranging investigation into pandemic-related face masks as a symbol which became more powerful than the mask's practical medical role. She presented this project at the 2020 Research Day at the Capitol, and plans to coauthor an academic article with Wetherbee in the coming months that heavily integrates her existing work.
Outside of the classroom, Gordon served as a writing tutor in the Student Success Center, led the current iteration of the Literature Club and co-led the Feminist Collective, participated in the Psychology Club, drafted grants for the Science & Arts Development Office and served on the university's student task force.
Since 1981, the Science & Arts' Alumni Association has honored a very select group of graduates with the prestigious Distinguished Graduate Award. A committee of alumni and faculty determine the award recipients at the end of each fall and spring semester.