Science & Arts presents 2023 Distinguished Graduate Awards
---
May 09, 2023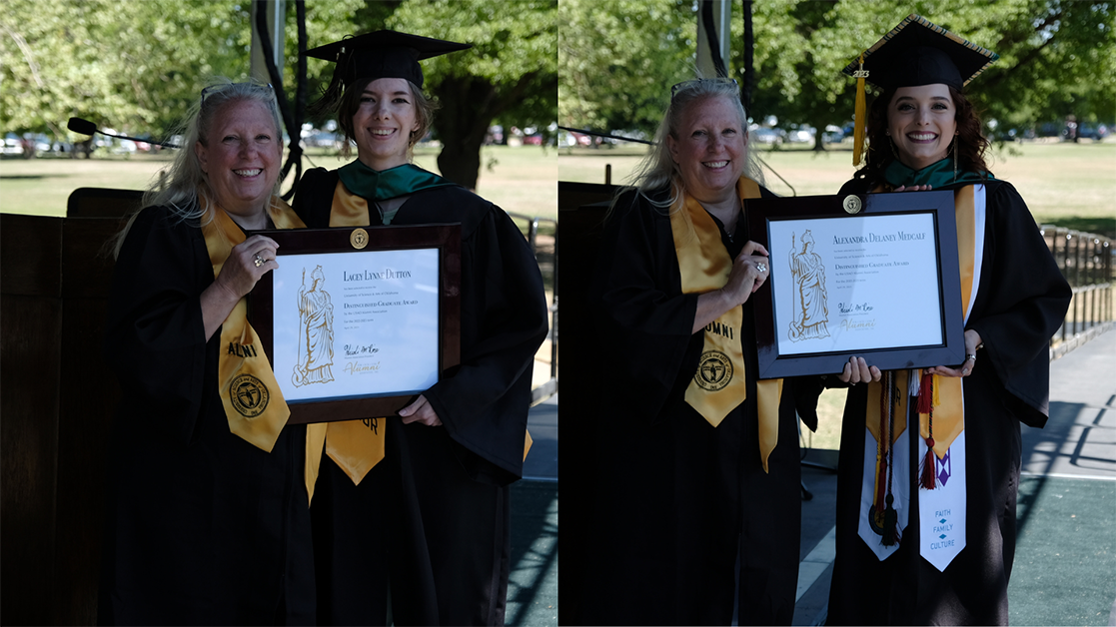 During the University of Science & Arts of Oklahoma's recent commencement ceremony, Heidi Rice, president of the Alumni Association, presented Lacey Lynne Dutton and Alexandra Delaney Medcalf with the organization's Distinguished Graduate Awards for the fall 2022 and spring 2023 terms respectively.
A native of Guthrie, Dutton graduated summa cum laude with a Bachelor of Fine Arts degree in art with an emphasis in illustration and minored in biology, psychology and liberal arts. An exemplar of academic excellence, leadership and selfless service, Dutton was named to the Regents Honor Roll all four years of her college career and was named Student Employee of the Year in 2021. A member of Science & Arts' Mentored Research Program, Dutton conducted scientific research to create accurate illustrations related to botany, zoology and human anatomy.
"Lacey is incredibly rare in her vast abilities, determination and sophistication," said Jordan Vinyard, dean of the School of Visual and Performing Arts, associate professor of art and director of Art Wrecker Studio. "She has excelled in every area and enthusiastically absorbed every ounce of information. She possesses an uncanny ability to synthesize information and generate extremely eloquent projects both technically and conceptually. I have seen her not only maintain an incredible amount of focus in her work, but also devote time and energy to helping others and actively benefitting the community."
Originally from Springer, Medcalf graduated summa cum laude with a Bachelor of Science degree in biology with minors in chemistry, psychology and liberal arts. While her academic performance was exceptional, Medcalf placed an emphasis on community engagement and holistic personal development, helping plan the Droverstock Music Festival, shadowing at local hospitals and tutoring in the Student Success Center. This fall, she will begin a dual Ph.D./M.D. program at Johns Hopkins University in Baltimore.
"Without exaggeration, Delaney is one of the most intelligent, curious and engaged students I have had the opportunity to teach in the past 15 years," said Dr. Zach Simpson, professor of religion and philosophy and Ableson chair of religious reconciliation. "Though Delaney is a science major, she has operated at the highest levels in humanities courses. To my mind, she exemplifies the interdisciplinary ideal of Science & Arts. Her learning has always been informed by her willingness to hear about the ideas, beliefs and motivations of others.
Since 1981, the Science & Arts Alumni Association has honored a very select group of graduates with the prestigious Distinguished Graduate Award. A committee of alumni and faculty determine the award recipients at the end of each fall and spring semester.