Dracars receives Staff achievement award
---
December 11, 2013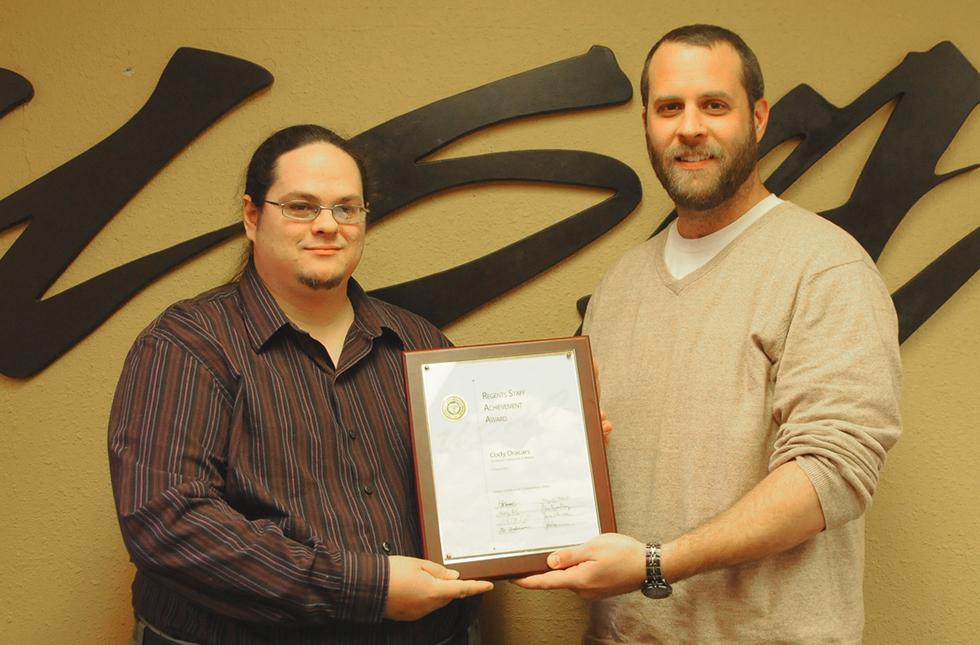 For his tireless efforts in modernizing and improving USAO's digital presence, USAO Web Developer Cody Dracars was awarded the Regents Staff Achievement Award. Dracars was named honoree for the first quarter of the 2013-14 year at the monthly Staff Association meeting.
Dracars has managed the University of Science and Arts of Oklahoma's website since 2008.
The colleague who nominated Dracars for the award described him as, "professional in his attitude and available at any hour of the day to resolve problems."
"Cody is responsible for maintaining as well as developing USAO's entire website, which features more than 75,000 individual pages. He was also instrumental in transforming the site into a 'responsive' design, which puts USAO on the cutting edge of web presentation."
Dracars graduated from USAO with a bachelor of science degree in computer science in 2008.
Dracars was presented the award by Adam Heilman, USAO Print Shop Manager and Employee of the Year for 2012-13.
The Regents Staff Achievement Award is presented quarterly to one outstanding staff member. From these award winners, an Employee of the Year recipient is selected, who will be recognized at the USAO Board of Regents meeting next September.