Dragon acrobats, talented performers fill upcoming Davis-Waldorf season
---
August 21, 2013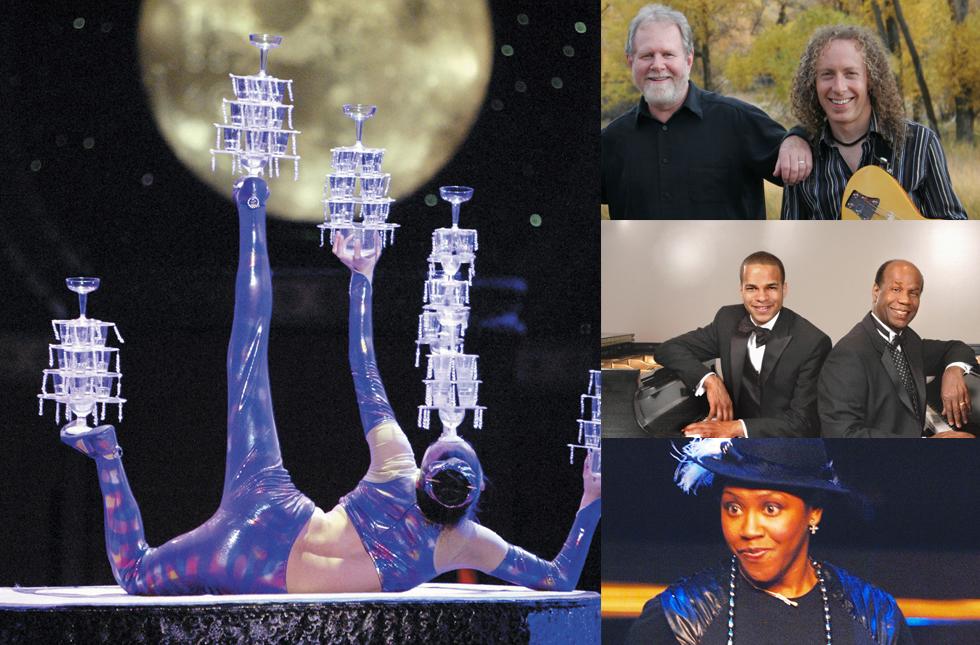 The electrifying Golden Dragon Acrobats make a triumphal return to Chickasha this fall as part of the thirteenth season of the Davis-Waldorf Performing Arts Series at the University of Science and Arts of Oklahoma.
Coming off of a stellar season that featured a sitarist, a tap-dance troupe, a world-renowned boys choir and a ground-breaking string quartet, Dr. Ken Bohannon, coordinator for the Davis-Waldorf Performing Arts Series (DWPAS), knew he had his work cut out for him.
"Our goal is to have every performance reach out to more members of our campus, our community and our state," Bohannon said. "This has pushed us over the years to offer shows that may play well state-wide while leaving local audiences in the lurch and vice-versa."
This year, Bohannon, who is an associate professor of music as well as coordinator of the music department at USAO, feels like he has found the perfect balance of performers.
While USAO's fall 2013 trimester begins Sept. 3., the DWPAS kicks off on Oct. 11 with Two-Part Invention, a collaboration between electric violinist Tracy Silverman and pianist Phil Aaberg.
Silverman was trained at the Juilliard School and has performed alongside Yo-Yo Ma, the world-famous cellist, but his repertoire is famous for containing equal parts Bach and Black Sabbath. Aaberg has performed with the Boston Pops Orchestra as well as popular acts such as Peter Gabriel and the Doobie Brothers.
Blending the core elements of classical music with improvisation more often associated with blues and jazz, the duo's show will present compositions that feel familiar but are filled with surprises.
On Nov. 12, the Golden Dragon Acrobats return to USAO for an encore performance. The acrobats thrilled a capacity audience upon their first visit to campus in 2006 with death-defying stunts that have lingered long in the memory of those who attended the show.
Randy Talley, former director of communications and marketing at USAO, was one of those audience members.
"The acrobats built a tower out of bodies and chairs, one teetering on another, all the way to the ceiling of Te Ata that left the audience completely breathless," Talley said. "We couldn't believe that they pulled off what they achieved. Everyone was riveted and it was packed to the doors."
The season continues in 2014 on Feb. 7 as the campus welcomes Ryan and Ryan, a father-son piano duo that blends two generations of piano mastery into a humorous and family-friendly show. Ryan and Ryan are inductees into the Oklahoma Jazz Hall of Fame and seamlessly integrate classical, jazz, soul and contemporary style into their performances.
The Davis-Waldorf Performing Arts Series will close its thirteenth season with Ain't I a Woman?, a chamber music theatre piece that celebrates the life and times of four powerful African American women. The musical score draws from the heartfelt spirituals and blues of the Deep South, the urban vitality of the Jazz Age and contemporary concert music.
All the DWPAS performances are scheduled to begin at 7:30 p.m. in Te Ata Memorial Auditorium with the exception of Ryan and Ryan who will be performing in the Alumni Chapel.
The Davis-Waldorf Performing Arts Series is sponsored by USAO with major funding support from the Oklahoma Arts Council, the National Endowment for the Arts and the Chickasha Public School Foundation.
Local businesses interested in sponsoring the series are invited to call 574-1349 for more information.
Season tickets for the DWPAS are $40 for the general public, $35 for seniors and USAO Alumni Association members, $20 for USAO staff and faculty, $12 for students and children under 18 and only $8 for USAO students.
Both season and individual performance tickets can be purchased at the USAO business office. More information about the series can be obtained by calling 574-1293.