Drama Club Explores Psychological Thrills in 'Bug'
---
October 04, 2006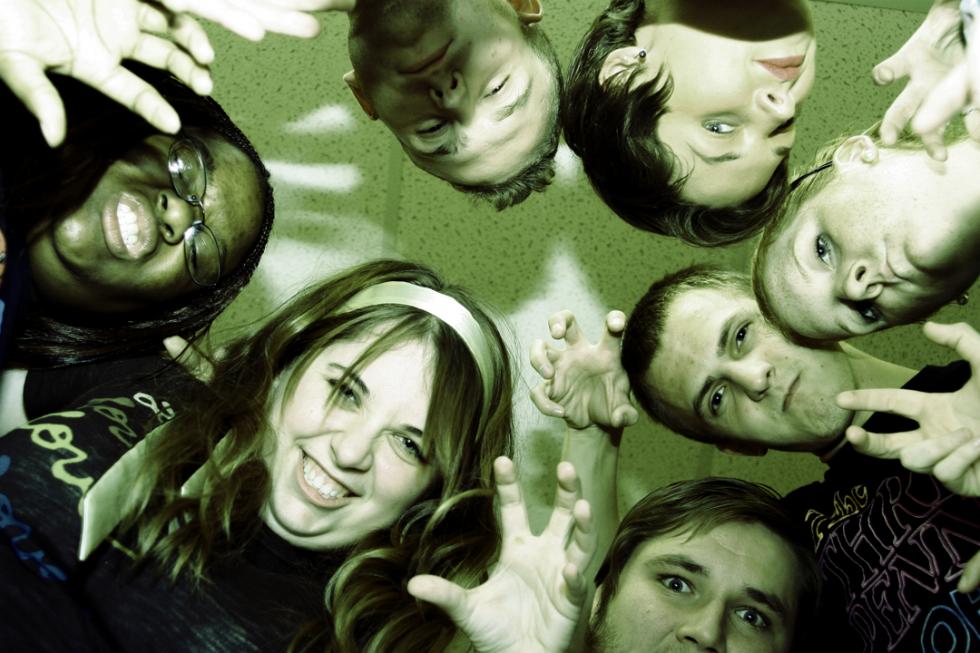 CHICKASHA – Seven students are poised to take theatergoers on a psychological ride exploring paranoia, drug addiction, abuse … and bugs. A student performance of "Bug," by Tracy Letts, debuts Oct. 6 in the Davis Hall Little Theatre at 8 p.m. at the University of Science and Arts of Oklahoma.
In conjunction with the USAO Drama Club, this creepy-crawly tale presents the story of Agnes, a divorced waitress hiding out in an Oklahoma City motel room with Peter, a Gulf War vet haunted by conspiracy theories. Tensions mount as they await the inevitable arrival of Agnes's abusive ex-husband who has recently been released from prison. An infestation of insects adds a literal bite to the morbid mess.
Presented in a readers theatre format, the play uses no costumes or set, and actors sit reading the scripts. Tulsa drama senior DeeDee Beard, who plays the part of R.C., said this style is likened to the days before television.
"It's like listening to an old radio show," Beard said, "except we're in the room, reading on the stage."
Beard said that due to the play's adult content and language, the production is aimed at mature audiences only.
"This is a very adult show," she said. "There is bad language and graphic descriptions. However, we would like to encourage anyone who is interested in the complexities of the human mind and its functions to attend the play."
Under the direction of Moore communication sophomore Ryan Bell, the play features five students of varying disciplines and classifications. Bell, who directed last spring's "All I Really Need to Know I Learned in Kindergarten," said the performance offers a rare chance to see an out-of-the-ordinary show with Oklahoma roots.
"'Bug' is a great show that's actually set in Oklahoma City," Bell said. "It is a psychological thriller that people would not normally have the chance to see."
The cast includes Edmond communication sophomore Arielle Green, Duncan communication sophomore C.W. Bardsher, Lindsey psychology sophomore Nathan Richards and Broken Arrow deaf education junior Mandy Mason. Stage direction is by political science senior Angela Jones of Frisco, Texas.
Beard said she chose to be in "Bug" because of its shock value.
"I've always wanted to be apart of a project that shocks the audience in an unpredictable way, and 'Bug' is disturbingly unpredictable," Beard said.
Tickets for the performance are $2 each at the door. More information is available from the USAO Drama Club by email at usao.dramaclub@gmail.com.