Drover Alum Since Day One: Dr. Ric Baser
---
August 08, 2022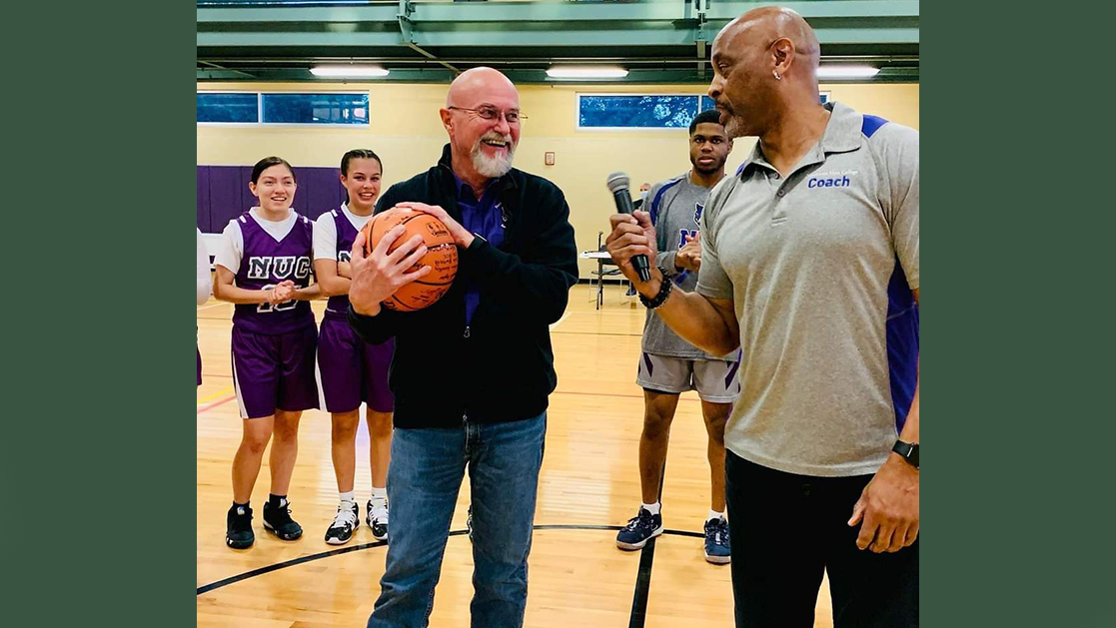 When Dr. Ric Baser retired on May 31, 2022 as the president of Northwest Vista College in San Antonio, he brought his 41-year career in higher education to a close (for a time), a career that has its roots in his time as an undergraduate at the University of Science & Arts of Oklahoma. When deciding which college to attend, however, the institution was not high on his list, and at first he was not even sure exactly what kind of school it was.
"Following a year at a junior college and a year at the University of Arkansas, I began receiving letters from USAO," said Baser. "To be honest, I thought it was a military school and that my father was sending me a message. It wasn't until I received a phone call that I discovered that it was a liberal arts university. I arrived on campus and immediately fell in love with the interdisciplinary curriculum and the phenomenal faculty."
After completing his bachelor's in drama in 1979, Baser went on to earn a Master of Arts and began his professional life in higher education, teaching speech and debate in a Kansas community college. In the proceeding four decades of his career, Baser would go on to work for four other community colleges, as well as his alma mater and Oklahoma State University, serving in both academic and administrative positions. Prior to being named president of NVC, he had served in vice presidential positions for 18 years. Much like the efforts of USAO in recent years, Baser's leadership paid particular attention to student success, and his efforts, along with those of hundreds of dedicated faculty and staff brought clear, measurable results.
"During my eight years as the president of Northwest Vista, our focus on student success moved our three-year graduation rate from 11 percent to 34.7 percent, and we were ranked as the number one community college in Texas and number six nationally," he said.
Despite setting down his presidential mantle, Baser will continue to educate future generations and will return to the classroom this fall as an adjunct professor. Looking back over his long career, Baser is quick to note how his USAO experience taught him to value academic debate, as well as how such vigorous discussions can improve outcomes for the students engaged in it.
"I remember how faculty would disagree about an interpretation of an issue or topic during a class, and then after class go for coffee. It was not only alright to academically disagree, but it was also both positive and constructive," said Baser. "Through this positive tension, collaborative progress is made. Throughout my administrative career, the embracing of diversity of thought became my mode of operation. I learned that you could have a liberal arts university who believes in the diversity of thought, in an interdisciplinary curricular experience and in truly engaging and supporting students."
Beyond the distinctive academic model that helped expand Baser's worldview, the intimate atmosphere at USAO also made an important impression that he would leverage throughout his life. Unlike many larger universities, he not only developed close working relationships with faculty members who knew his name and cared deeply about his success, he had the opportunity to take classes outside of his major as well as be a part of numerous extracurricular experiences. He credits Drs. Jerry Holt and Warren Kim in particular as being especially effective mentors even though he was not majoring in either of their disciplines.
"After transferring from a large university, the small classes, the close relationships built, and the ability to actively participate in multiple organizations and extracurricular activities were priceless," he said. "I was able to be extremely involved in theatre productions, forensic debate tournaments, student government, intramural sports, intercollegiate legislature, serve as the announcer for Drover basketball games and still be successful."
In addition to the transformative education he received at USAO, Baser credits these multifaceted accomplishments to his tenacity and competitive spirit, which makes him unwilling to fail even when great obstacles present themselves. He was inducted into the USAO Hall of Fame in 2014, and was the first recipient of the Rising Star Award from the OSU College of Education. Still an avid supporter of live theatre, Baser has been married to his wife Kari for 40 years and the couple have two sons and a granddaughter.