Drover Alum Since Day One: Chris Castor
---
April 12, 2023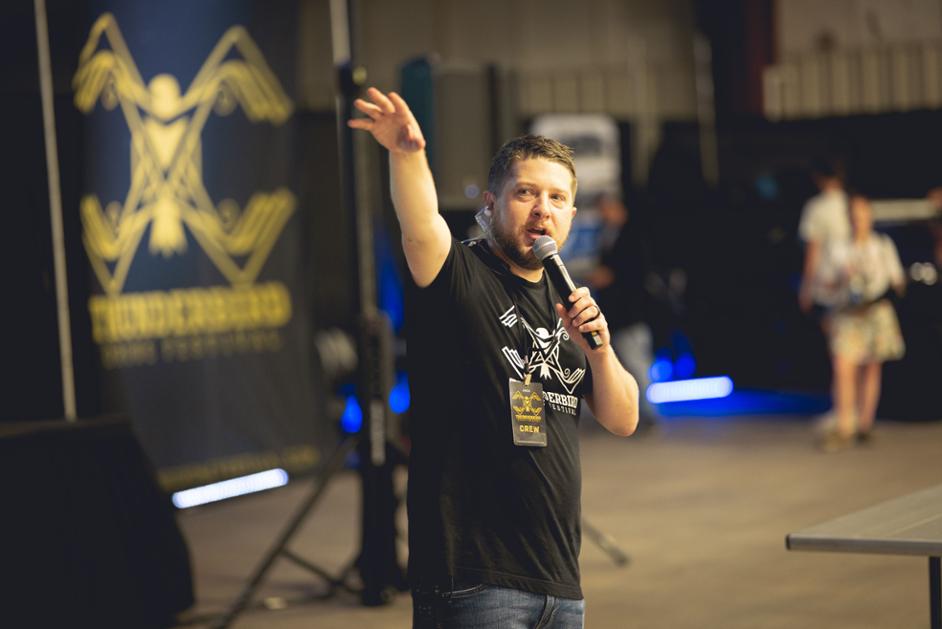 Woodward native Chris Castor first heard about the University of Science & Arts of Oklahoma from his high school art teacher Roby Merklin. After visiting campus, he fell in love with its intimate environment, fantastic art faculty and wide variety of learning experiences the program's interdisciplinary focus would provide him. He would go on to earn a Bachelor of Fine Arts degree with an emphasis in painting.
After graduating from USAO, Castor interviewed for a position as a children's book illustrator with a local publisher. While he did not get that job, he did get hired in their graphic design department, which would lead to his interest in animation and visual effects, eventually leading him into the world of filmmaking. As a creative professional, Castor has had to work with all sorts of different people, and he notes that his college experience prepared him for the challenges of navigating a diverse world while remaining true to yourself.
"My time at USAO was extremely important because it allowed me to meet many people with differing worldviews and to hear ideas that were taught in opposition to my own," said Castor. "I believe that my time at USAO played a role in teaching me to strive to understand and empathize with those who hold other worldviews while continuing to firmly believe in what I consider to be the truth."
Now a filmmaker, visual effects artist and drone pilot, still based in his hometown, he has won awards and attended drone film festivals in New York City, Los Angeles, Frankfurt, Germany and many other places. Working in various capacities for Skit Guys Studios, Castor had five credits in the studio's 2021 film "Family Camp," which reached the top 10 for new releases in U.S. box offices during its opening weekend. He is also the director and co-founder of the Thunderbird Drone Festival, the state's first and only drone film and photo festival. With the third annual festival set for Aug. 25-26, the festival has enjoyed phenomenal growth so far, and all signs point to another great event this year.
Castor is also an independent artist who has created original works for celebrities such as basketball phenom Kevin Durant and musician John Mayer. His portrait of Durant hung in the player's Oklahoma home during his time with the OKC Thunder and is seen in an HBO documentary about him. Castor has also asked to paint the star live for a charity gala.
"I painted during the event surrounded by a lot of NBA players and important people. It was nerve-wracking for sure! But it was also a lot of fun. He signed the painting at the end of the night and it was auctioned off for a charity," said Castor.
While the education Castor received was certainly instrumental in his professional success—and he mentions art faculty like Kent Lamar, Jacquelyn Knapp, Hollis Howard and Steve Brown among the many formative influences on his creative and intellectual development—it is the human relationships that really stand out as the most important element. Like so many USAO alumni, he is quick to mention the importance of the friendships he made during his time at the university.
"I am having a difficult time picking one life-impacting moment from my time at USAO. There are countless memories I made with friends that I will never forget," he said. "My entire experience at USAO was something I will cherish forever. But I remember one particular Droverstock where I spent the morning doing chalk art, then my friends and I listened to Copeland (one of my favorite bands at the time) live in the Oval. It was a great day!"
Looking back over his undergraduate experience, Castor sees how USAO' distinctive mission has fostered his current abilities, as well as his overall drive to continue growing and improving himself. The education he received at the university has provided him with all the tools he needed to become the successful artist and entrepreneur he is today.
"I honestly believe that the multidisciplinary approach taken in the art department enabled me to try my hand at so many different ventures after graduation. This approach not only made life more enjoyable by allowing me to explore new ways of being creative, but it also made me more effective at taking on new roles and responsibilities in my work. I never feel stuck with one skill or niche, as I'm constantly learning and exploring new things," said Castor.