Drover Alum Since Day One: Sky Corby
---
June 07, 2022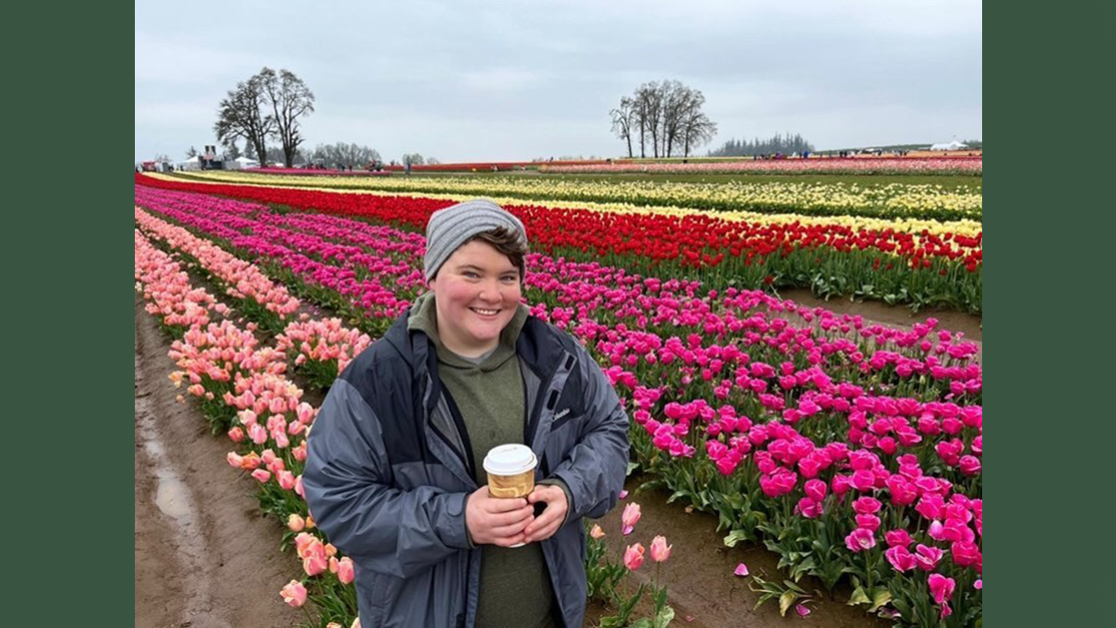 A 2013 graduate from the University of Science & Arts of Oklahoma with a bachelor's degree in psychology, Sky Corby first heard about the school at a college recruitment event at their high school. But what really drew their attention was that the people they interacted with seemed to care about their future, always taking time to answer questions. After earning a master's in experimental psychology from Central Washington University in 2017, Corby then moved to Portland, Ore., and accepted a job as a qualitative researcher at an academic hospital.
"I have worked there for the past five years and got promotions along the way," they said. "I have written multiple first-author publications in top-tier medical journals. I am also a research assistant for the industrial-organizational psychology lab at Portland State University, where I focus on diversity, equity and inclusion issues in the workplace."
Earlier this year, Corby was accepted into the country's No. 1 doctoral program in industrial-organizational psychology at Rice University to study these issues, which they note was a tremendous honor. Unfortunately, due to the anti-transgender legislation currently being enacted in Texas, and because Houston has no city ordinances protecting trans people, Corby ultimately decided to turn down the opportunity.
"When I went to visit, I did not feel safe as a trans person," they said. "It felt like I would have had to sacrifice my authenticity in pursuit of higher education. It's taken me this long to be authentic, and it is no longer something I am willing to give up, even for my career."
Despite this setback, Corby has still continued as a researcher, recently presenting at a national psychology conference on non-binary individuals in the workplace. Though Corby has been immensely successful in their professional career, they credit USAO with instilling in them the ability to think critically about the world, calling it "one of the most important skills I have." Their undergraduate experience also sparked Corby's love of learning and passion for conducting psychological research.
"Prior to USAO, I didn't really care much about learning, it was all just for grades," said Corby. "But at this school, I discovered that I cared about all subjects deeply, that I could find passion in the pursuit of knowledge. This school is the reason I became a researcher and found my career of choice."
In addition to USAO' liberal arts core curriculum as well as the courses required for their degree, Corby was a part of the university's mentored research program, which provides senior students advanced experience in academic research that results in sophisticated projects suitable for conference presentation and professional publication. For Corby, this opportunity, rare in undergraduate institutions, prepared them for the long track-record of success they have forged in their chosen profession.
"I learned every step of a research project, from coming up with an idea to creating a methodology to conducting the analysis, and finally writing up and disseminating the results," said Corby. "These skills are something I still use on a daily basis in my job."
Among the many memories that Corby cherishes from their time at USAO were the Droverstock Music Festival, a student-organized event which brings a wide variety of regional bands to campus as part of the university's annual Spring Triad. Corby also notes a day in their World Thought II course, a part of the required interdisciplinary studies curriculum, when they were learning about Hieronymus Bosch's iconic painting "The Garden of Earthly Delights."
"I remember looking around the auditorium and seeing all the students were very engaged in the lecture and actively participating. Everyone was interested in this work, and it was a really cool moment to be a part of. Definitely one of my favorite learning experiences," they said.
Though their academic experience at USAO has left Corby well-equipped to do groundbreaking work in psychological research, they emphasize that the sense of community at the institution meant a great deal more than simply earning a degree.
"My friends made the biggest impact on my life while I was at USAO," they said. "They loved me and accepted me for who I was. It's been almost a decade since we all graduated, but I am still great friends with the vast majority of them. We still care about each other's lives and well-being."
Between its distinctive educational model and the close working relationships between faculty, staff and students, Corby sees much to recommend in USAO. The university not only provides students with an exceptionally rigorous academic experience, but it also allows them to pursue their chosen subject with minimal restrictions. It also encourages personal development as much as the academic and professional.
"If you are the type of person who enjoys learning, wants to learn about a variety of subjects, and be able to think critically, this is the school for you!" said Corby. "You'll learn about things beyond just your major, which I think makes this university unique. Also, if you are a closeted or out LGBTQIA+ student, this university is a safe space. You'll be able to find others who share similar interests and passions here. To me, it has always felt like an oasis for the weird and queer students in Oklahoma."