Drover Alum Since Day One: Akash Patel
---
January 12, 2022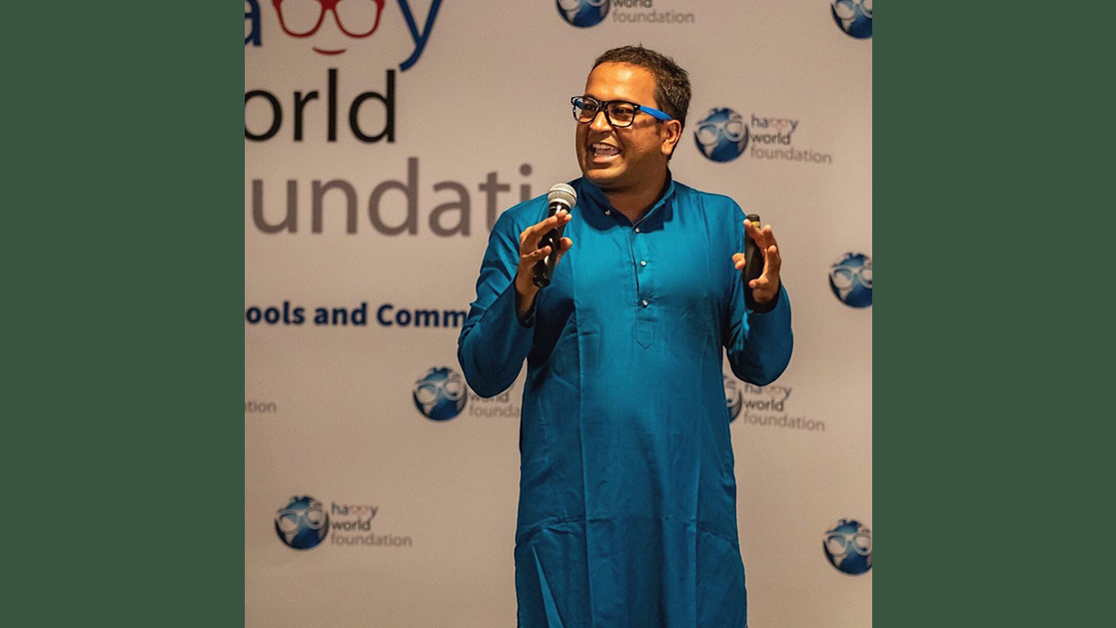 Akash Patel first heard about the University of Science & Arts of Oklahoma from a recruiter while he was still a student at Oklahoma City Community College. Walking to the cafeteria between classes, he stopped when he heard about the kind of scholarships USAO had available specifically for international students pursuing a degree in education.
"I thought it would be really neat to become a teacher in a remote region of Oklahoma and learn more about the cowboy and Native American cultures that have shaped the region," he said. "During my student teaching semester, I realized I had a gift for teaching children about different countries and cultures."
Soon after graduating with his degree in elementary education in 2014, Patel visited over 100 elementary and secondary schools across the state to share his wide-ranging knowledge, the six languages in which he is fluent, as well as his experiences travelling to over 50 countries. Seeing how the children reacted to his lessons inspired him to create his very own nonprofit organization. He soon founded the Happy World Foundation Inc. to promote global citizenship education in schools and communities worldwide. Today the program has more than 1,200 volunteers from over 150 countries who speak with students about life and culture in other nations, and the foundation's video classroom is available in all 50 states for free.
While Patel already had a wealth of life experiences that he could draw on when interacting with students, he never realized just how important such a dialogue could be until he came to USAO. He changed what could have been potentially awkward misunderstandings between people from very different cultures into highly valuable teaching moments.
"Had it not been for getting lost at USAO, I would never have found my true calling," he said. "When I first came to Oklahoma, I had stereotypes. When Oklahoma children first saw me in their classrooms, they had stereotypes too. But we realized we could dispel them with dialogue. I soon started inviting my friends from around the world to video call my classrooms, and my students would be waiting anxiously with their maps, ready to ask questions."
Beyond his influential work with the Happy World Foundation Inc., Patel also serves as a Spanish and mathematics teacher with the Dallas ISD and has amassed a lengthy resume of prestigious honors during his time as an educator. In 2018, he was selected as a Top 50 finalist for the Global Teacher Prize out of over 30,000 nominations, and in 2020 was elected to the National Council of the United Nations Association of the United States of America for a two-year term. Just last year, he was included on the International Literacy Association's 30 Literacy Leaders Under 30 list and became the first immigrant elected president of the American Council on the Teaching of Foreign Languages. Despite these impressive achievements, Patel still thanks the education he received at USAO for putting him on the path he walks today.
"You do not have to graduate from an Ivy League school to be successful in life or to make a difference on a global scale," he said. "I met people from different faiths and backgrounds than my own, but we smiled, laughed and appreciated the many ways we were more alike than different. Thanks to my multicultural experience at USAO, I have now created an international nonprofit that is a resource for global citizenship learning for thousands of educators in the United States and abroad."
Among Patel's biggest mentors at USAO were Drs. Nancy Hector, Linda McElroy and Jeanne Mather. He credits both Hector and McElroy for helping him gain fuller confidence and fluency with English, an experience which has in turn inspired his own classroom practices, as he often works with disadvantaged students struggling to learn a new language in a new culture. But he names Mather as his greatest inspiration due to both her teaching style and her work outside of the classroom.
"She ran a Books for Tots program that has now donated over 100,000 books for the needy children over the holidays. She also started a toy donation drive with her students that collected over 1,000 toys for Syrian refugee children. She included multicultural learning components and competencies in each of her classes. All of this really inspired the nonprofit entrepreneur in me," said Patel.