Drover Alum Since Day One: Devilla Watts
---
May 09, 2022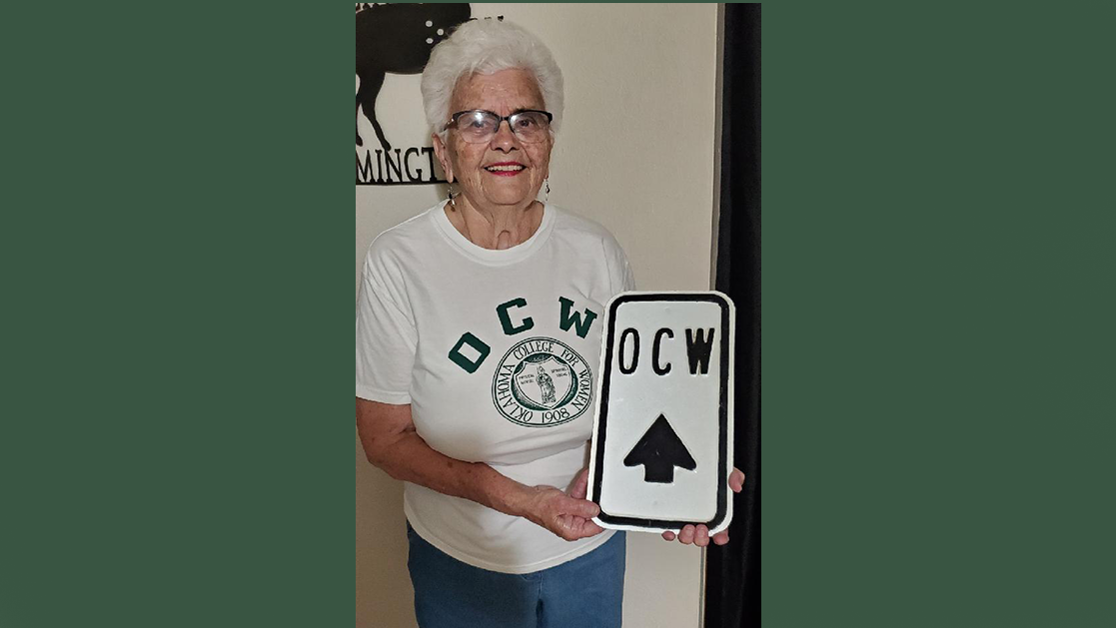 In light of the recent Teacher Appreciation Week, the University of Science & Arts of Oklahoma wants to spotlight alumna Devilla Watts who has spent 58 years of her life teaching students in the Oklahoma's public schools, and has no plans to retire any time soon.
"Will I give it up? Who knows?" she said. "I do not plan to give up teaching. There is something inside me that does not want to remove myself from the classroom and the students under my tutelage."
Graduating as the salutatorian of her class in Fletcher High School in 1957, Watts immediately enrolled in summer school at the Oklahoma College for Women. Though she transferred to Cameron Junior College (now Cameron University) in Lawton after that summer, she only spent one year there before returning to OCW in 1958 and completing her Bachelor of Science in mathematics in 1961. By this time, she was married with infants, so Watts had already been through a crash course on how to juggle a multitude of responsibilities.
"I had learned how to plan my time and arrange my schedule so that everything would work out successfully," said Watts. "I even planned my hospital stays so that I would have my children on a Saturday, get out of the hospital, and be back in college by the next Tuesday. Talk about being hard-headed, stubborn and single-minded to get her degree—that was me!"
After spending two years raising her young family, Watts decided that she wanted more from her college experience than just a sheet of paper. In 1963, Watts was hired as a math teacher at Apache High School, a position she held for 16 years, and her peers voted her Teacher of the Year in that institution several times. She was also very involved with various student groups as well as serving as the teacher organization representative for the southern part of Caddo county.
"My dream job as a kid was to be a teacher. I didn't know in what field but just the idea of being a teacher was all I ever wanted to be," said Watts. "I had a great uncle George Rider that lived in Chickasha. We would sit on the swing on his front porch to talk, and he asked me what was I going to be. My answer to him was that I would be a teacher. This seemed to please him very much."
In 1980, Watts and her husband J.R. returned with their four children to her hometown of Fletcher, where they both found positions at Fletcher High School. While her husband coached and taught industrial arts, Watts continued her role as a mathematics instructor, again earning several Teacher of the Year awards from the school itself, as well as one from Comanche county. Though J.R. retired in 1995 and sadly passed away from cancer in 2010, Watts has continued with her love of preparing young minds to shape the future.
"The most important takeaway that college gave me was a feeling that I could make a difference in educating young people. It sent me away with a feeling that I was worthy of the label to be called a teacher," said Watts. "I learned to pattern my teaching skills after the instructors I felt were so exceptional. They made me feel capable of accomplishing my goals. Without these teachers as a model, I would not be the teacher I am today."
Watts urges young people now entering the teaching field to never give up when a student or even a whole classroom is causing disruptions or showing a bad attitude. She encourages them to look below the surface for the real reason why this behavior is occurring and discover what they can do to help. She also sees USAO as an important bastion of the traditional liberal arts education that prepares students in any major for success in their chosen field.
"I would tell anyone to go there because the great faculty takes an interest in all of their students," said Watts. "It means so much that teachers care about their students and go above what is expected of them. It was this way when I was a student at OCW, and I feel confident in saying it still is today. I have the greatest respect for the University of Science & Arts of Oklahoma. Even though the name has changed, the school and what it represents has not."