Drovers Learn to Deal With a New Kind of Curveball
---
April 13, 2020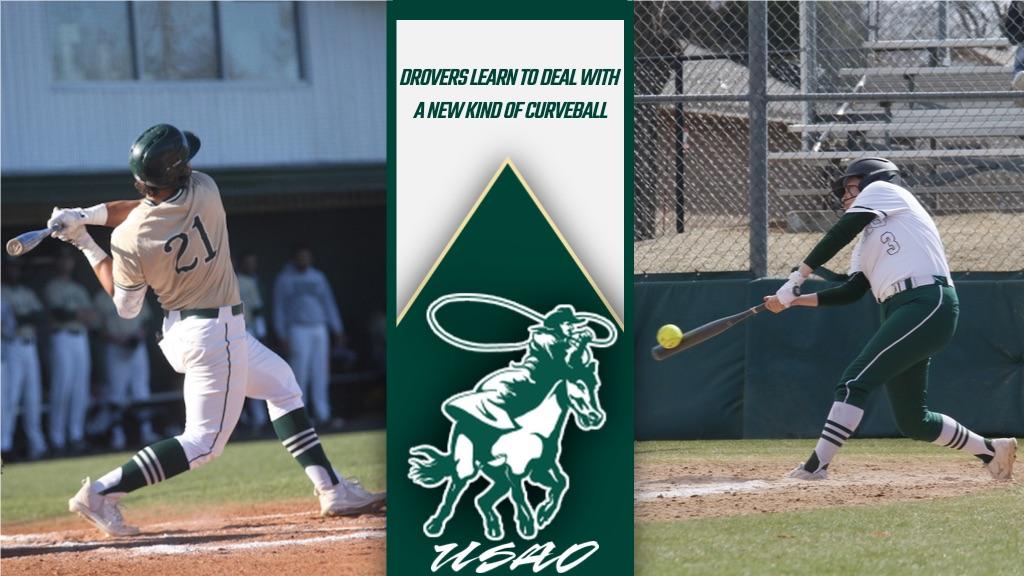 The University of Science and Arts of Oklahoma Drovers baseball and softball teams were having tremendous starts to their seasons when things came to an abrupt end due to the COVID-19 pandemic.
Both teams were ranked as the No. 2 teams in the NAIA Top 25 Coaches' Polls and baseball owned a 16-game win-streak, while softball owned a 22-game win-streak when the NAIA announced that all spring events were canceled on March 16, 2020. The Drovers were at the top of the Sooner Athletic Conference baseball and softball standings with perfect conference records of 6-0 and 10-0, respectively.
The No. 2 ranked USAO baseball team looked primed to improve upon their third-place finish at the 2019 NAIA World Series. Many around the nation viewed the Drovers as a favorite entering the 2020 World Series, which led to USAO receiving their first-ever first place votes in the final NAIA Coaches' Top 25 Poll of the season.
Head coach Mike Ross said that even though he anticipated the announcement of the cancellation of the season, it was still shocking news. "At that point, I think we had had enough time to see what was going on across the country was a pretty serious situation," he said.
USAO baseball senior, Colton Williams was the 2019 Pitcher of the Year as selected by the NAIA, ABCA, Perfect Game, as well as the SAC, and in 2020 he was just as perfect as he was in his junior season at USAO. When the season came to a halt, Williams owned a 5-0 record and a dazzling earned run average of 0.61, to go along with 36 strikeouts in 29.2 innings pitched. In his two-year USAO career, he owned a 21-0 win-loss record, to go with a 1.17 ERA and 172 strikeouts in 138.1 innings as a Drover.
When asked about his thoughts on how the season came to an end, the standout pitcher said, "This is something we've never seen before, and we've made sacrifices we didn't have a choice to make, in giving up this season. Now for some, there will be no more road trips, team dinners, team triumphs, and even moments of downfall, because that's when you learn most and bond even more. It all just ended... it's over. The people you thought you'd have another three months playing the game we all love, and now we are back home and you're wondering if you will ever see them again. It's unfortunate to see the season end this way, it definitely leaves a sour taste in my mouth."
When the NAIA announced the cancellation of spring sports, they also announced they would provide those athletes another two semesters of eligibility.
"In an effort to provide relief, no spring sport student-athlete will be charged a season of competition. Any spring sport student-athlete who was enrolled full-time in 2020 will be awarded two additional semester terms of attendance or the equivalent," the announcement said.
USAO softball senior, Kristen Prieto was also having another sensational season prior to the frustrating stoppage. "Our season was going great! We were finally starting to mesh as a team and we were becoming unstoppable. To have our season end due to COVID- 19 was devastating, but I know next year, we will be bigger and better," said Prieto.
Despite the frustration, Prieto is ready to move forward saying, "We will be ready to show the country who the Drovers are next season! I wish we could've finished this season, but everything happens for a reason, and we are ready to come back and play next year."
The 2019 NAIA All-American will return to USAO in the spring of 2021 with a .437 career batting average to go along with 94 hits, 60 runs scored, 19 doubles, 18 homeruns, and 89 runs batted in.
Like baseball, the Drovers softball team concluded the 2019 season with a third-place finish at the NAIA Softball World Series. Last spring, the Drovers set the NAIA record, as well as the NCAA record for longest win-streak in history (59 games), and they were in the middle of a 22-game win-streak when the 2020 season ended. USAO softball is currently the No. 2 ranked team in the NAIA Coaches' Top 25 Poll, and they have a win-loss record of 84-6 since the start of the 2019 season. Many around the nation already view the Drovers as the NAIA National Championship favorites for the 2021 season.
"As this is a devastating ending to a great season for both Drover teams, I feel that this situation is bigger than sports and when we are able to get back on the field, we will have a much greater appreciation for the sport," said USAO Softball Head Coach Jadyn Wallis.
Ross also shares Wallis' drive to move forward toward a future that is still bright. "Whatever comes out of it, we'll figure it out and move forward from there," he said. "The fortunate thing is these kids get a chance to come back and play."
Coaches, as well as student-athletes all know that nothing is promised in college sports and that every season can bring new challenges. "Every year is a one-year deal, whether it's going to be the same team or not. You've got one shot at it that year. Once it's taken away, you're starting over. It doesn't matter if it's the same team or a completely new team" said Ross.