Drovers strive to make a difference
---
March 29, 2011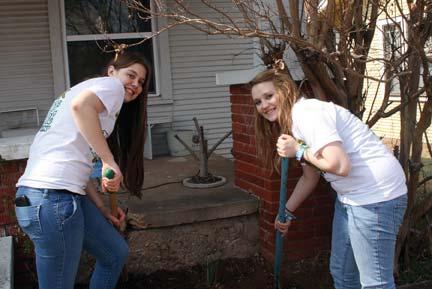 College students invested a Friday this month doing yardwork for homebound patients, reading to elementary children and improving city institutions in an event known as Drover Difference Day.
More than 60 students from the University of Science and Arts partnered with local businesses for a day of volunteerism aimed at making a difference for Chickasha families and the institutions that serve them.
The day began at the Stevens' Alumni House on campus as organizers put the young volunteers into teams for the day's work. USAO's Student Services department organized transportation and supervision for the work crews as they left at the break of dawn to work all over Chickasha.
One batch of volunteers headed over to the Bill Wallace Early Childhood Center where they aided teachers by reading to the students as well as providing additional supervision during recess.
Across town, students partnered with Ross Health Systems to do much needed yard work for homebound critical-care patients while others congregated at Epworth United Methodist Church to paint and provide other minor maintenance to the building.
A third crew was dispatched to the Chickasha Public Library where they researched the availability of replacements for outdated media.
Lunch was provided by a number of local businesses including A&E Grill, Eduardo's, BJ's Pizza, La Fiesta, Domino's Pizza and Chicken Express. Water was provided throughout the day by the First National Bank and Trust Company of Chickasha.
Afterwards, crews were dispatched to the Chickasha Sports Complex where they spent the afternoon spreading mulch on the playground. Others teamed up with the Women's Services and Family Resource Center where they did yard work and minor house maintenance.
"Student turnout and enthusiasm completely surpassed my expectations," said Alejandra Carreño, director of student development and assistant to the dean.
"The purpose of Drover Difference Day was to give the students an opportunity to show support for the community because we are part of the community. Many of these students are active volunteers in the community so this was a special day for them to do together what they are already doing on their own time."