Dynamic father, son piano duo set to perform at USAO
---
January 30, 2014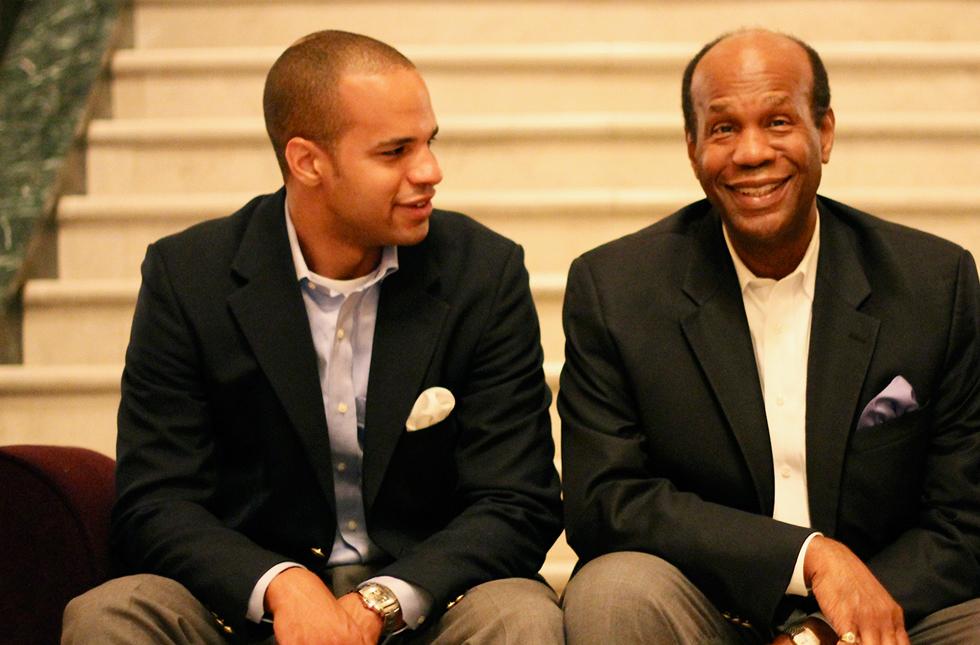 Classical. Ragtime. Jazz. Blues. Soul. Hip-hop.
To the casual listener, these genres of music may seem like unrelated movements, separated in time by the popular audiences who embraced them and, in time, left them behind for the next new thing.
In the hands of a skilled musician, who understands how each style is an outgrowth of the period preceding it, all of this music can be transformed into a single tapestry that tells a uniquely American story.
For Donald and Barron Ryan, it has also become a vehicle for a father and son to share that multigenerational story with audiences across the country, told from the keyboards of twin pianos that ring with musical mastery and technical prowess.
Ryan & Ryan is scheduled to perform beginning at 7:30 p.m. on Feb. 7 in the Alumni Chapel at the University of Science and Arts of Oklahoma as part of the Davis-Waldorf Performing Arts Series.
General admission tickets for the show are $12 for the general public, $10 for seniors 60 and over, $4 for all students and kids under 18, $7 for USAO staff/faculty and $3 for USAO students.
Tickets can be purchased at the USAO Business Office or online at /dwpas.
A native of Trinidad & Tobago, Donald Ryan came to the United States to study music, earning degrees from Oral Roberts University and the University of Tulsa. He is known as a master of diverse styles—evidenced by a diploma from the 9th International Chopin Competition as well as his induction into the Oklahoma Jazz Hall of Fame.
Donald has also earned the distinction of being among the most accomplished pianists in the world as a Steinway Artist.
Barron Ryan began his piano studies under his father and went on to study at the University of Oklahoma. He has been a featured soloist at the Oklahoma Jazz Hall of Fame and the Tulsa Performing Arts Center, among many other venues.
Barron has also been a prizewinner in numerous piano competitions, including the Oklahoma Israel Exchange Young Artists Competition in 2011.
The duo has found new fans in recent years from a series of impressive videos that demonstrate the humor and charm of their live performances.
Dr. Ken Bohannon, coordinator of the Davis-Waldorf Performing Arts series and associate professor of music, feels that Ryan & Ryan exemplify the mission of the concert series.
"Our goal is to provide performances to our students, our community and the people of Oklahoma that are both culturally rich and broadly entertaining," Bohannon said. "With a song list that includes a little something for everyone, Ryan & Ryan fit that bill perfectly and we are very excited to have them on campus."
The DWPAS will conclude its thirteenth season on March 7 with a performance of Ain't I a Woman, a chamber music theatre work for actress and trio (cello, piano & percussion) celebrating the lives and times of four significant African American Women: ex-slave and abolitionist Sojourner Truth, renowned novelist and anthropologist Zora Neale Hurston, folk artist Clementine Hunter and civil rights worker Fannie Lou Hamer.
The DWPAS is produced by USAO in conjunction with the Chickasha Public School Foundation and is supported in part by an award from the Oklahoma Arts Council, the National Endowment for the Arts, the Walton Family Foundation (through Arvest Bank) and the USAO Foundation.
Local sponsors include First National Bank and Trust Company, Standley Systems, Trammel Construction, the Mosley Agency, KOOL 105.5 Radio, Chickasha Express Star, Mid-Fest Bank, Best Western, the Chickasha Bank and Trust Company as well as other businesses and individuals.
More information and tickets can be obtained by calling 574-1213.