Earsom Named to Alumni Hall of Fame
---
October 20, 2010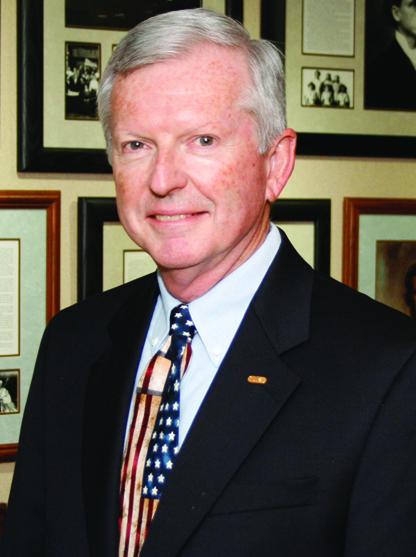 Note: This is the third of a four-part series on the distinguished individuals who will be honored by the USAO Alumni Association at this year's annual Homecoming on Nov. 5-7.
CHICKASHA – USAO supporter and long-time advocate of social studies education Eugene Earsom will be one of three alums inducted into the USAO Alumni Hall of Fame during Alumni Homecoming at the University of Science and Arts Nov. 5-7.
Earsom will be honored along with fellow inductees Dr. Ron Anderson and Barbara Benton and Young Alumni Award recipients Dr. Grant Evans and Brandon Pasley during the Nov. 6 ceremony. Homecoming registrations are being accepted for all alums and former students at the USAO Alumni Development Office, (405) 574-1290 or online at usao.edu/alumni. Registration packages for the entire weekend are $50, which is an all-inclusive package that includes all meals.
Earsom is a 1970 graduate of the Oklahoma College of Liberal Arts (now USAO). He earned a master's degree from the University of Oklahoma in 1981. He is the program director for the Oklahoma Alliance for Geographic Education.
Prior to OKAGE, Earsom was an educational consultant for the Educational Development and Instructional Team in Oklahoma City, director of social studies education and social studies coordinator for the Oklahoma Department of Education and was a social studies teacher in Moore and Yukon.
He received the Outstanding Service Award from the Oklahoma Council for the Social Studies in 2004, the Star Employee Award from the Oklahoma Department of Education in 1999, the Linda Myers Chozen Award for Teaching Excellence in Civic Education from The Close Up Foundation in 1996-97, the Oklahoma Teacher of the Year in 1989-90 and the Oklahoma Social Studies Teacher of the Year in 1988-89.
He has been a member of the Oklahoma Council for the Social Studies, National Council for the Social Studies, Council of State Social Studies Specialists, Oklahoma Education Association, National Education Association, Oklahoma Council on Economic Education, Phi Delta Kappa, Oklahoma Educator Hall of Fame, Oklahoma Institute for Teaching East Asia and the American-Soviet Youth Exchange.
Earsom has had the opportunity to study and train in Japan, China, Indonesia, Oklahoma, California, Wisconsin, Missouri, and Washington, D.C. His personal travel has taken him to Canada, Mexico, Denmark, Norway, Sweden, Finland, the Netherlands, Jordan, Israel, Egypt, Italy, the United Kingdom and several other countries.
He is a life member of the USAO Alumni Association and has served on the board of directors three different times. Earsom represented USAO on the Higher Education Alumni Council of Oklahoma twice, and served in 2010 on the OCLA Reunion planning committee.