Educator Mather Retires; Leaves Legacy for Teaching, Research
---
April 02, 2010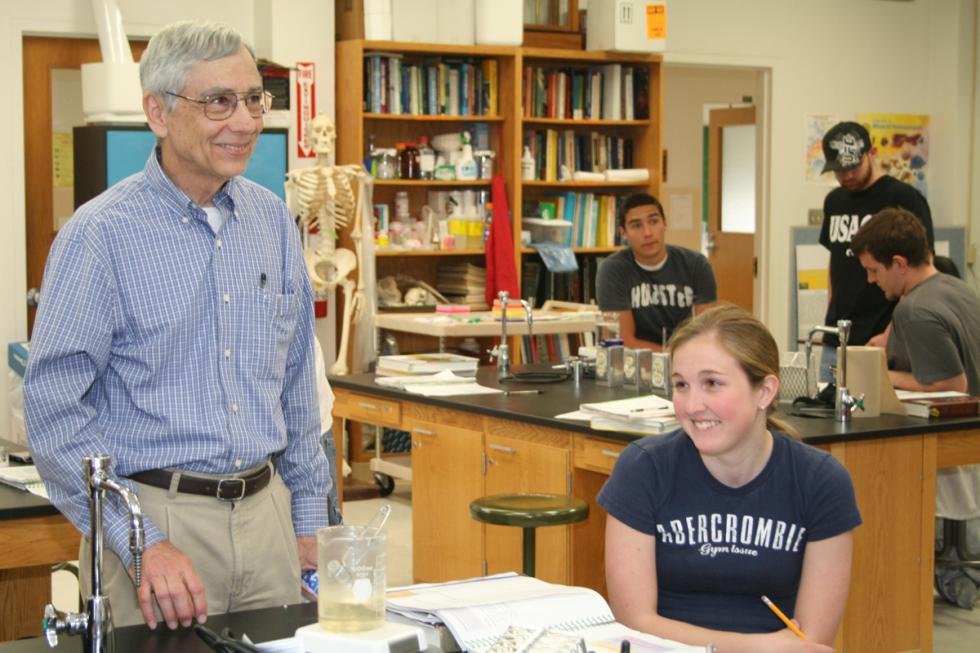 When Mike Mather finished graduate school in 1976, he saw a teaching job at the University of Science and Arts as a stepping stone. But his love for students and biological research grew to become his life's passion.
"I was looking for a job after I got out of graduate school at Texas A&M," he said. "I really didn't expect to stay here."
Mather has been a biology professor at the University of Science and Arts of Oklahoma for more than three decades now, earning local, state and national respect for his research and teaching.
"It's been a good career," Mather said of his time at USAO.
After teaching for 34 years, Mather has decided to retire at the end of this semester. Campus and community members are invited to a public reception in his honor at 3 p.m. April 20 in the Student Center Ballroom.
"Mike came to the institution in the 1970s with a relative handful of faculty members who brought the highest quality credentials to a struggling institution in difficult times," USAO President John Feaver said. "Their presence and dedication sustained the institution and held the essential mission of the university intact."
Mather's former students continue to remember their time with him both in and out of the classroom.
"Every memory I have of Dr. Mather is a favorite," Josh Freeman, natural science senior, said on Facebook. "He is an amazing man, and I'm glad I was able to learn from him."
Mather has been passionate about life sciences since he was a little boy.
"My mother says when I went to the zoo in 1947, I saw a snake and I liked it," he said. "And I've been involved in wildlife and nature ever since."
Mather is a member of a few committees of the Oklahoma Department of Wildlife Conservation and is part of the Animal Research Council of the Oklahoma City Zoo.
Biology continues to grab his interest daily because of its ever-changing and evolving nature.
"I guess (I love) the variety," he said. "Algebra doesn't change from year to year, but biology does."
Mather remembers taking his first genetics class. DNA was not even mentioned in the book.
"Things like that just make it continuously interesting," he said.
Mather has a way to making the field interesting and thought provoking, said a colleague, Dr. Darryel Reigh, USAO professor of chemistry.
"Dr. Mather is a consummate intellectual with great humility. I greatly admire the respect he brings to the field of biology by applying the diligence to acquire an encyclopedic knowledge of the subject," Reigh said. "My own perspectives in the nature and philosophy of science have been greatly enriched by the time I have spent with Dr. Mather."
But Mather's quest for biological research will continue beyond retirement. Along with traveling and fishing, Mather said he has some research projects in queue.
"Mike is recognized on both state and national levels for his expertise in freshwater biology, but his research tells only half the story," Feaver said.
Mather has twice served as president of the USAO Faculty Association, was given the Regents Award for Scholarly Activity twice and was given the Regents Award for Superior Teaching four times.
"It feels good to be recognized by students," he said. "I hope it's not for being easy."
Jay Goombi, USAO class of 2000, said Mather's teaching style is "personal."
"I think I was fortunate to have both Dr. Magrath and Dr. Mather as teachers.
'Instructors' or 'professors' sound too mechanical and impersonal, and these two were far from that," Goombi said on Facebook. "He is a good guy and will be missed."
Feaver said Mather's honors came from his strong ability to teach and his service to his students.
"Mike Mather is one of the stalwart faculty members at USAO. He is routinely recognized for quality scholarship, teaching and service," Feaver said. "He also taught with distinction and mentored a generation of USAO students in the sciences."
Despite his awards, Mather said he is most proud of what USAO has accomplished in his nearly three-and-a-half decades at the university.
"What I have seen the school accomplish is what I'm pleased with the most," he said. "That's why I stayed. Things just kept getting better and better over the years."