Eight initiated into education honor society
---
December 09, 2014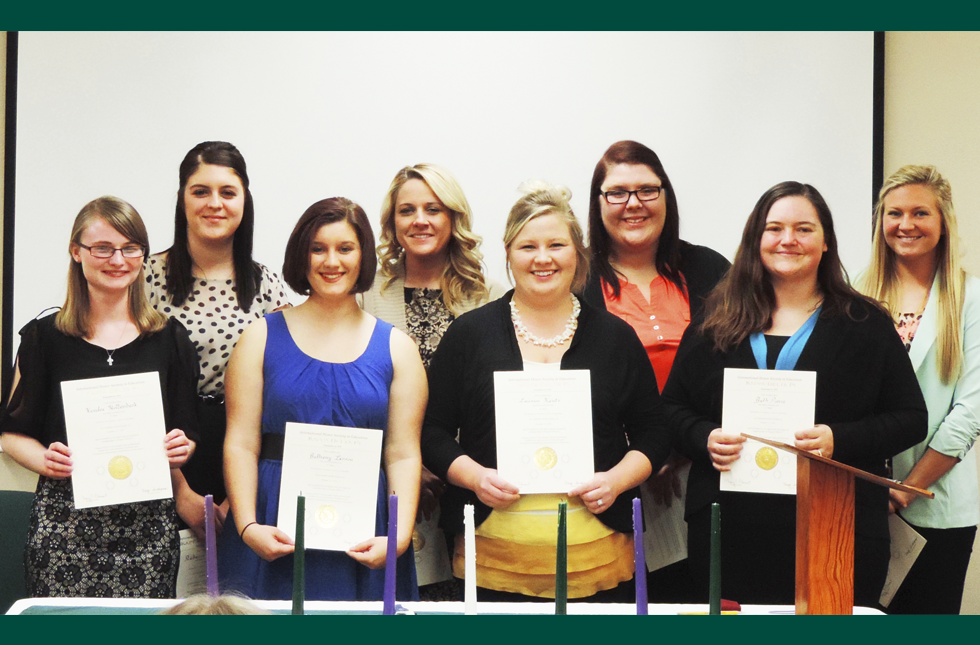 Eight students at the University of Science and Arts of Oklahoma were honored recently as they were initiated into Kappa Delta Pi, an international honor society in education.
"We are very proud of these initiates," said Dr. Jeanne Mather, sponsor of the group and professor of education at USAO.
"Each has excelled in college, understands the importance of being a lifelong learner," Mather said, "and is expected to be an outstanding educator who will truly make a difference in his or her students' lives.
"They have accepted the philosophy of teaching students through an interdisciplinary approach and emphasizing critical thinking and problem solving skills."
To be eligible for membership, a student must exhibit the ideals of scholarship, high personal standards, desire to help others, and promise in the teaching and allied professions.
Students must have completed 30 credit hours of college work, including at least nine hours of professional education credit, be admitted into the teacher education program and have an overall grade point average of 3.0 or higher, on a 4.0 scale.
Students initiated include recent graduate Kendra Hollenbeck, a vocal music education major from Ardmore; senior early childhood education major Rebecca Hyde from Piedmont; Chickasha resident Lindy Jones, a senior elementary education major; and senior Lauren Kautz, an elementary education major from Newcastle.
Also initiated were junior mathematics major Bethany Larson of Yukon; Kaitlin Owen, a senior elementary education major from Lancaster, New York; senior Beth Pierce, an elementary education major from Wynnewood; and senior elementary education major Megan Wilkerson of Yukon.
The guest speaker at the initiation ceremony was Tyler Locke, superintendent of Pioneer Schools.
Dr. William Bagley founded Kappa Delta Pi in 1911 at the University of Illinois. The organization was established to foster excellence in education and promote fellowship among those dedicated to teaching. The founders chose the name from the Greek words to represent knowledge, duty and power.
Pioneering from its beginning by including women as well as men, Kappa Delta Pi grew from a local chapter to the international organization it is today, comprising of 582 chapters and more than 45,000 members.
Local members are involved with many community activities including Books for Tots, which provides books for needy children during the Christmas season.