USAO to host Native American activist for eighth annual Ableson Religious Reconciliation Lecture
---
September 10, 2019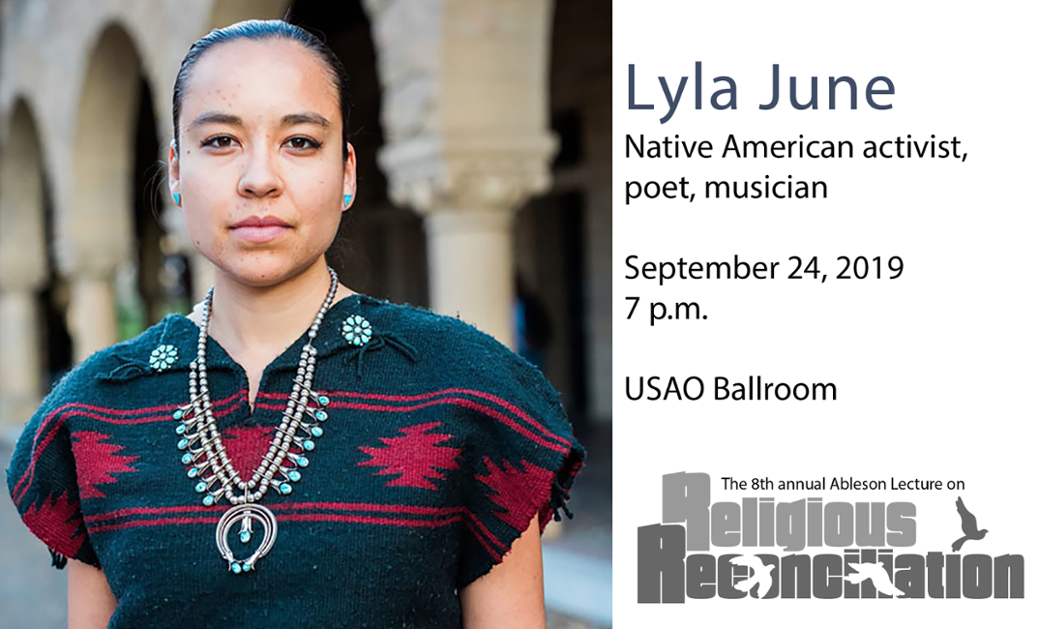 The University of Science and Arts of Oklahoma will welcome poet, musician and Native American activist Lyla June as the keynote speaker of the eighth annual Ableson Religious Reconciliation Lecture on Sept. 24. Starting at 7 p.m. in the USAO Ballroom.
A student of global cycles of violence and the destructive relationships between human beings and nature, June co-founded the Taos Peace and Reconciliation Council to help heal the intergenerational trauma and ethnic division in northern New Mexico. She also takes part in the Nihigaal Bee Iiná Movement, a 1,000-mile prayer walk that exposes how various energy industries have exploited the Navajo Nation's land.
A renowned hip hop artist and singer-songwriter, June is the lead organizer of the Black Hills Unity Concert, which gathers musicians to pray that the Lakota, Nakota and Dakota peoples regain guardianship over the Black Hills. She also founded the Regeneration Festival, an annual celebration of children held every September in 13 countries.
"Lyla June's triumph over addiction, abuse and discrimination has given her a powerful vantage point to share her message of love and healing," said Dr. Zach Simpson, associate professor of philosophy and religious studies. "Given Oklahoma's complicated history as a relocation site for many Native American tribes, June's message is especially pertinent as we work together to find ways to establish a more equitable and just society."
Raised in Taos, New Mexico, June is a descendant of the Diné (Navajo) and Tsésêhéstâhese (Cheyenne) peoples. She graduated with honors from Stanford University with a degree in environmental anthropology in 2012 and later earned a master's degree in American Indian education from the University of New Mexico. She currently lives on the Diné tribe's ancestral homeland and spends her free time studying their language and learning spiritual and ecological traditions from tribal elders.
The Ableson Religious Reconciliation Lecture is named in honor of USAO Alumni Hall of Fame member and U.S. Navy Captain, Bradford Edward Ableson, a visionary in religious reconciliation and an architect of modern military chaplaincy. After graduating magna cum laude from USAO in 1980, Ableson embarked on a 25-year career in the Navy. He provided combat ministry to the Marines during the first Gulf War, served as an executive to the chief of Navy chaplains, as a special advisor to the U.S. Strategic Command and as a chaplain to President Bill Clinton. He died in 2009 at the age of 50.
For more information, contact Simpson at 405-574-1381 or zsimpson@usao.edu.