Eleven enter biology honor society at USAO
---
May 01, 2012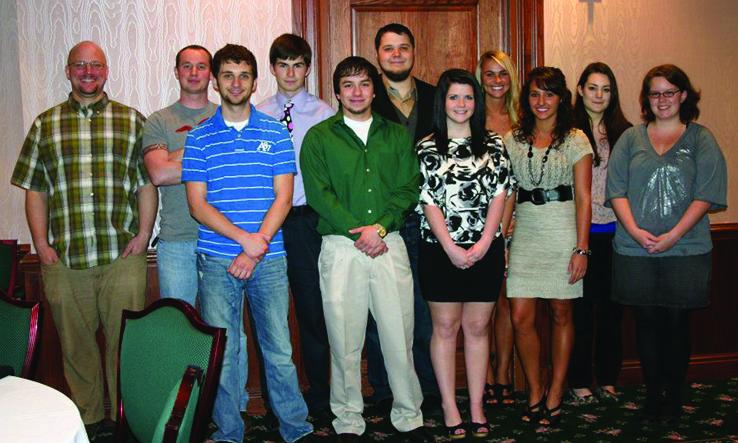 Eleven students at the University of Science and Arts were inducted into the Beta Beta Beta biology honor society in April.
The induction ceremony was held in the Regents Room. After signing the membership book, the initiates received a certificate of membership and graduation honor cords.
Four members of Psi Iota, USAO's Beta Beta Beta chapter, presided over the ceremony. Jennifer Ninman of Ryan served as the presiding officer. Shaylea Shebester from Pauls Valley escorted the initiates. Taleah Farasyn of Shawnee acted as secretary and Eric Ramos from Moore was the historian.
Beta Beta Beta is a society for students, dedicated to improving the understanding and appreciation of biological study and extending boundaries of human knowledge through scientific research. Since its founding in 1922, more than 200,000 persons have been accepted into lifetime membership, and more than 553 chapters have been established throughout the United States and Puerto Rico.
The requirements for Beta Beta Beta are a 3.0 grade point average in biology courses. Inductees must have completed at least three biology courses with one being at the junior or senior level.
The inducted students included: Rory Barron, a junior from Spencer; Travis Bates, a senior from Idabel; Jacob Hollenbeck, a junior from Ardmore; Elizabeth Martinez, a senior from Edmond; and Travis Omernick, a junior from Chickasha.
Also inducted were Ashley Paxton, a senior from Piedmont; James Pendley, a senior from Rush Springs; Latisha Rogers, a senior from Creek; Nathan Samples, a senior from Tuttle; Rachel Sears-Hunter, a senior from Oklahoma City; and Laci Thomas, a senior from Holdenville.