Eleven initiated into education honor society
---
November 28, 2012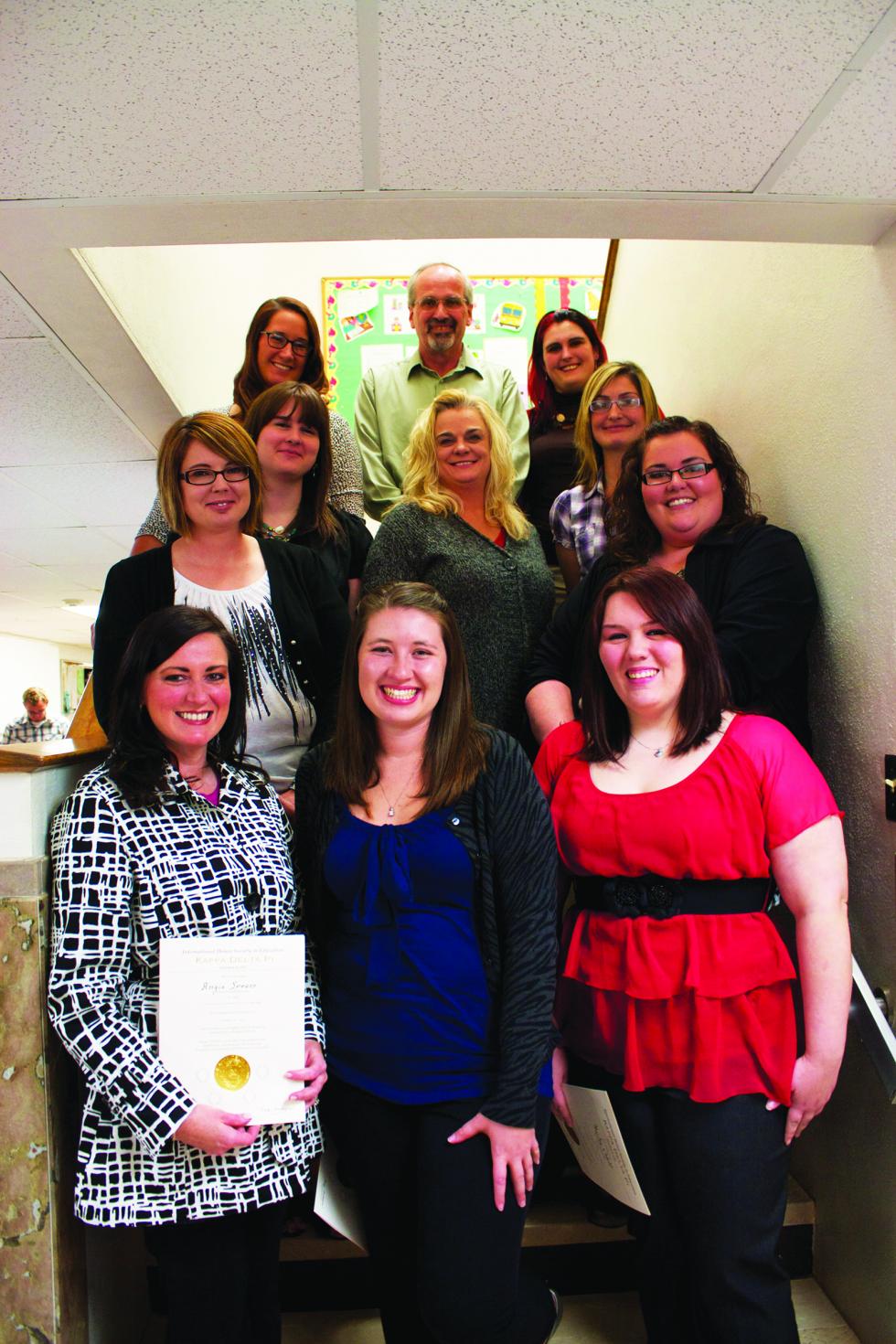 Eleven students at the University of Science and Arts were honored recently as they were initiated into Kappa Delta Pi, an international honor society in education.
"We are very proud of these initiates," said Dr. Jeanne Mather, sponsor of the group and professor of education at USAO.
"Each has excelled in college, understands the importance of being a lifelong learner," Mather said, "and is expected to be an outstanding educator who will truly make a difference in his or her students' lives.
"They have accepted the philosophy of teaching students through an interdisciplinary approach and emphasizing critical thinking and problem solving skills."
To be eligible for membership, a student must exhibit the ideals of scholarship, high personal standards, desire to help others, and promise in the teaching and allied professions.
Students must have completed 30 credit hours of college work, including at least nine hours of professional education credit, be admitted into the teacher education program and have an overall grade point average of 3.0 or higher, on a 4.0 scale.
Students initiated include Larissa Brown, senior elementary education major from Washington; Carolyn Dock, junior elementary education major with an English minor from Mangum; Shannon Horner, senior elementary education major with an early childhood emphasis from Dibble; Hailey Odell, junior elementary education major from Norman; and Rachel Rowe, senior early childhood major from Mustang.
Other initiates include Victoria Russell, senior elementary education major form Hobart; Kasi Snow, senior elementary education major from Purcell; Lawrence Spitzer, senior elementary education major from Blanchard; Angie Spears, senior elementary education major from Blanchard; Sara Stinson, junior early childhood major from Chickasha; and Kymberly Vance, junior deaf education major with a secondary math emphasis from Marlow.
The guest speaker at the initiation ceremony was Scott Charlson, associate director for the K20 Center for Educational and Community Renewal at the University of Oklahoma.
Dr. William Bagley founded Kappa Delta Pi in 1911 at the University of Illinois. The organization was established to foster excellence in education and promote fellowship among those dedicated to teaching. The founders chose the name from the Greek words to represent knowledge, duty and power.
Pioneering from its beginning by including women as well as men, Kappa Delta Pi grew from a local chapter to the international organization it is today, comprising of 582 chapters and more than 45,000 members.
Local members are involved with many community activities including Books For Tots, which provides books for needy children during the Christmas season.