Ethan Gorrell presented Distinguished Graduate Award for fall 2018
---
December 10, 2018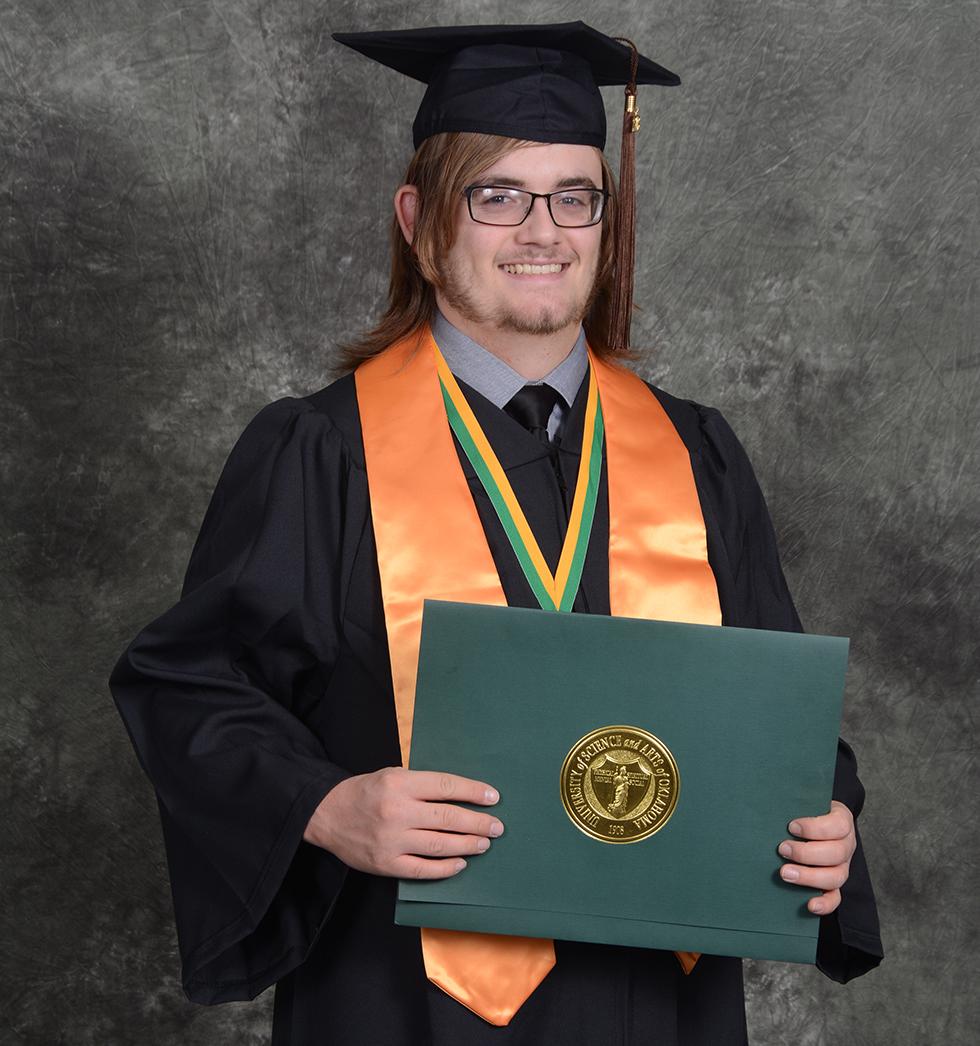 Ethan Gorrell was awarded the University of Science and Arts of Oklahoma Alumni Association's Distinguished Graduate Award. Layne Thrift, associate professor of art and board member of the USAO Alumni Association, presented the award during the university's fall commencement ceremony.
The recipient of a Bachelor of Fine Arts with a concentration in sculpture, Gorrell is the rare kind of student whose vast range of knowledge and abilities exemplifies what it means to be an interdisciplinary learner. His skills and interests extend across many disciplines and his ideas reveal a high level of focus and determination. Gorrell's artwork seamlessly merges science, philosophy, engineering and religion.
Before coming to USAO, Gorrell was a semi-finalist in the university's Innovations art contest, which is open to high school juniors and seniors. He came to the university on the Regents Baccalaureate Scholarship, a highly competitive four-year scholarship awarded to students having an ACT score of at least 30 and an exceptional high school GPA and class rank. A member of USAO's prestigious Hypatia honor society, Gorrell was always listed on both the USAO and the Regent's honor rolls. He was also named the Outstanding Graduate for Division of Arts and Humanities.
During his time on campus, Gorrell served as an intern for Jordan Vinyard, associate professor of art, which involved a direct role in her own artistic work. An exceptional representative of USAO, he travelled with Vinyard numerous times and impressed the galleries and institutions who worked with him. He also worked as an assistant in the campus bookstore.
"Since I started working with Ethan, I have been extremely impressed by his openness to challenge," said Vinyard. "He displays strong leadership qualities and brings out the absolute best in people. Along with his exemplary work ethic and attention to detail, Ethan displays a quiet mindfulness and can always be found in the studio further pushing his work and researching the philosophies that support it. He is the kind of student that really makes USAO shine and we have been lucky to have him here."
Since 1981, the USAO Alumni Association has honored a very select group of graduates with the prestigious Distinguished Graduate Award. A committee of alumni and faculty determine the award recipients at the end of each fall and spring semester.