Faculty Concert Features Musical Variety
---
October 05, 2006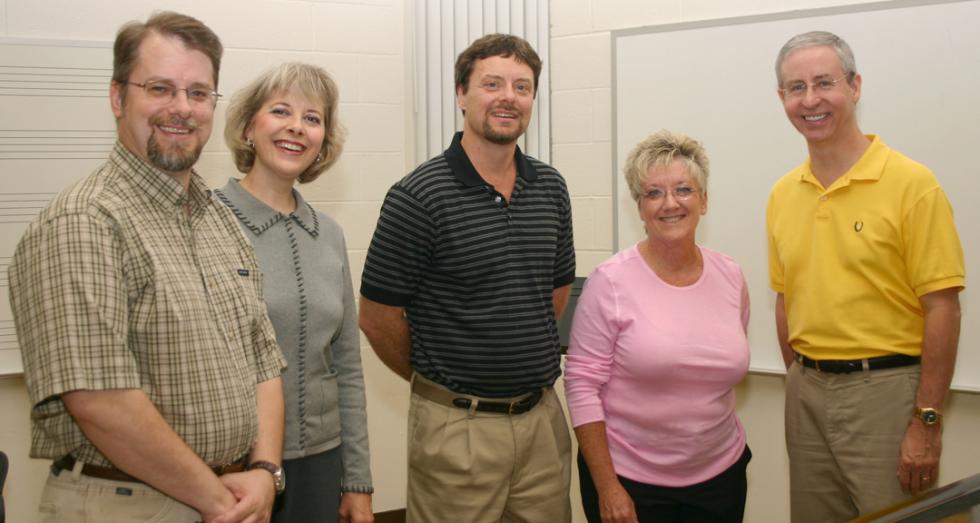 CHICKASHA – Arias, accordions and "chopsticks" are on the menu for the music faculty's fall concert at the University of Science and Arts. The public is invited to the free concert Oct. 9 that showcases faculty members on piano, voice and even accordion.
Dr. Jan Hanson, professor of music and choir conductor, said the 7:30 p.m. concert in the Alumni Chapel serves as a rare chance for the community to see the music faculty in action.
"Students and faculty often are not aware of the performing abilities of the music faculty since solo faculty recitals are rarely presented," she said. "This concert gives the students, faculty and community a chance to come out and hear the faculty perform."
Each of the four full-time music faculty members will perform a set of pieces as a soloist.
Dr. Ken Bohannon, associate professor of music, will sing a selection of songs including a contemporary hymn arrangement and an aria by Jules Massenet. Accompanying Bohannon on the piano will be Rhenada Finch, a recent USAO music graduate and three-year principle pianist for the USAO Showband.
Dr. Stephen Weber, associate professor of music, plans to perform several piano solos, including, "a fast and frantic piece by Franz Schubert full of right-hand passagework up and down the keyboard."
A published composer in his own right, Weber also will perform "Rag Etude," his award-winning and best-selling piece that appeared in a 1990 recording on the Opus One label.
Weber said the exception to the show's solos comes in the form of dueling pianos performing a favorite that almost any audience member will recognize.
"Jan Hanson and Deborah Johnson, our choral accompanist, will be performing a theme and variations on 'Chopsticks' for piano duet," Weber said. "It is a humorous adaptation and even requires the pianists to change seats at the piano in the middle of the piece."
The concert ends with Dr. Dan Hanson, professor of music, who will perform a piano solo followed by a medley of music for solo accordion. Hanson, who purportedly plays more than a dozen different musical instruments, is spotlighting keyboard-based instruments for the recital.
In his 20th year teaching at USAO, Dan Hanson received a bachelor of music degree in music theory from Texas Tech University in 1975 and a master of music degree in theory and composition from Texas Tech in 1981. He completed a doctor of musical arts degree in composition at the University of North Texas in 1987. At USAO, Hanson teaches music theory, composition and percussion and directs the Droverspirit Band.
Ken Bohannon has performed as a soloist in musical theatre and has performed more than 20 operatic roles throughout his career. He holds a bachelor of arts degree from Hendrix College in Arkansas, a master of music degree from the University of Tennessee and a doctor of music from Indiana University. Bohannon has sung professionally with the Cincinnati Opera, Knoxville Opera, Chattanooga Opera and Tulsa Opera. He is serving in his fourth year as governor of the Oklahoma District of National Association of Teachers of Singing.
As the coordinator of the music department at USAO, Stephen Weber teaches piano, piano-related courses and music technology. His highest degree is a Ph.D. in fine arts from Texas Tech University. He has published more than 80 different compositions, including "Rag Etude," which won the 1994 Composition Contest of the National Conference on Piano Pedagogy. Weber has been the recipient of university teaching and research awards and was selected as the 2003 Oklahoma Musician of the Year by the Oklahoma Federation of Music Clubs.
Jan Hanson has been teaching music at USAO for 21 years. The conductor of the Concert Choir, she has extensive conducting experience in the areas of oratorio and music theatre performance. She has served as an adjudicator with the Oklahoma Secondary School Activities Association, the American Choral Director's Association and the Quartz Mountain Arts Institute. Hanson has guest conducted for the Oklahoma Choral Director's Association, the Tri-State Music Festival, the Central Oklahoma Choral Director's Association Girl's Chorus and the Mid-Del Choral Music Festival.