Faculty Members Honored for Classroom and Research Work
---
June 14, 2010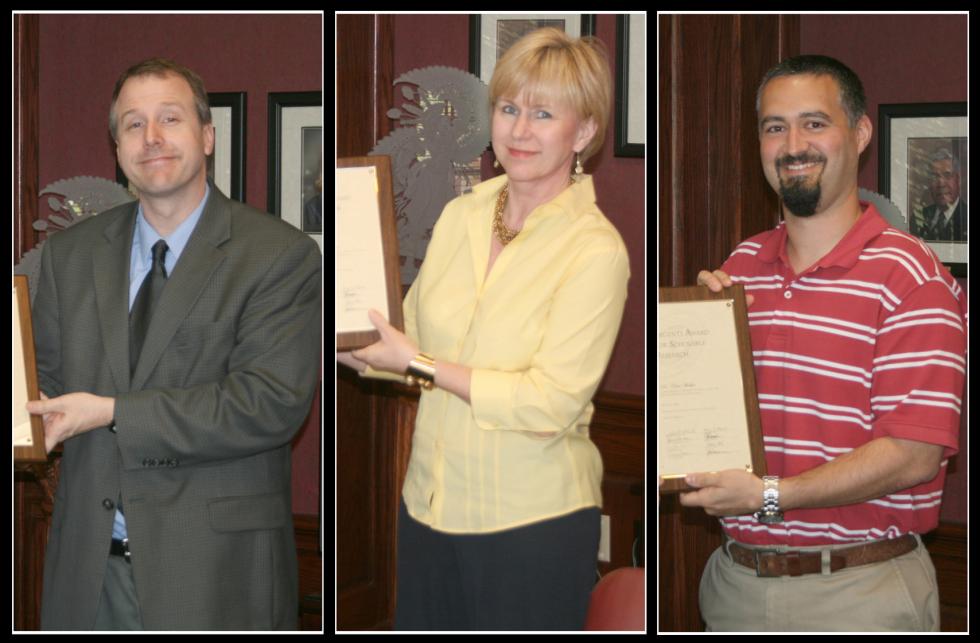 Three faculty members were honored recently at the University of Science and Arts – two for teaching and one for research.
Diane Holland and Dr. Kevin Crow received the Regents Award for Superior Teaching. Dr. Chris Walker received the Superior Scholarship/Research Award. The USAO Board of Regents honored the recipients in April. Honorees receive a plaque signed by members of the board and a $1,000 stipend.
"She (Diane Holland) challenges us to live up to our potential while, at the same time, supporting us every step of the way," said one student nominator.
"Diane Holland is extremely knowledgeable. She always goes above and beyond to help her students and is always available. In the Speech Language Clinic, we work with children. The compassion and dedication she has for those kids is absolutely amazing," another student nomination said.
Holland is director of the John Morris Speech and Language Clinic and an instructor of speech-language pathology at USAO. She has been a faculty member at the college since 1991.
She received a master's and a bachelor's degree in speech-language pathology from Kearney State College in Nebraska. Holland oversees the USAO Special Olympics Independent Study Project each year.
Before coming to USAO, Holland worked as a speech-language pathologist for Norman Public Schools, Speech and Hearing Associates, Shelton Public Schools and the Good Samaritan Hospital. She also worked as a speech-language pathologist at the International Teaching Assistant Workshop for the University of Oklahoma where she helped design the course content.
One nomination for Kevin Crow said, "Dr. Crow is an excellence teacher and by far the most interesting person I have had in the classroom. He has increased my understanding and appreciation for Medieval thought and culture. His class was easy to understand. He really cares for his students and wants them to succeed. His passion for teaching is amazing and easily seen."
"Dr. Crow brings enthusiasm to the classroom while ensuring that all of his students gain superior knowledge of the subject. He is very fair and is always willing to help any student."
Crow is an associate professor of history at USAO. In addition to his classroom activities, he supervises teacher candidates pursuing social studies certification during their professional trimester, serves as a university representative for resident year teacher committees and is the sponsor of the Zombie Survivalists' Club on campus.
He received the Superior Teaching Award in 2008. Before coming to USAO, Crow taught at the University of Kentucky, Western Kentucky University and Arkansas Tech University.
Crow earned his doctorate and master's degrees in history from the University of Kentucky and a bachelor's degree in history from Arkansas Tech University.
Dr. Chris Walker has been a member of the faculty at USAO since 2004. He is an assistant professor of psychology and chair of the Division of Business and Social Sciences.
Walker received a doctor of educational psychology and a master of educational psychology degree from the University of Oklahoma and a bachelor of psychology from Oklahoma Baptist University.
He is a member of the American Educational Research Association and American Psychological Association. He was previously awarded the Regents Award for Superior Teaching. He also is the faculty sponsor for the Psychology Club and is a member of the Professional Development Committee, Honors Senior Seminar Defense Committee, Curriculum Committee, Academic Regulations Committee and the USAO Symposia Committee.
Before coming to USAO, he was an instructor for the Department of Educational Psychology at the University of Oklahoma and a graduate research assistant at the University of Oklahoma.
The Board of Regents created the Regents Award for Superior Teaching in 1979. The board added a third award for Superior Scholarship/Research in 1990. Both students and faculty members nominate candidates for the Superior Teaching Award. A nine-member committee on campus chooses the winners.