2020 Festival of Arts and Ideas explores pop culture in media throughout the decades
---
February 24, 2020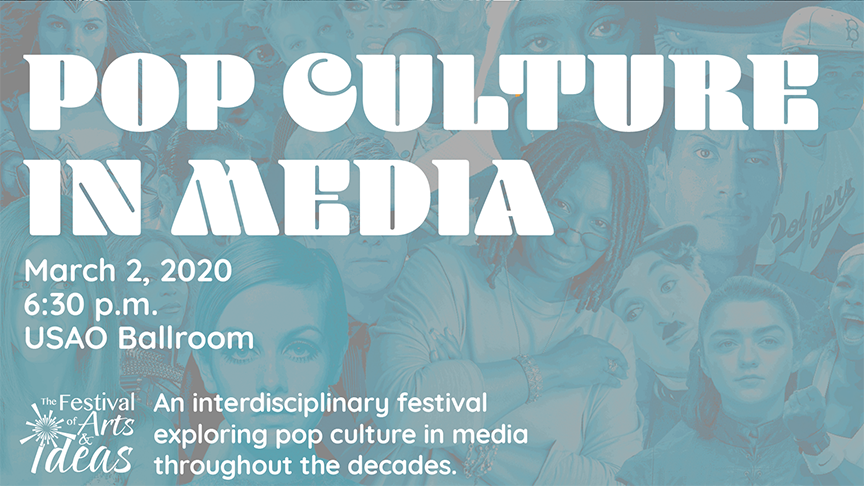 The University of Science and Arts of Oklahoma will hold its 15th annual Festival of Arts and Ideas on various aspects of pop culture history. The public is welcome to attend this free, one-night-only event, which will be held March 2 at 6:30 p.m. in the USAO Ballroom.
The goal of the festival is to celebrate the distinctive learning environment at USAO by presenting scholarly and creative work from the faculty, students and staff. The festival is a unique interdisciplinary conference featuring performances, lectures, discussions and exhibits that exemplify the interdisciplinary, liberal arts mission of the university.
"In 2020, our Festival of Arts and Ideas will look at deeper philosophical implications that run through elements of popular culture through the latter-half of the 20th century," said Dr. Chris Garneau, festival director and associate professor of sociology. "Though most people have this idea that pop culture is necessarily shallow, each of these presenters proves that, despite a seemingly simple or sensational appearance, these cultural products possess as great a wealth of meaning as anything we would classify as so-called 'high art.'"
Beginning the evening, Dr. Shelley Rees, professor of English, will present her highly-visual "Posthumanist Ethics in Wolfenstein II: The New Colossus," which will examine how the game depicts non-human animals as sites of moral agency and engages tenets of posthumanist theory that privilege inclusivity, hybridity and expanded ethical responsibility.
English and sociology double major Genevieve Gordon will follow with "Rhetorical, Sociological and Marxist Representations of Corporate Capitalism in Stardew Valley," which analyzes how the narrative structure of a farming simulation role-playing game urges players to choose to try and revive a flagging small-town economy instead of supporting a large corporate chain that has hurt local businesses.
Dr. Zach Simpson, associate professor of philosophy and religious studies, will wrap up the presentations with "To Be Born of a Woman: Affirmations and Denials of Male Sacrifice in Popular Culture," which will examine how the female community is restored through the violent displacement of sadistic male antagonists in both the HBO drama "Big Little Lies" and the Netflix series "Godless."
The festival will be emceed by Dr. Jeannette Loutsch, professor of biology, and Dr. Rachel Jones, associate professor of biology. Throughout the Ballroom and in the adjacent lobby, USAO art students and faculty will curate an exhibit on Pop Art themes, particularly noting the influence of artist Roy Lichtenstein and the analog/digital divide.
In between presentations, The Committee on the Faculty Band, comprising Garneau, Assistant Professor of Interdisciplinary Studies and English Dr. Ben Wetherbee, Instructor of Guitar Francisco Venegas and music and sociology double major Rebekah Willoughby, will perform medleys of pop and rock songs from the 1950s onward and encourage audience participation.
For the second year in a row, the student showcase will partner with the Festival of Arts and Ideas, giving students in the Mentored Research Program an opportunity to display their work. USAO's Mentored Research Program provides advanced experience in research and presentation methods that students might not get until their graduate studies.
Now entering its 15th season, the Festival of Arts and Ideas is sponsored by the USAO Foundation with the help of a generous endowment from the Masonic Fraternity of Oklahoma.