USAO's fall 2019 commencement honors 49 graduates
---
December 07, 2019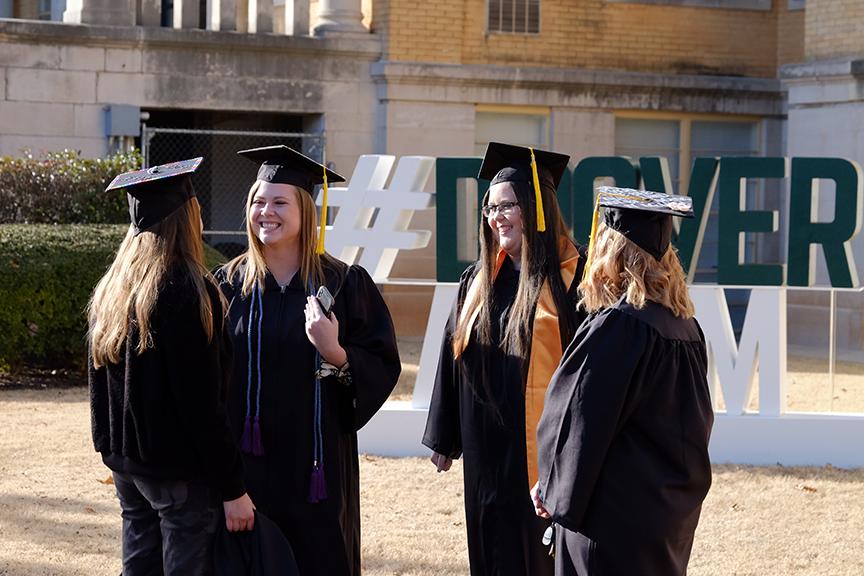 On Dec. 7, the University of Science and Arts of Oklahoma's fall 2019 commencement ceremony awarded 49 students with bachelor's degrees.
At the end of each semester, the university's commencement ceremony celebrates the term's graduates with an event filled with pageantry that also featured speeches from Oklahoma Academy for State Goals President Julie Knutson and USAO President John Feaver.
"Every semester, my heart fills with joy to see these students—now alumni—assembled before me," said Feaver. "The students who come to USAO are a special breed. They are young people dedicated to the distinct principles that set our institution apart from any other university in Oklahoma. These bright, curious and exceptionally motivated students leave here well-equipped for the challenges facing them in the world today. I know this new generation of Drovers will have no trouble surmounting these challenges and that they will find success no matter where life leads them."
To begin commencement, the USAO Concert Band performed Elgar's "Pomp and Circumstance March No.1," a traditional processional. For the ceremony's special music, music education major Allison Oliver performed "In My Dreams" from the musical Anastasia before Feaver's address, while the Concert Band performed Sean Joseph Mouret's "Rondeau from Premier Suite" as the event's recessional.
The university awarded 34 Bachelor of Science degrees, 13 Bachelor of Arts degrees and two Bachelor of Fine Arts degrees during the Dec. 7 ceremony.
Nationally ranked for quality and value, for over a century USAO has remained committed to providing a broad and accessible undergraduate education as the state's only public liberal arts college.
Bachelor of Arts
Ty Parker Astle
Ansley R Black
Veronica Lee Bryant
Catharine Elizabeth Coley
Caitlyn Lauren Hatfield
Jessica Rae Knowles
Allison Marie Oliver
Blain Alexander Perry
Cassandra JoAnn Poole
Lindsey Nicole Shown
Fernando Torre Alvarez
Karlie Kay Velasco
Jessica Denise Plummer-Williams
Bachelor of Science
Jocelyn Albizurez
Zachary Levi Bernsten
Laci Elizabeth Bond
Jessica Marie Bonds
Caitlyn Michelle Caudill
Ryan Crandel Chappell
Jennetta May Chiles
Danielle Elizabeth Cotton
Duke Austin Davenport
Kendra D Deweese
Amanda Nicole Leia Gibson
Stephanie Ophelia Grabau
Cheyenne Nicole Hannah
Matthew Michael Holinsworth
Ye Huang
Kylie Nichole Hudson
Madison Elisabeth Irving
Ashley Renee Jameson
Tarrah Lynn Kinney
Telmo Lertxundi Mendoza
Courtney Breann Lyles
Daniel Gustav Merkel
Sabrina Dale Mertens
Kieran Remmell Mitchell
Mayra Elena Montes
Jean Marie Petroff
Dalton James Rego
Kenniel Rivera-Gonzalez
Zachary Allen Schmidt
Rani-Anne Secoy
Hunter James Stephens
Mary Ann Sweat
Francis Manuel Ventura Polanco
Miranda Beth Wagner
Bachelor of Fine Arts
Emili Faith Hall
Ann Elise McSparrin
Faculty-Mentored Research Program
The following students produced original research projects suitable for conference presentation and/or professional publication under the mentorship of USAO faculty:
Cassandra JoAnn Poole
The USAO Faculty Association honored these students with Outstanding Graduate Awards:
Emili Hall for the Division of Arts and Humanities
Ashley Jameson for the Division of Education and Speech Language Pathology
Caitlyn Caudill and Zachary Schmidt for the Division of Science and Physical Education
Distinguished Graduate Award
Chris Collins, president of the USAO Alumni Association, presented the Association's Distinguished Graduate Award to Veronica Bryant.
Bryant graduated Cum Laude with a Bachelor of Arts degree in art and theatre arts.