USAO students prepare for final art exhibition before earning their bachelor's degree
---
November 09, 2021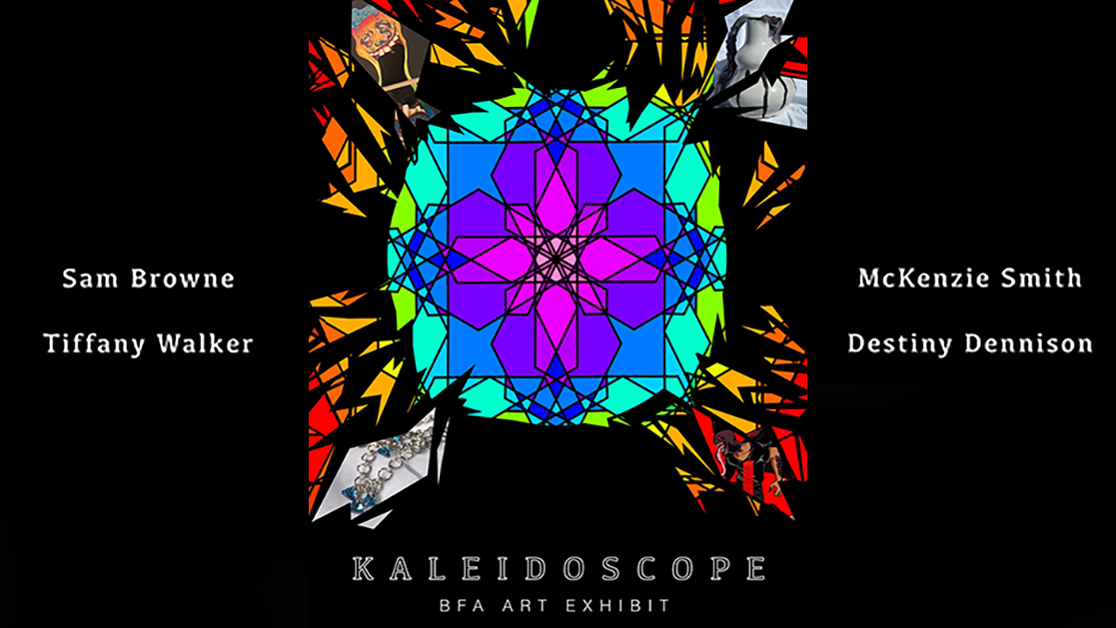 Four art students from the University of Science & Arts of Oklahoma are preparing for their final exhibition, "Kaleidoscope," before graduation. Due to ongoing concerns about COVID-19, there will not be an opening reception for the event, but the artwork will remain on display in the university's Nesbitt Gallery in Davis Hall from Nov. 13 to Dec. 10. Gallery hours are 9 a.m. to 4:30 p.m.
The fall 2021 candidates for a Bachelor of Fine Arts degree include Sam Browne of Mustang, Destiny Dennison of Chickasha, McKenzie Smith of Purcell and Tiffany Walker of Yukon.
"Our BFA program is among the most rigorous at USAO," said Jaquelyn Knapp, professor of art and department coordinator. "The artists in 'Kaleidoscope' have worked diligently, producing work of truly exceptional quality that serves as evidence of their individual creative abilities. Each has successfully investigated thought-provoking ideas through a diverse range of media. Seeing these soon-to-be graduates producing at such a high level makes the entire art department confident that each will see success as they enter the world of working artists."
A recipient of a four-year scholarship funded by noted painter Don Holladay, Browne hopes to open his own ceramic studio and become a production potter after graduation. His works combine ceramics' long history of functional use with a modern view of aesthetics. Browne strives for his creations to be abstract yet still completely useful, saying, "to see my pieces being put to use and loved because of it, that's what compels me to sit at the wheel."
Though she professes a love of all artistic media, Dennison chose to concentrate in painting, using lots of different techniques, a variety of colors and shapes, unconventional surfaces, as well as imperfect or overexaggerated facial features to add to the busy, chaotic feel of her works. The overstimulating interaction of color and shape in her pieces reflects "the difficulty in navigating life and processing the emotions that come with that."
Smith hopes to become a concept artist for video games or animations after receiving her BFA this fall. Her works in the show consist mostly of digital art concepts drawn from a novel she is writing that ties themes of generational trauma and discovering one's identity through the style of Lovecraftian horror. She uses the idea of multidimensional beings living vicariously through a single human to represent that idea of losing sight of one's own identity as one grows older.
Originally from Marlow, Walker came to USAO as a non-traditional student to study jewelry, finding the craft "a great way to express your personal style, mood or attitude." She works predominantly in a chainmail style that fuses classical design with contemporary elements that accentuate the pieces' expressive style. She seeks to use the interaction of design, color and texture to inspire a modest elegance that is at once versatile and evocative.
USAO holds a BFA exhibition each semester as the capstone project for that degree. Students apply to the program during the second semester of their second year as an art major. Upon acceptance, they develop a single concentration after gaining a wide foundation in all forms of artistic media. For three semesters, students develop cohesive concepts through in-depth research while continuing to add to their technical expertise. The final exhibition formally presents the results of their intense study and research into their chosen form.