USAO recognizes students' outstanding academic acheivement
---
December 17, 2021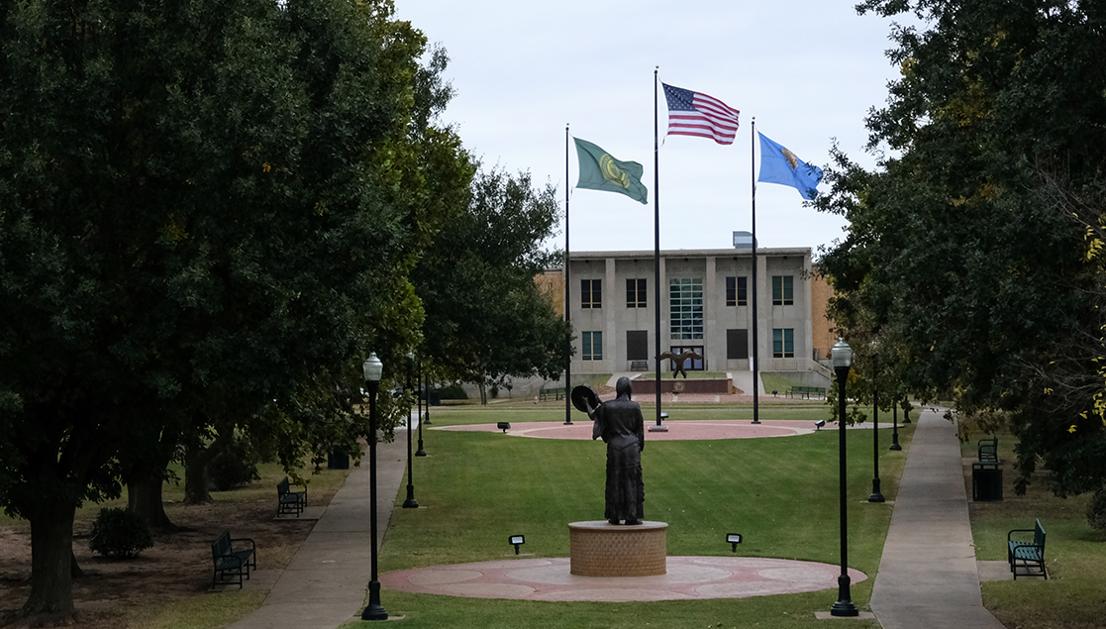 300 students at the University of Science & Arts of Oklahoma were recently named to the university's two honor rolls for the fall 2021 trimester.
University records show 199 students were named to the USAO Honor Roll and 101 students to the Regents Honor Roll.
The USAO Honor Roll recognizes students whose GPA is 3.5 or higher for 12 or more hours of class work. The Regents Honor Roll recognizes those who have been named to the USAO Honor Roll for three or more consecutive trimesters. The honor rolls were created to recognize and encourage academic excellence.
To learn more about educational opportunities at USAO, please visit www.usao.edu.
Students named to the Regents Honor Roll:
Alex – Nathan Bauman
Bethany – Daniel Roach
Bethel – Joseph Mitchell
Binger – Wilbur Goombi
Blanchard – Mia Cole, Victoria James, Conner King, Jessica McKeown
Bridge Creek – Holly Dunivan
Broken Arrow – Cassidy Bowles
Burkburnett – Arianna Camerlin
Calvin – Carson Hart
Chickasha – Madison Austin, Zoe Blue, Cambrie Price, Ashlin Tryczak
Claremore – Bethany Goulet
Collinsville – Darci Chester
Comanche – Rebekah Mildren, Brooke Stephens
Coyle – Cree Yellow Summer Owl
Cyril – Kali Thompson
Deer Creek – Robert Spurlin
Del City – Lauren Cookson
Dibble – Hunter Hamby, Elizabeth Harrison
Edmond – Mackenzie Holub
El Reno – Brianna Hollis, Ashley Johson
Fletcher – Jordan Bloomfield
Healdton – Erin Kelley
Hopkins – Parker Stoddard
Jay – Sydney Matheson
Jones – Joel Lane
Lawton – Keiarie Henry, Mikaela Malloy
Lexington – Sydny Dockery
Lindsay – Megan Hay, Savannah James
Lone Grove – Alexandra Medcalf
Lone Wolf – Alexys Thompson
Mangum – Chandler Leamon-Webb, Destiney Osborn
Marlow – Tyler Lavey, Macoy Ramsey
Moore – Madison Homer
Mustang – Sam Browne
Newcastle – Emily Cerny, Rhylee Vandiver
Newkirk – Coltyn Harrill
Norman – Eden McIntosh
Oklahoma City – Abigail Davis, Hannah Dawson, Silas Elliott, Fernando Gonzalez-Castillo, Gabrielle Guyse, Wendell Hixson, Audrey Liddiard, Katelin Robbins, Lexie Sapp, James Shaver, Claire Smith, Skyler Sturgis-Garneau, Cameron Tolle
Preston – Alec Byrd, MacKenzie Freeman
Purcell – Titus Pruitt, Cynthia Rodriguez, Cecilya Rogers,
Ryan – Mackenzie Lewis
Stillwater – Jordan Prewitt
Tecumseh – Suni Meely
Tuttle – Emma Tripp
Vinita – Jensen Link
Washington – Mandy Ozment
Wayne – Arizona Ridgway, McKenzie Smith
Weatherford – Mike Hixson
Wellston – Sidney Wilson
Yukon – Chelsea Fuston, Halli Humphrey, Erin Lynch
Homeschooled – Daniel Buster, Rachel Dennis, Harrison Stone
Out of state – William Beruman, Lezlee Bull, Abigail Dulle, Anastasia Dulle, Jonathan Fenhaus, Keane Harrison, Francisco Hernandez-Esteban, Juan Jimenez, Jacob Lumpkin, Madison McDonald, Evette Raper
Virtual – Ch'Mere-Renee Austin, Olivia Owens, Morgan Taylor
Students named to the USAO Honor Roll:
Amber-Pocasset – Madison Boswell, Jaxson Prather
Anadarko – Nicole Aguilar
Ardmore – Brittany Olivera
Bethany – Joey Morales
Bethel – Destiny Miller
Binger – Savannah Alldredge
Bixby – Brooklyn Fuller
Bray-Doyle – Rylie Pass
Bridge Creek – Amanda Hibdon, Elizabeth Shewmaker
Broken Arrow – Jaclyn Almeida, Eliana Alvarez, Abigail McNabb, Alexus Ryan
Brownsboro – Brittany Johnson
Cache – Briana Quoetone, Kayla Swearengen
Cement – Ally McDaniel, Colton Pennel
Chickasha – Niki Autrey, Rebekah Branch, Nicole Bullington, Mikki Elam, Ryan Feuerborn, Logan Johnson, Hope Lankister, Jacob Mayhugh, Kyle McClain, Rhiannon Quillin, Logan Stidham, Jake Womack
Choctaw – Sarah George, Taliah Thompson, Alyssa Unsell
Clinton – Ulises Zatarain
Comanche – Jordan Kirkland, Christopher Ward
Coweta – Cassidy Sturgeon
Crescent – Alyssa Smith
Crowder – Montana Lovell
Cyril – Kaitlyn Long, Dawn Tsatoke, Carstyn Webb
Dibble – Jessee Clark, Rilley Merrill
Duncan – Steven Stacy
Edmond – James Anderson, Bret Ozee, Joy Suttles, Brooklyn Tillman
Elgin – Emma Squire, Audrey Zyks
Eufaula – Gabrielle Bell
Fort Gibson – Katelynn Bowden
Guthrie – Breena Lijewski, Matthew Meason
Hinton – Nataly Gonzalez
Holland – Elizabeth Walters
Idabel – Jodi Butler, Kyra Hornbuckle
Indiahoma – Trinity Albao-Cozad, Harmony Hall
Inola – Christina Michaud
Jenks – Haley Mackie
Kingfisher – Rylee Trent
Lawton – Aaron Hutson-Bitz, Samantha Little, Colton Neighbors
Lindsay – Alissa Moudy
Madill – Samantha Hunt
Mangum – Emma Leamon-Webb, Chloey Orosco
Marlow – Mikahla Lavey, LeeAnne Riddle, Tiffany Walker
Maysville – Jamie Townley
McAlester – Kayla Beil
McLoud – Kayla Denton
Meeker – Kaleb Naylor
Midwest City – Amelia Williams
Moore – Adrienne Koscho, Paige Marshall, Emmalee Pelletier, Brooke Phillips
Muskogee – Dominique Brown
Mustang – Zoe Bennett, Colton Bensch, Danielle Harper, Taylor Hurt, Autumn Miller, Kaytlin Peters, Karen Tezen
Newcastle – Cole Clark, Taylor Elliott, Kaicee Hobbs
Ninnekah – Dakotah Davidson, Ceara Turpin
Noble – Ashlyn Clark, Avery Crawford, Alex Rodgers
Norman – Shana Daron, Jordan Heatly, Allison Murray, Che Wharton, Lydia Willis
Nowata – Leslie Randall
Oklahoma City – Phoenyx Baker-Blount, Carlos Carrillo, Jasmine Clewis, Itzel Dominguez, Savanna Grassman, Jaden Harrell, Aaron Huebert, Mary-Grace McNutt, Arlette Melendez, Rylan Nelson, Karen Perez, Madelyn Primeaux, Bethany Sackett, Laynie Sapp, Rhaven Sarille, Madison Strotman, Sophie Werner, Rebekah Whittaker
Poudre – Cheyanne Dube
Prague – Carter Bailey
Purcell – Sara Dunnam, Aliyah Payne
Ringling – Haylea Eakins-Aycox
Roland – Destinee Asbill
Sand Springs – Zoey Hughes
Shawnee – Corbin Cantrell, Kali Kasterke
Skiatook – Keilyn Hazel
Stigler – Jessica Cobbs, Madely Robertson
Tulsa – Jenna Andrew
Tuttle – Kaitlyn Darrow, Bryce Legg
Union City – Emily Loughridge, Joshua Morrison
Velma-Alma – Jaden Johnston
Verdigris – Addison Courtney
Vernon – Sophie Williams
Vinita – Allison Patak
Washington – Chloe Windham
Wayne – Lyca Balbuena, Jamie Haynes
Weatherford – Brock Conkling
Willis – Devon Sutton
Yukon – Madilyn Moore, Ashlynne Prigmore, Savannah Rivera
Homeschooled – Margaret Brooks, Jeffie Buster, Hannah Dudleson, Hope Marquardt
Out of state – Darko Borisavljevic, Harry Cracknell, Marissa Cunningham, McKenna Cunningham, Briteanna Curry, Andres Daza-Gomez, Carlen Figueroa, Zachary Frost, Lucia Guerrero-Suarez de Freitas, Marlon Herrera, Affoue Kouassi, Matjia Mariotti, Mark Ostermeyer, Jaycee Paras, Ryan Rodriguez, Stefan Savkovic, Grace Schmidt, Jessica Shumer, Sharon Singoei, Maniqua Smythers, Amanda Trevizo, Chiara Winkler
Virtual – Elisabeth Dohm, Kayla Hill, Leslie Kimball, Julie Roberts, Samuel Roberts