Fall term filled with campus, community events underway
---
August 22, 2012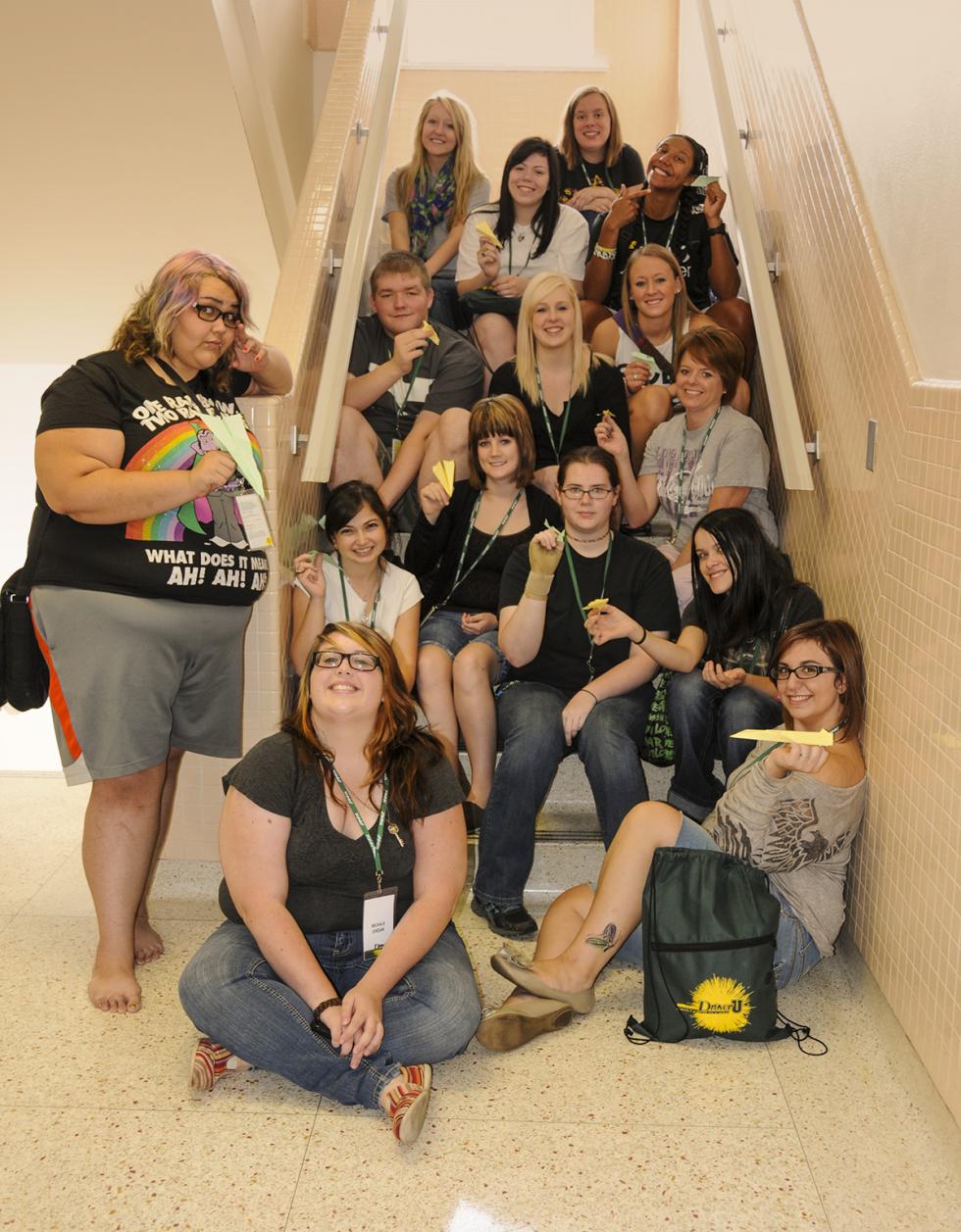 After another summer of soaring temperatures, students will be greeted by unseasonably cool weather as they return for the fall trimester at the University of Science and Arts. Classes begin Aug. 27 with enrollment continuing through Aug. 31.
The fall events calendar for Oklahoma's only public liberal arts college is filled with rich opportunities for campus and community members alike.
Drover soccer season kicks off at home on Aug. 24. The women take on No. 6 Baker College at 3 p.m. at Drover Pitch and the men follow at 5 p.m. against No. 2 Baker College.
The Drover men's and women's soccer season features nine home doubleheaders.
Also this fall, the Drovers begin cross country after a hiatus of almost two decades. While no meets are scheduled in Chickasha, many are within an hour. For full schedule and results of all the Drover athletic events, visit usao.edu/sports.
The Nesbitt Gallery will open its first show of the fall, Unreality, on Sept. 10. The show will feature selections from USAO's permanent art collection that undermine the viewer's sense of reality. Pieces on display will include work from artists like Bert Seabourn of Oklahoma City, Ardmore's Jan Tindale and Paseo icon Kay Orr.
The show will run through Oct. 5.
The gallery was rechristened in May to reflect the generosity of Charles and Margôt Nesbitt who made the first donation to USAO's permanent collection of art in 1997.
The entrance, or façade, of the gallery has been improved, now reflecting a sleeker, more modern feel and new signage, including banners on USAO's oval, has been hung to celebrate the gallery's new identity.
The gallery is open from 8:30 a.m. to 4:30 p.m., Monday through Friday and is free to the public.
The 12th season of the Davis-Waldorf Performing Arts Series begins at 7:30 p.m. on Sept. 25 with world music ensemble Sangeet Millennium in Te Ata Memorial Auditorium.
Season tickets for the Davis-Waldorf Performing Arts Series are $40. Individual performances are $12 with discounts available for students and seniors. Tickets can be purchased online at usao.edu/dwpas.
USAO's unique Festival of Arts and Ideas will feature a theme of The Body Politic and will include numerous presentations and demonstrations considering the ways that humans identify as distinct individuals while participating in specific groups in regards to activism, health, fashion, advertising, relationships and social media.
The Body Politic is scheduled for October 15-16, beginning at 7:30 p.m. in the USAO Ballroom. Admission is free.
The 2012 Ray and Mary Giles Symposium on Citizenship and Public Service is scheduled Oct. 25 with trailblazing community activist Lateefah Simon delivering the keynote address.
The symposium is free and open to the public. More information about the Giles Symposium can be obtained by visiting usao.edu/giles-symposium.
The USAO Drama department will present KAISER, an expressionist adaptation of Shakespeare's The Tragedy of Julius Caesar, by Katie Davis, MFA. Auditions are scheduled for 7 p.m. on Aug. 27 in the Davis Hall Theater. The production is scheduled for 7:30 p.m. on Nov. 9-10 at no charge to USAO faculty, staff and students.
The first weekend in November USAO will celebrate the 40th Anniversary of Athletics on the same weekend as Alumni Homecoming. Weekend events include two basketball games, a Hall of Fame induction ceremony, a bon fire, a tailgate, a golf scramble and the 40th Anniversary of Athletics banquet.
Like many liberal arts universities, USAO offers a select number of degrees that prepare the student for their chosen field while broadly educating him or her across a variety of disciplines. With 22 degrees available, students can pursue a bachelor of art, bachelor of science or bachelor of fine arts degree with teacher certification in several areas.
The university welcomes new students and non-traditional older students who wish to continue or finish their degrees. The enrollment process takes about an hour, according to the admissions office.