Fall term at USAO kicks off Aug. 24
---
August 21, 2015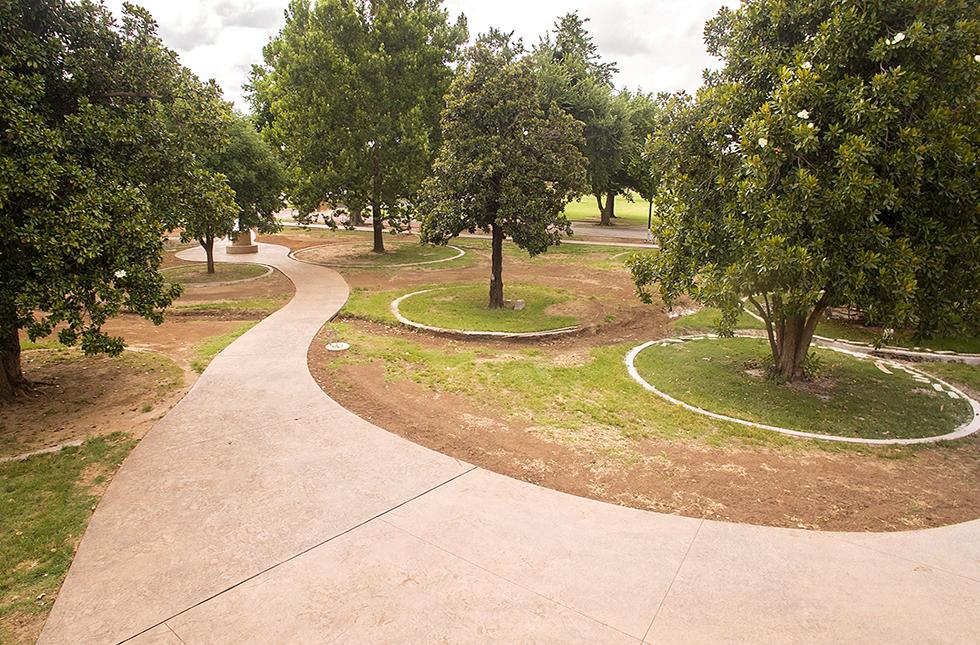 Whether returning from a full summer's break or a two-week vacation since the end of the term, students are beginning to converge upon the campus for the fall trimester at the University of Science and Arts of Oklahoma. Classes begin Aug. 24 with enrollment continuing through Aug. 28.
The fall events calendar for Oklahoma's College for the Curious Mind is filled with rich opportunities for campus and community members alike.
Art abounds
The Nesbitt Gallery will open its first show of the fall, The Ceramic Artwork of Stuart Asprey, on Aug. 17 with a reception scheduled to begin at 7 p.m. on Sept. 5.
The show has traveled to galleries around the state since July 2013, including stops at the Goddard Center in Ardmore and the Gardiner Gallery at Oklahoma State University.
The show runs through Sept. 11.
The gallery is located in Davis Hall. It is open from 8:30 a.m.- 4:30 p.m., Monday through Friday and is free to the public.

Also opening on Aug. 29 is the fall bachelor of fine arts senior show, titled Gloria Deo. The show features the photography of Francisco Perez of Moroleón, Mexico.
The show will be on display in the Third Floor Gallery in Davis Hall with an opening reception scheduled to begin at 7 p.m.
Drover athletics
Coaches in the Sooner Athletic Conference have selected both the men's and women's soccer teams as the pre-season favorite to win the league title in 2015.
The men will have their home opener on Sept. 8 at 7 p.m. against former conference rival Oklahoma Baptist.

A men's and women's doubleheader will be the next home action on Saturday, Sept. 12. Women will play at 5 p.m. with the men to follow at 7 p.m. against Ottawa (Kan.) University.
Both programs are under the leadership of Coach Jimmy Hampton who began the dual duties in 1998. Hampton has coached in more than 500 games at USAO with his teams winning better than 65% of the time in that 17-year span.
A recently installed outdoor-lighting system will allow spectators to enjoy action in the evenings.

All home games are free and open to the public. Those unable to attend may view a free live stream of all USAO home sporting events by visiting www.usao.edu/sports
The new-look USAO Drover cross country teams will be under the direction of Sid Hudson who takes over the reigns after a number of successful years as a high school track coach in Lawton. USAO is scheduled to compete in five meets this year, including the Sooner Athletic Conference Championships.
Giles Symposium
The 2015 Ray, Mary and Nita Giles Symposium on Citizenship and Public Service is scheduled for Oct. 8 with Pulitzer Prize winning journalist Dan Fagin delivering the keynote address on environmental issues.
The symposium is free and open to the public. More information about the Giles Symposium can be obtained by visiting usao.edu/events.
Performing arts
The 15th season of the Davis-Waldorf Performing Arts Series begins at 7:30 p.m. on Sept. 24 with OKC Rondeau, a musical tour of a variety of countries and historical periods performed on flute and harpsichord in the Alumni Chapel.
Season tickets for the Davis-Waldorf Performing Arts Series are $40. Individual performances are $12 with discounts available for students and seniors. Tickets can be purchased online at usao.edu/dwpas.
The USAO performing arts department will present a modern translation of Servant of Two Masters, a piece from the Italian Renaissance by Carlo Goldoni.
Auditions are scheduled for 7 p.m. on Aug. 25 in the Davis Hall Theater. The production is scheduled for 7:30 p.m. on Nov. 6, 7, 13 and 14.
National Songwriter Hall of Fame's youngest ever inductee, Jimmy Webb, will be performing a tribute, "The Glen Campbell Years," Sept. 25 in Te Ata Auditorium. Webb has had many chart-topping hits spanning a wide variety of musical genres. He received his first gold record at 18 and is the only artist ever to receive Grammy Awards for music, lyrics and orchestration. Tickets are $30 and available online at usao.edu/events/jimmy-webb-concert or from the USAO business office at 405-574-1213.
Alumni events
Alumni from the Oklahoma College of Liberal Arts are scheduled to gather Sept. 24-27 to celebrate the 50th anniversary of the founding of OCLA. The four-day event will feature a visit to the Reding Farm, a preview of the Seven-State Art Exhibition, a panel discussion featuring former faculty members and a concert by internationally-known songwriter Jimmy Webb. Registration for the celebration is $50.
Alumni Homecoming is scheduled Nov. 5-8 and will feature award presentations, a performing arts production, sporting events, a music recital, a tailgate party, fun walk and many other great activities. Graduates and former students of OCW, OCLA and USAO are invited to this four-day event. Registration, through Oct. 23, is $65 for all events. The dedication of Coming Together Park will take place Saturday afternoon, Nov. 7.
To register for either event, or for more information, call 405-574-1290 or go online at usao.edu/alumni.
College for the Curious Mind
Like many liberal arts universities, USAO offers a select number of degrees that prepare students for their chosen field while broadly educating them across a variety of disciplines. With 22 degrees available, students can pursue a bachelor of art, bachelor of science or bachelor of fine arts degree with teacher certification in several areas.
The university welcomes new students and non-traditional students who wish to continue or finish their degrees. The enrollment process takes about an hour, according to the admissions office.