Fall Theatre Production features postmodern collage of themes and ideas
---
October 29, 2018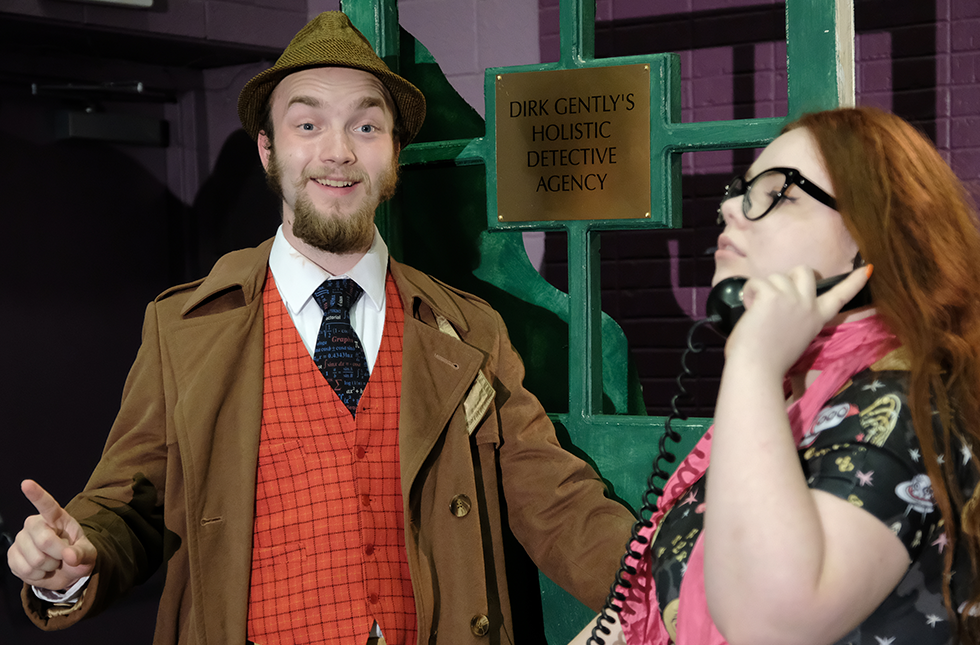 Fall Theatre Production features postmodern collage of themes and ideas
The University of Science and Arts of Oklahoma's theatre arts program will present the hilarious and surreal murder mystery ""Dirk Gently's Holistic Detective Agency" Nov. 9 and 10 at 7:30 p.m. in the Davis Hall Little Theater.
General admission tickets are $10. They will be available at the door on the night of each performance or can be reserved at boxoffice@usao.edu.
Adapted from Douglas Adams' 1987 novel, "Dirk Gently's Holistic Detective Agency" follows a detective who operates on the assumption that everything is connected as he tries to identify the murderer of a magazine publisher. The plot quickly evolves into a complex postmodern puzzle that includes ghosts, time travelers, aliens, and cats that may or may not actually be missing. The production features a 21-person cast as well as a technical crew of more than 20 students.
"I am really proud of the work done by our students. This play demands complicated video, sound effects and music editing." said Katie Davis, professor of theatre arts and program coordinator. "We have raised a few eyebrows as we have created the special effects and props for the play. What other college department gets to work with antique shotguns, fake blood, hazmat suits, magic tricks, colorful explosions and sugar-free candy all in the same lab project?"
Adams described his novel as a "thumping good detective-ghost-horror-who dunnit-time travel-romantic-musical-comedy-epic." James Goss and Arvind Ethan David adapted the story into a play while still university students in 1991. Their expanded script received its first authorized performance at the Old Fire Station Theatre in Oxford in 1995 and has since been performed Australia and the United States. A TV series, which differs widely from the novel and play, premiered on BBC America in 2016.
Born in 1952, Adams was an acclaimed author, scriptwriter, essayist, humorist, satirist and dramatist. His novel "The Hitchhiker's Guide to the Galaxy" has sold over 14 million copies and spawned a television series, several stage plays, comics, a computer game and a 2005 feature film. In 2001, Adams died of a heart attack at the age of 49.
For more information, contact Davis at 405-574-1310 or kdavis@usao.edu.