"Far Away" To Show Audience a World of Disarray
---
February 12, 2010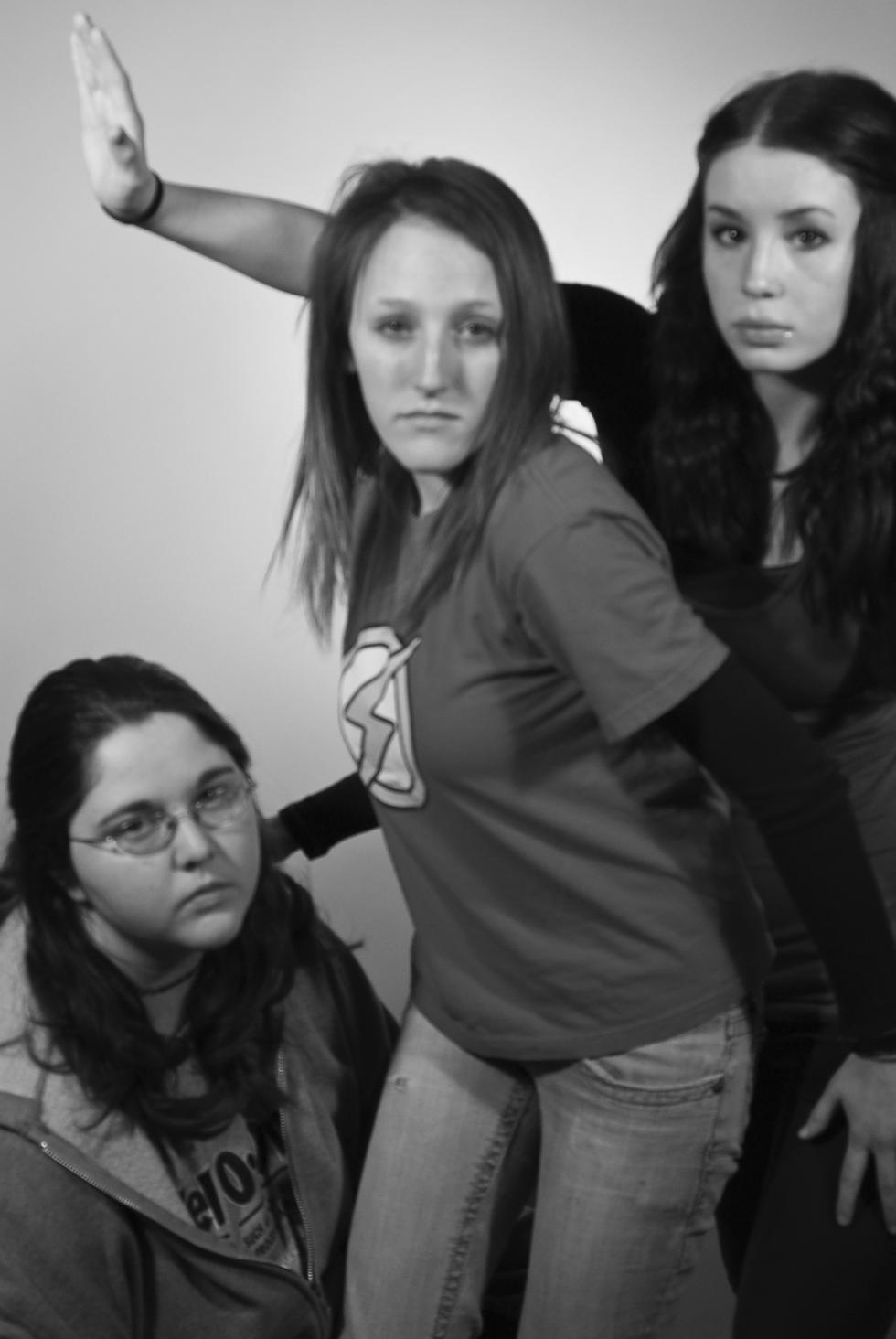 A world in the chaos of war and violence will challenge audience members during the USAO drama department's production of Far Away Feb. 18-20 in the Davis Hall Theatre on the USAO campus.
The performance starts at 8 p.m. nightly. General admission is $10. Admission is free to all USAO students, faculty, staff and paid USAO Alumni Association members.
Due to the content of the play, no children under the age of five will be admitted and the play isn't recommended for children of any age. Seating is limited and advanced tickets may be purchased by calling 405-574-1310.
The play was first performed at the Royal Court Jerwood Theatre Upstairs in London in 2000 and is based on the premise of a world in which everything in nature is at war with each other.
The performance focuses on sociopolitical issues such as war and violence and conveys how people justify violence. The play uses workplace corruption in a hat factory and a global war as examples.
The play was written by Caryl Churchill, an English writer known for her use of feminist themes, the abuses of power, sexual politics and non-naturalistic techniques.
Original scenery designed for the production by Carrie Chavers and Martin Reding, theater facilities manager at USAO. Original choreography for the play by Emily Hector. Original graphics designed by Shayna Woidke, media relations designer at USAO.
"This production has been a phenomenal journey through my experiences as, not only an actor, but an individual," said Cara Rose Cox, a drama and communication major from Tulsa.
"I've loved every minute of the rehearsal process, especially bonding with the cast and crew. This is intense, but incredible work and has allowed me to push my boundaries and challenging my imagination ultimately benefitting my growth as a performer. I am truly grateful," Cox said.
"The production exemplifies the techniques of post-modern performance being studied by the students taking the seminar Postmodernism this trimester at USAO," said Katie Davis, assistant professor of drama at USAO. "The cast members have been training in a contemporary, anti-realistic acting method called Viewpoints developed by Anne Bogart."
Directed by Davis, the cast and crew consists of many students behind the scenes and on stage and includes:
Rhonda Baughman, a senior drama major from Chickasha. "I make costumes for the theatre department and I love it. I am a mother and grandmother of the greatest kids," she said.
Jessica Belvin, a drama and English major from Chickasha. Belvin says she loves literature and the theatre.
Billy Bennett, an English major from Moore.
Adam Bryant, a sophomore music major from Oklahoma City. Bryant says he loves to play the piano, the guitar and poker.
Cara Rose Cox, a drama and communication major from Tulsa.
Jessica Ferguson, a drama major from Oklahoma City. Ferguson is the stage manager for Far Away. She says her goal is to someday work for Cirque du Soleil.
Daniella Jimenez, a drama major from Oklahoma City.
Roberta Lake, a deaf education and drama major from Mustang. She serves as the assistant director of Far Away.
Jennifer Hammersberg, a freshman drama major from Wellston who says she is obsessed with the British science fiction television program Doctor Who.
Courtney Mayall, a drama major from Anadarko. Mayall describes herself as an aspiring playwright who likes to collect antique trunks and other unique items.
Stephanie Morris, a drama major from Lexington. Morris says that being in theatre has made her more outgoing.
Joshua Rossa, an English major from Del City.
Kasey Sams, who is pursuing a double major in drama and English. She is from Wetumka. She has been a part of several drama productions at the college and has served as president of the USAO chapter of Alpha Psi Omega, secretary of the USAO Drama Club and is a member of the USAO Honor Society Hypatia.
Paige Simpson, a drama major from Tuttle. Simpson has two brothers and a love for the theatre. "I like wrestling, football and music," Simpson said.
Robert Story, a drama major from Chickasha.
Tegan Switzer, a senior drama major from Mustang.
Calli Vaughan, a drama and English major from Lawton. She is a freshman at USAO studying to become a drama teacher. Vaughan says she enjoys writing, shopping and acting. "My brother Mac is my biggest inspiration. I have no idea where I would be without him," she said.
Whitney Whitaker, a drama major from Pauls Valley.